The crisp and refreshing flavor of aiyu jelly is an excellent alternative to tapioca pearls on hot summer days. Though you can enjoy it as-is, it adds a unique flavor to bubble tea. No matter how you decide to enjoy it, you'll love this easy recipe that comes together in under an hour.
This recipe uses fresh aiyu seeds to create a flavorful and refreshing jelly. Honey-lime is the traditional flavor, but after mastering the recipe, you can experiment with other fruits and sweeteners.
Print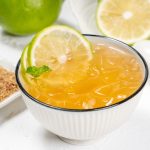 Aiyu Jelly Bubble Tea
---
Total Time:

10 minutes

Yield:

2

1

x
Description
This sweet and tangy jelly is delicious on its own, but also makes a delicious addition to fruit and milk teas.
---
1/4

cup

aiyu seeds

5

cups

mineral or spring water

1/2

cup

fresh lime juice

2 tbsp

honey

32

ounces

milk tea
---
Instructions
Fill a bowl with water and place the seeds inside a mesh bag or cheesecloth.
Submerge the bag in the water while squeezing and rubbing. Continue "washing" the aiyu seeds for a few minutes. The water will turn yellowish and feel a bit slimy (this is normal).
Remove the cloth and seeds.
Put the bowl in the refrigerator and let it sit for 30 minutes. It will chill to a gelatin-like texture.
Cut the jelly into cubes and pour the lime juice and honey over them. Stir.
Divide the jelly between the two glasses, add ice, and then add your choice of bubble tea (we love a citrusy tea with the aiyu jelly), and enjoy!
Notes
Using tap water is not recommended. Mineral or spring water will help the jelly to set firmer.
Without the addition of lime and honey, the jelly is more or less tasteless.
Aiyu jelly is delicious as a stand-alone dessert, a bubble tea topping, or as a boba smoothie topping. The citrus flavor is especially delicious with lychee and passionfruit smoothies.
If you need a milk tea recipe, try these great options:
Because there are no preservatives added to this recipe, you should consume the jelly within 24 hours of cooking it.
Prep Time:

5 minutes

Cook Time:

5 minutes
What Does Aiyu Jelly Taste Like?
Aiyu jelly, also known as ice jelly, is made of aiyu seeds from a fruit called awkeotsang creeping fig. This fruit can only be found in Taiwan and Southeast Asia and has a refreshingly tropical taste. Aiyu jelly is not naturally sweet, so adding a sweetener such as honey or sugar can add the sweetness many people enjoy in their bubble teas.
The cool, crisp taste of this jelly pairs nicely with citrus flavors. Though many boba teas are made with black tea or green tea, aiyu jelly goes very well with fruit tea such as orange green tea or lemon black tea.
What Is the Texture of Aiyu Jelly?
The texture of aiyu is gel-like and somewhat chewy, making it a fun addition to bubble tea. It is slightly similar to the consistency of grass jelly or crystal boba, which are agar-based.
Much different than popping boba, this jelly is chewy and bouncy and doesn't pop when you chew it. It almost melts in your mouth.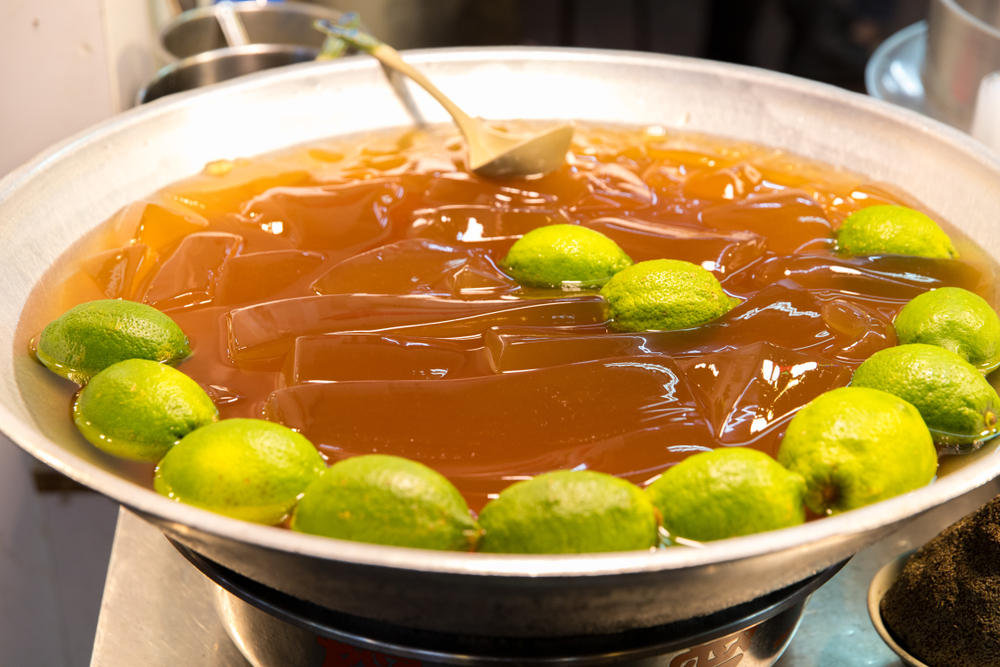 Can I Use an Aiyu Jelly Powder?
Yes! Rather than using seeds and cheesecloth, you can use aiyu jelly powder. If you use the powder rather than the seeds, you will need to boil the water and stir in the powder until it dissolves.
Once the powder dissolves, remove the pot from the heat and pour the liquid into a bowl to cool to room temperature. Then place it in the refrigerator until it sets, which can take up to three hours. After that, add it to the rest of the bubble tea ingredients and enjoy!
Can I Put Aiyu Jelly in Hot Boba Tea?
It is possible, but you need to be sure that the jelly is made from the seeds, not from a powder. Most powders contain agar or carrageenan, which will melt in a hot milk tea.
When made from fresh aiyu seeds, the jelly cubes will hold up in your warm boba tea drink and provide a nice change from the typical tapioca pearls that most bubble tea shops serve.
How Many Calories Are in Aiyu Jelly?
Aiyu jelly has 386 calories per cup. However, this number could increase depending on if you add sweetener, how much, and what type. For example, two tablespoons of honey contain around 128 calories, and two tablespoons of brown sugar have approximately 100 calories. If you prefer something low-calorie, consider using monk fruit or coconut sugar.
Does Aiyu Jelly Have Any Health Benefits?
There are several health benefits associated with aiyu jelly. It can improve blood circulation, reduce inflammation, and improve skin quality. It is also rich in pectin, which can help you absorb nutrients from plant foods and aid digestion.
Aiyu jelly also contains dietary fiber and other vitamins. This refreshing Taiwanese dessert is a deliciously unique addition to your bubble tea drink and has more nutritional value than tapioca pearls.