Taiwanese milk tea is traditionally brewed as a very strong tea. This tea is found all around Taiwan and is the country's signature drink. Authentic Taiwanese milk tea uses creamer, but you can easily substitute heavy cream and sweetener. Sweetened tapioca pearls complete this unique bubble tea drink. 
This recipe creates authentic Taiwanese milk tea. You can use either tea bags or loose-leaf tea. If you want to use loose-leaf tea, choose one with small leaves so the flavor releases quickly. Also, heat the milk with the brewed tea in the saucepan, so the flavors meld together.
Print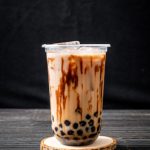 Taiwan Milk Tea
---
Total Time:

45 minutes

Yield:

2

1

x
Description
This traditional milk tea recipe can be enjoyed iced or hot. It has a strong tea flavor thanks to the unique brewing process.
---
2

cups

water

6

black tea bags (or

6 tsp

of loose-leaf black tea)

1/2

cup

quick-cooking tapioca pearls

1

cup

dark brown sugar plus 1 cup of hot water

4 tbsp

heavy cream (or creamer)

1

cup

milk (whole milk or almond milk)

1

pinch of salt
ice cubes
---
Instructions
Cook the tapioca pearls according to the package instructions. Drain, rinse briefly with cold water, and return them to the saucepan (with no heat).
Cover the pearls with brown sugar and 1 cup of hot water. Stir.
Allow the tapioca pearls to soak in the brown sugar syrup for 30 minutes.
Bring 2 cups of water to a boil, turn the heat low, and add the tea bags or leaves.
Cook for 1 minute, then add the milk and the pinch of salt.
Stir constantly for 1 more minute. Then, remove the tea bags or leaves and set the tea aside to cool to room temperature.
To assemble the boba drink, divide the tapioca pearls between your serving glasses. Reserve the brown sugar syrup.
Top with a large handful of ice.
Add the heavy cream and drizzle in a spoonful or two of the reserved brown sugar syrup.
Slowly pour 1/2 of the milk tea into each glass.
Add a boba straw, and enjoy!
Notes
Brew the tea in a saucepan, so you have room to add the milk. Adding the milk while the tea is brewing helps combine the flavors, creating a more robustly flavored milk tea.
Instead of brewing a little bit of tea for a long time, you brew lots of tea for a short time. This creates an intensely-flavored milk tea.
You can use different sweeteners like honey, maple syrup, or agave. Each will add a unique taste.
Don't add ice cubes to the brewed tea to cool it faster—you'll dilute it, and the finished milk tea will be watery.
If you prefer hot milk tea, still allow the tapioca pearls to cool and soak but combine the ingredients while the tea and milk are still hot, and do not add ice.
Prep Time:

5 minutes

Cook Time:

40 minutes
What Does Taiwanese Milk Tea Taste Like?
Taiwanese milk tea tastes like sweetened milky tea. The tapioca pearls add a chewy texture and additional sweetness. The exact milk tea flavor depends on the type of tea used. Black tea, the traditional flavor, adds a strong, lightly bitter taste. Matcha or green tea adds an earthy flavor.
Is Taiwanese Milk Tea Healthy?
Taiwanese milk tea is not considered healthy. Black tea has health benefits, including lowering the risk of cardiovascular disease, improving gut health, and reducing blood pressure, but adding sugar, milk, and tapioca pearls vastly reduces health benefits.
Reducing the amount of sugar and using low-carb milk, like coconut or almond milk, will help make Taiwanese milk tea healthier. Taiwanese milk tea should be consumed in moderation.
Does Taiwan Milk Tea Have a Lot of Caffeine?
The average serving of Taiwanese milk tea has 130 mg of caffeine in 16 ounces. In comparison, a cup of regular coffee (eight ounces) has around 95 mg of caffeine.
The robust tea flavor is one of the signatures of this tea. That is why a large amount of tea is steeped for a short time. You can adjust the brew time with other teas to change the caffeine content. However, this recipe's brew time is so short this strategy won't work.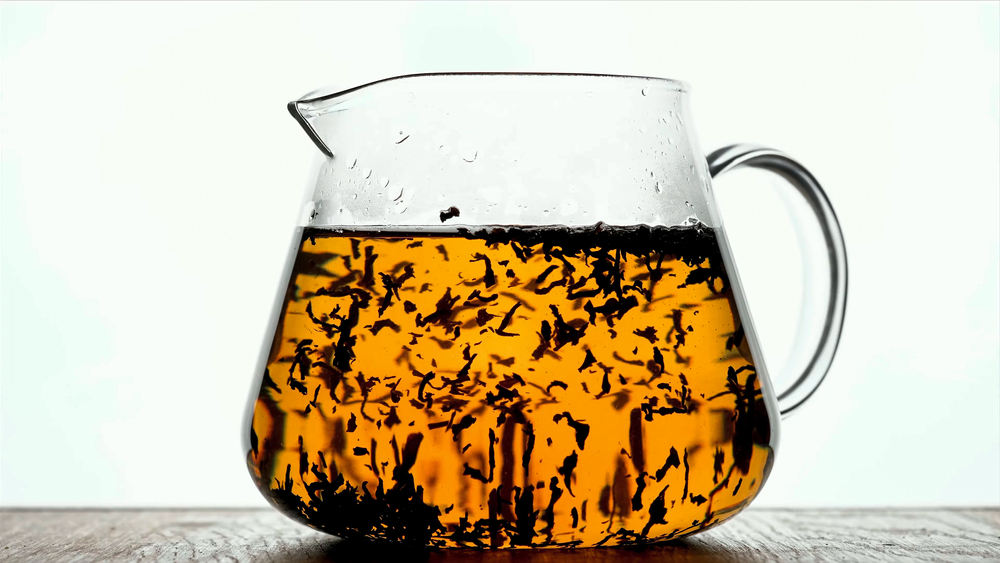 Black tea is high in caffeine, so if you're caffeine sensitive, consider using a different type of tea. Fruit tea, herbal tea, oolong tea, and green tea have less caffeine than black tea. You won't get the authentic Taiwanese milk tea taste, but your caffeine consumption will be lower.
Is Taiwanese Milk Tea Traditionally Served With Tapioca Pearls?
Popular in many Asian countries, tapioca pearls, or boba pearls, are the signature of Taiwanese milk tea. Tapioca pearls are the first layer of this sweet beverage. Then ice, milk tea, and toppings are added. The tapioca balls add a chewy element to the smooth milk tea.
Taiwanese milk tea goes by many names, including pearl milk tea, bubble milk tea, and boba. There are many additional toppings or add-ins for bubble tea, including jellies, red beans, and popping boba.
Hong Kong Tea vs. Taiwan Milk Tea
| | |
| --- | --- |
| Hong Kong Tea | Taiwan Milk Tea |
| Popularized in the 1950s | Popularized in the 1980s |
| Mixed with evaporated milk and sugar | Served with creamer and sugar syrup |
| Commonly served hot or cold | Commonly served cold |
| Developed from British afternoon tea and milk tradition | Developed as a variation of street food |
| Does not contain tapioca pearls | Served with tapioca pearls |