Taro balls are a versatile Taiwanese dessert. These starchy spheres are derived from a root vegetable and have a slightly sticky texture. In most Asian desserts, they are served alongside sweet potato balls. 
Derived from the taro root, these delicious treats are gaining popularity worldwide. Somewhat sweet with a hint of nutty and earthy flavors, they are a lovely dessert on their own or used as a topping in various bubble tea flavors.
Print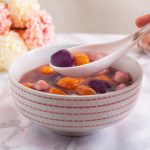 Taro Balls
---
Total Time:

50 minutes

Yield:

4

Servings

1

x
Description
Use these delicious spheres in traditional desserts or as a healthier alternative to tapioca pearls in your bubble tea. They have an innately sweet flavor and pair well with milk or fruit teas.
---
7

oz

peeled taro

3

oz

tapioca flour

3 tbsp

brown sugar (or white sugar if you prefer)

3

–

4

tbsp water
---
Instructions
Cut the taro into slices and steam for 15-25 minutes (or until soft).
Smash the steamed taro with a fork and add the sugar and tapioca flour, and mix.
Kneed the taro into a ball. If the mixture is too crumbly, add a tablespoon of water at a time, but avoid adding too much moisture.
Roll the taro into a log shape and cut it into small cubes. Dust them with more tapioca flour.
Bring a small pot of water to a boil on high heat and add the taro balls to the boiling water. Cook until they begin to float – typically around 5 minutes. Then, transfer them to a bowl of cold water immediately.
Notes
Taro balls are best served immediately.
If you add them to boba tea, make sure that you cut them small enough to fit through the boba straw.
For an extra punch of flavor, soak taro balls in brown sugar ginger syrup. Mix 5 tbsp of water, 5 tbsp of brown sugar, and 3 slices of fresh ginger. Bring all the ingredients to a boil and cook until it thickens. Adding this syrup will increase the sweetness of the dessert and give it a bit of spice from the ginger.
Prep Time:

40 minutes

Cook Time:

10 minutes
What Do Taro Balls Taste Like?
Sometimes called the purple sweet potato, this delicious dessert has a starchy, nutty flavor that is slightly sweet. Many people describe taro as having a similar taste to a sweet potato or yam, which is why they pair so well together. Taro balls have a slightly sticky texture and are somewhat soft and chewy.
You can not eat raw taro; it is inedible and toxic. High levels of calcium oxalate can cause mouth irritation and kidney stones. Thoroughly cooking this vegetable is crucial.
While taro bubble tea and taro balls are commonly purple, they can range in color from whitish-gray to pink or purple.
Does This Taro Balls Recipe Have Any Health Benefits?
When compared to other starchy vegetables, taro is much healthier. Taro has many notable health benefits, including the following:
Taro has twice the amount of fiber per cup as potatoes.
It has high amounts of potassium, calcium, iron, and vitamins A, B-6, C, and E.
This starch contains amino acids and omega-3 fats, which benefit your heart.
Taro can improve digestion, lower blood sugar levels, improve vision, prevent certain cancers, help prevent heart disease, improve circulation, improve skin appearance, and much more.
Overall, taro is not only delicious but very nutritious as well. Remember that these health benefits will be overshadowed if you add taro balls to a sugary bubble tea.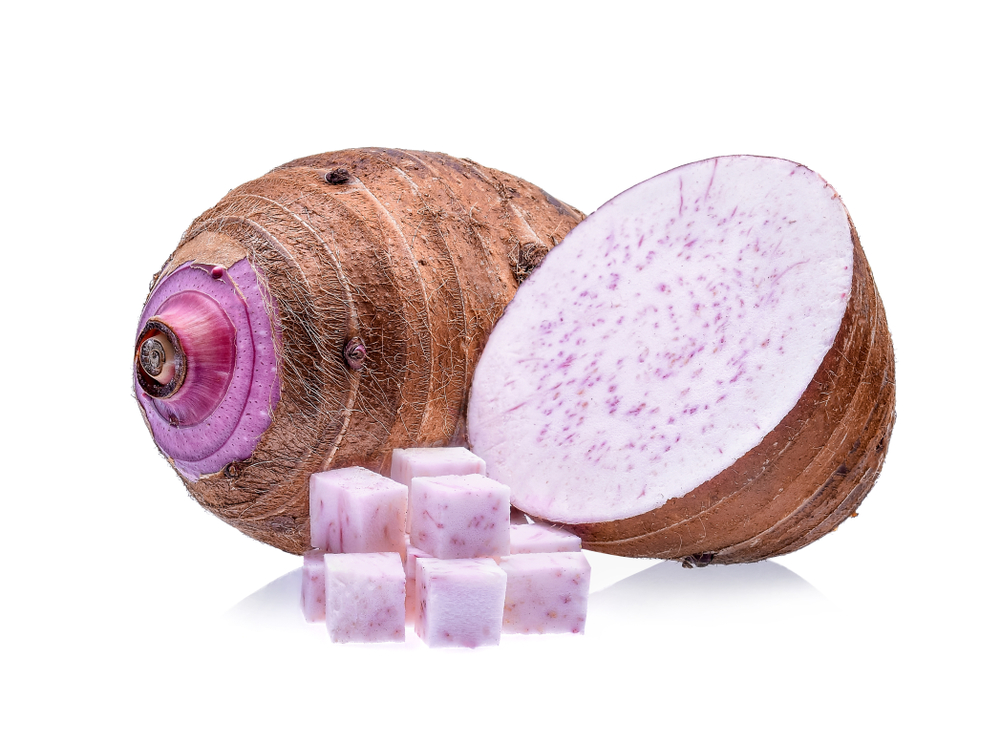 Taro Balls vs. Tapioca Pearls
While they are both made from starch and cooked similarly, these two ingredients have very different flavor profiles and backgrounds.
| | |
| --- | --- |
| Taro Balls | Tapioca Pearls |
| From the taro root | From the cassava root |
| Sweet, nutty flavor | Tasteless unless soaked in sugar syrup |
| Sticky texture | Gelatinous, chewy texture |
| Gray, purple, or pink color | White, brown, or black color |
How Do You Store Cooked Taro Balls?
Taro balls taste best right after they are cooked. However, if you want to make them ahead, stop after step #4 in the above recipe. After rolling them out and tossing them in flour, arrange them in a single layer in a Ziploc bag and freeze them horizontally to prevent them from sticking together. You can store them for up to 3 months frozen.
When you are ready to cook them, take as many as you need out of the bag and boil them until they float. With fresh taro balls, it usually takes about five minutes. Frozen taro balls will likely take upwards of ten minutes.
6 Ways to Eat Taro Balls
My favorite way to enjoy Taiwanese taro balls is in boba drinks; however, you can use them in many ways, including the following:
As an ice cream topping
In Coconut Milk
With grass jelly, boba pearls, and cream
With tang yuan in a brown sugar and ginger broth
With sweet potato balls and sweet red beans topped with ginger syrup
In red bean soup