One of the most pleasant experiences when indulging in boba tea is exploring the different topping textures that come up through the straw as you drink. Tapioca is chewy, and egg pudding is melty, but arguably one of my favorites is the syrupy flavor burst that popping boba brings.
This is one of the most satisfying toppings to make in the boba world, especially for molecular gastronomy geeks! Sodium alginate, any form of fruit juice, and calcium lactate are the key ingredients to making this popping boba a reality. After performing this recipe's instructions, fun bursts of fruity goodness await!
Print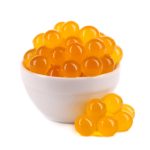 Homemade Popping Boba
---
Total Time:

7 hours 10 minutes

Yield:

4

Servings

1

x
Description
You can think of popping boba like fruit caviar. These small spheres are available in different flavors and colors, depending on which fruit flavoring you use. Our general guide gives you creative freedom, but my favorite juices to use are mango, pineapple, strawberry, and lychee.
---
3/4

cup

real fruit juice of choice

1 tsp

sodium alginate

1/5

cup

water

1 1/4 tsp

calcium lactate

1

liter

distilled water
---
Instructions
Dissolve the calcium lactate in the distilled water. Allow to sit overnight or for 4 hours. After that, strain.
Mix 1/5 cup of water with sodium alginate and stir until thick and smooth. Once it reaches a thick consistency, add the fruit juice and stir until smooth.
Store the juice mixture in the fridge for 3 hours.
Afterward, begin the reverse spherification process. Using a syringe or dropper, drop the cooled juice mix into the calcium lactate solution and let it sit for 10 minutes.
Use a strainer or slotted spoon to transfer the popping boba pearls to clean water, rinse them, and add them to your boba tea!
Notes
Whether you're making your own or ordering a popping boba tea from a tea shop, feel free to experiment and see what flavors and combinations you can come up with. Perhaps pomegranate popping boba with a matcha green tea latte or passion fruit popping boba with an oolong boba milk tea? The options are endless.
If you prefer the preciseness of grams, use 150 g fruit juice, 5 g sodium alginate, 50 g water, 6 g calcium lactate, and 1,000 g distilled water.
Prep Time:

7 hours

Cook Time:

10 minutes
What Does Popping Boba Taste Like?
Popping boba tastes like jellied fruit juice. Specifically, the type of fruit juice or flavored liquid you've used to create the popping boba balls. 
For instance, if you put in mango juice, the popping boba topping will be reminiscent of the sweet and tropical taste of mangos. Lychee juice popping boba will taste like lychees, strawberry popping boba will taste like strawberries, and so on!
The "skin" of the popping boba is flavorless; only when you bite into it will you be met with a burst of sweet and fruity flavors.

Is Popping Boba Chewy?
No, these small spheres are not chewy. It's an entirely different texture compared to tapioca pearls, as the exterior of the boba has a thin skin and smooth surface that's easily dissolvable.
Is Homemade Popping Boba Healthy?
While popping boba is not considered a healthy food, the occasional indulgence of this tasty dessert topping isn't necessarily bad for you.
There are a few notable health benefits when consuming this ephemeral dessert topping, including the following:
It has fiber-rich properties that aid digestion.
Popping boba has stress-reduction properties.
This topping has a high rate of skin-healthy antioxidants.
The ingredients aid in boosting immunity.
It surges energy levels with its sweetness.
Of course, as with any sugary food, moderation is key. You don't want to overindulge and forget about the high sugar levels of this topping and bubble tea in general.
Popping Boba vs. Tapioca Pearls in Boba Tea
| | |
| --- | --- |
| Popping boba | Tapioca pearls |
| Has a thin sac that bursts and contains juices inside | Chewy pearls made from tapioca starch |
| Fruity and sweet taste | Neutral taste and usually soaked in sugar |
| Available in various colors | Generally available in black, brown, or white shades |
| Ideally consumed within a few days | Packed pearls can last for months in the pantry or freezer |
| Made through spherification | Made on the stovetop with sugar, water, and starch |
Why Do You Need to Use Distilled Water to Make Popping Boba?
Distilled water helps clear the sodium alginate (seaweed extract) from free radicals. Furthermore, it also helps the spherification process by thickening the sodium alginate solution.
A thick mixture helps the sodium alginate mixture react well with the calcium lactate bath. In particular, when calcium ions and sodium alginate come in contact properly, the popping boba casings sink in the bath and allow spherification to take place.
6 Ways to Use Popping Boba
While popping boba is primarily found in bubble tea drinks, it's not only a topping for that specific dessert beverage. Popping boba are a popular topping in many desserts across Asian countries.
Here are a few desserts whose flavors would be elevated with popping boba:
Ice cream
Frozen yogurt
Fruit salads
Cocktails
Shaved ice
Boba smoothies
And with the plethora of flavors, you can make your popping boba with, the possibilities for DIY desserts are practically endless.