Hong Kong egg waffles are popular street food. As they gain popularity alongside bubble tea, you can find them at some boba shops, such as Bubble Teaology. This sweet and crispy treat is served with toppings like ice cream, boba pearls, or popping boba. 
You'll need a Hong Kong waffle iron to make these waffles. You can easily find one on Amazon if you don't own one. Make sure to let the batter rest for at least an hour after mixing to create the right texture for the waffles.
Print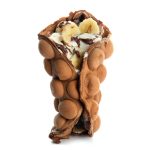 Hong Kong Egg Waffle
---
Total Time:

1 hour 30 minutes

Yield:

4

Servings

1

x
Description
Impress your guests with this whimsical and unique recipe. Egg waffles, also called eggettes, bubble waffles, and egg puffs, are surprisingly easy to make and are a delicious sweet treat.
---
1

cup

all-purpose flour

1 tsp

baking powder

1/2 tbsp

cornstarch

1 tbsp

custard powder

2

large eggs

2/3

cup

white sugar

2 tbsp

evaporated milk

1/4

cup

water

1 tbsp

vegetable oil

1 tsp

vanilla extract
---
Instructions
Combine the dry ingredients in a large bowl.
Combine the wet ingredients in a separate bowl.
Slowly pour the wet ingredients into the dry ingredients.
Whisk the mixture together until it is just combined. Some small lumps may remain.
Set the batter in the refrigerator for 1 hour.
Preheat your waffle pan according to the manufacturer's instructions.
Brush vegetable oil over the pan and ensure the waffle iron is set to medium heat.
Pour 3/4 cup of the batter into the middle of the egg waffle pan and encourage it to fill all the circles. Immediately flip the pan over. Hold the pan tightly closed so the batter doesn't leak out while flipping.
Cook for 2 minutes. Flip to the other side. Cook for 2 minutes more.
Flip and cook for 2 minutes. Flip and cook for 2 minutes more.
Slowly open the waffle pan and free the waffle with tongs. As you release the waffle, it will curl.
Set the waffle on a wire rack to cool. If you want the waffle to be rounded, lay it over a rolling pin or another curved surface to cool.
Repeat steps 7-12 with the remaining batter.
Serve with toppings.
Notes
Most Hong Kong waffle machines are now electric and no longer require cooking on the stovetop. This makes them similar to regular waffle irons.
Flipping the waffle immediately after pouring in the batter creates the crispy outside that Hong Kong egg waffles are known for.
Substitute tapioca starch for the cornstarch if you prefer. Find it in Chinese grocery stores near the flour. If you can't find custard powder, substitute vanilla pudding mix—it helps keep the waffles tender.
Prep Time:

70 minutes

Cook Time:

20 minutes
What Do Hong Kong Egg Waffles Taste Like?
Hong Kong egg waffles taste sweet and crispy, similar to American waffles. They are usually topped with ice cream or other sweet toppings, giving them an extra-sweet taste. Their texture is a mix between a fluffy pancake and a crispy waffle.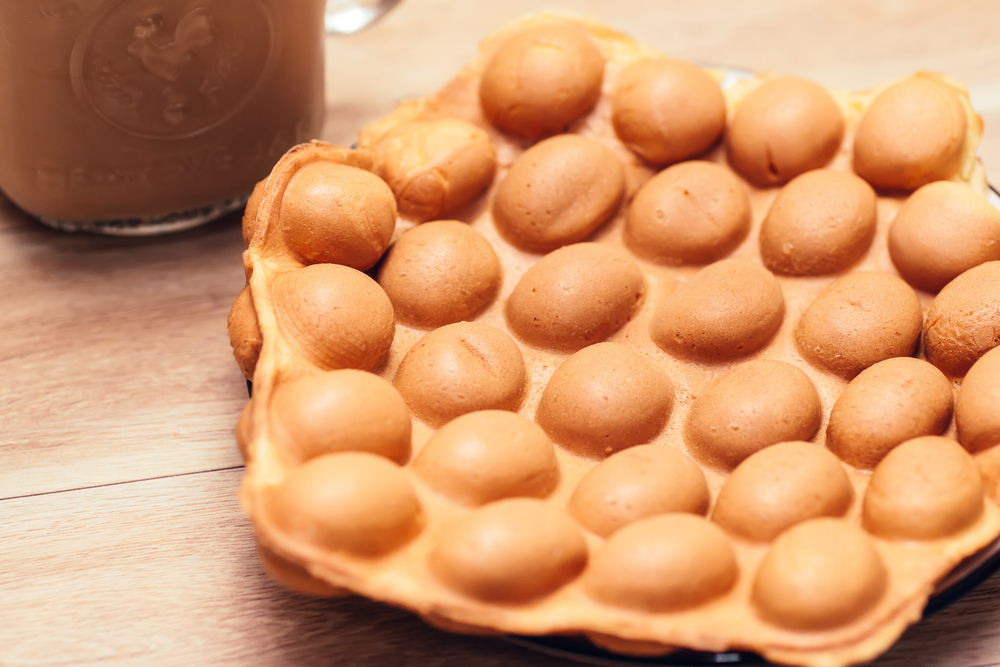 How Many Calories Are in an Egg Waffle?
One egg waffle has approximately 338 kcal, 64 grams of carbohydrates, 8 grams of fat, and 34 grams of sugar, without toppings. Adding ice cream or other toppings will add significantly more calories and sugar.
Who Invented Egg Waffles?
One specific person is not credited with the invention of egg waffles. Instead, their creation is attributed to the shopkeepers in Hong Kong.
Egg waffles were created during the 1950s as a way to use unsellable broken eggs. The broken eggs were combined with flour and sugar, poured into a mold, and cooked over a charcoal flame. Since the waffle mold allows small egg shapes to be broken off and shopkeepers could sell the waffle in small pieces, egg waffles were very affordable.
Their popularity has since spread to other Asian countries and North America. They are known as gai daan jai in Hong Kong.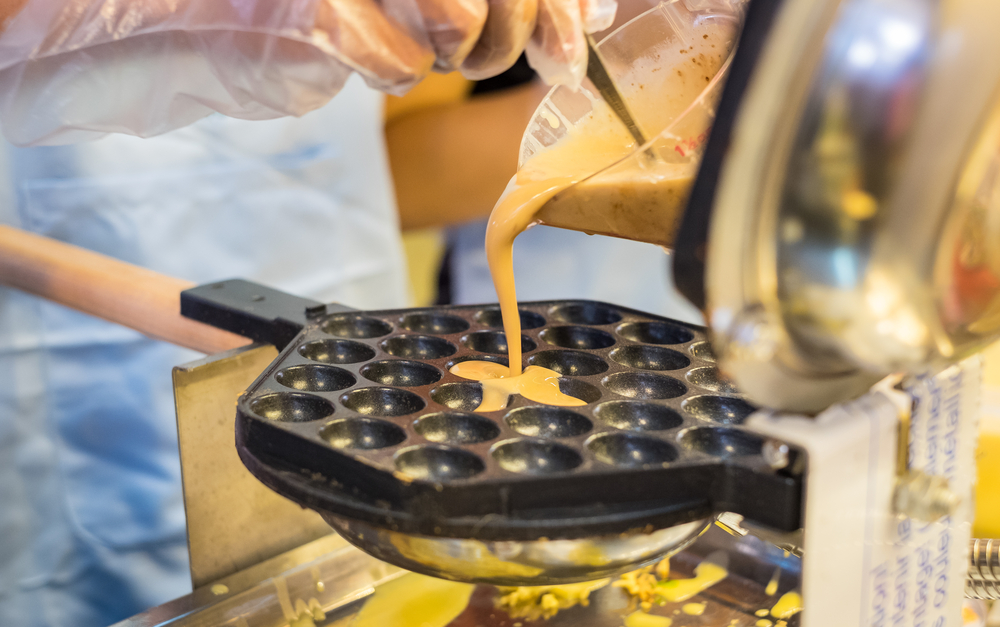 Hong Kong Style Egg Waffles vs. American Waffles
| | |
| --- | --- |
| Hong Kong Egg Waffles | American Waffles |
| Have a bubble pattern | Have a criss-cross pattern with pockets |
| Served with ice cream, fruit, or tapioca pearls | Served with butter and syrup |
| Street food that is served any time of day | Usually eaten for breakfast |
| Can be broken apart and eaten one piece at a time | Eaten with a fork and a knife |
What Are the Most Popular Toppings for Egg Waffles?
Customarily, people eat egg waffles on the go. The waffle chef folds the waffle, adds the toppings in the middle, and wraps the entire dessert in paper so you can take it with you. If you make them yourself, feel free to serve them on a plate and add the toppings.
Try these toppings with your egg waffles:
Chocolate chips
Fresh fruit
Ice cream—usually made from tea flavors like matcha or chai
Popping boba
Tapioca pearls