Hojicha green tea is roasted over charcoal, giving it a unique taste. This Taiwanese take on a Japanese beverage combines hojicha green tea with milk and tapioca pearls to make bubble tea. It is usually served over ice but can also be enjoyed hot.
This roasted green tea has robust flavors and a hint of cocoa. It pairs beautifully with tapioca pearls. You can use either hojicha powder or loose tea leaves for this recipe.
Print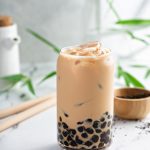 Hojicha Bubble Tea
---
Total Time:

25 minutes

Yield:

1

Serving

1

x
Description
Unlike traditional green tea, hojicha has minimal caffeine. Like most boba recipes, this one is also customizable; feel free to switch out the milk and sweeteners in this recipe for your favorites.
---
2

heaping teaspoons of hojicha tea leaves

3/4

cup

of water

3/4

cup

milk of choice (oat milk or almond milk work well)

1

large handful of ice

1/3

cup

tapioca pearls, preferably quick-cooking

2 tbsp

brown sugar or simple syrup
---
Instructions
Bring 3/4 cup of water to a boil in a medium saucepan. Remove from the heat and add the tea leaves to the water in a tea ball.
Let steep for 1 minute.
Add the milk and swirl the tea ball, so the milk gets mixed in. Let steep for 2 more minutes.
Remove the tea ball and discard the tea leaves. Let the mixture cool.
While the mixture is cooling, cook the tapioca pearls according to the package instructions. Drain.
Coat the cooked tapioca pearls in brown sugar or simple syrup and stir to combine. Set aside to cool for a few minutes.
Place 1/3 cup tapioca pearls in the bottom of a large serving glass.
Place the ice and milk tea mixture in a quart mason jar or shaker and screw on the lid. Shake for 30 seconds to combine and thoroughly chill the tea mixture.
Pour the mixture on top of the tapioca pearls.
Serve with a boba straw.
Notes
Instead of loose tea leaves, make this bubble tea with hojicha powder:
1. Combine 2 teaspoons of hojicha powder with 3/4 cup of water. Whisk with a bamboo whisk or frother.
2. Add the whisked hojicha, milk, and ice to a quart mason jar (or cocktail shaker) and screw on the lid.
3. Shake for 30 seconds to combine. Pour over tapioca pearls prepared as directed above. Serve.
Prep Time:

5 minutes

Cook Time:

20 minutes
What Does Hojicha Milk Tea Taste Like?
Hojicha milk tea has a strong flavor. The roasting process brings out notes of cocoa, caramel, and nuttiness. It is robust and can even taste like coffee. The brown sugar tapioca pearls add sweetness, creating a sweet, nutty cocoa bubble tea.
What Is Hojicha Tea?
Hojicha is a Japanese roasted green tea. It originated in Kyoto, Japan, over 100 years ago. Hojicha is made from Bancha, Sencha, or Kukicha green tea leaves. These leaves are roasted at high heat over charcoal.
You can find hojicha in a loose-leaf tea or powder form. It is aromatic with a nutty, sweet, and woody flavor. Use hojicha powder much like you would matcha—it's great for hojicha lattes and baked goods.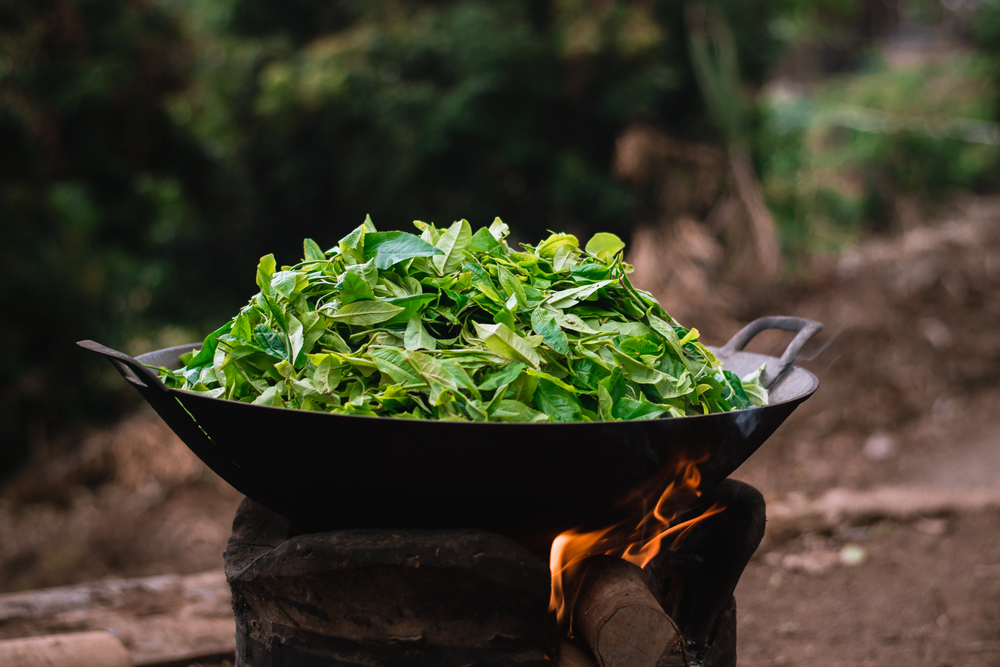 6 Health Benefits of Hojicha Tea
Hojicha tea, like green tea, is high in antioxidants. Hojicha tea is also:
An immune system booster—Vitamins A, C, and E help keep the body healthy
Anti-inflammatory.
Calming—the amino acid L-Theanine makes hojicha tea good for those with anxiety and depression.
Good for skin health.
Good for digestion—the fibers in the roasted tea are good for the colon.
Ideal for those with sensitivity to caffeine.
Hojicha vs. Green Tea
Hojicha and green tea both come from the same Japanese green tea plant. However, there are some notable differences between these two types of green tea.
| | |
| --- | --- |
| Hojicha | Green tea |
| Made by steaming and roasting the leaves or stems | The leaves are not roasted, only steamed |
| Reddish-brown color | Green color |
| Not bitter | Slightly bitter |
| Robust, earthy umami scent | Light grassy scent |
| Approximately 3 mg of caffeine per cup | Approximately 20 mg of caffeine per cup |
The way hojicha tea is prepared makes the caffeine count much lower than green tea. Hojicha is made from mature tea leaves that are picked later in the season, which have less caffeine than those picked early in the season. Additionally, roasting the tea leaves reduces the amount of caffeine.
Which Toppings Are Best in Hojicha Bubble Tea?
Hojicha bubble tea pairs best with lighter toppings that add a hint of sweetness. Try some of the following toppings:
Fresh fruit—citrus pairs well with hojicha tea
Grass jelly
Popping boba—lychee, pineapple, or strawberry
Tapioca pearls
Taro balls