With vibrant colors, unique toppings, and endless flavor combinations, it's no wonder children want in on the fun of drinking bubble tea. However, many parents wonder if it's safe. If parents customize the drink to eliminate the caffeine and certain toppings, boba tea for kids is safe.
Can Young Children Drink Bubble Tea?
Of course, the answer to this question varies from family to family. It depends on the specific boba drink you order and the amount of caution each child exercises. A few things to be cautious of include:
the caffeine content
the possibility of choking on the toppings
the sugar content
What Age Is Bubble Tea Suitable For?
Generally, it is safe for children over five to drink bubble tea, with some adjustments.
While choking can happen at any age, tapioca pearls are especially a choking hazard for children under five. Even as an adult, the tapioca pearls are catapulted into your mouth when you take a sip.
A couple of great alternatives for children are popping boba and jellies. Both toppings disintegrate in your mouth and are much less likely to cause choking.

Many boba milk teas contain a high amount of caffeine. If your child is under 12, limiting amounts of caffeine are recommended. There is not an acceptable amount of caffeine for children under age 12.
When it comes to sugar, each parent will have their own rules. According to experts, children between four and ten shouldn't consume more than ~21 grams of sugar daily. On average, boba tea contains 38 grams of sugar, but you can reduce this by asking for 50% or 25% sweetness.
Do All Boba Teas Have Caffeine?
Not all boba teas contain caffeine. The majority of herbal and fruit teas are caffeine free. However, it is essential to remember that a tea marked as 'decaf' still contains traces of caffeine. On average, the caffeine content in teas used to make bubble tea is less than the caffeine content in coffee.
| | |
| --- | --- |
| Type of tea | Caffeine content (per eight ounces) |
| Green tea | 28 mg |
| Black tea | 47 mg |
| Matcha tea | 40 mg |
| Oolong tea | 37 mg |
| Herbal and fruit teas | 0 mg |
Note: the caffeine content of each tea can vary greatly, depending on the preparation.
What Are the Best Boba Tea Flavors for Children?
Every bubble tea shop has kid-friendly, caffeine-free, fruity flavors, including strawberry, mango, honeydew, lychee, passion fruit, and more. However, assuming that every fruit tea will be caffeine-free is not safe. It is always best to consult the boba barista.
Taro, a popular flavor from a root vegetable, is sometimes made without a tea base. Brown sugar milk is also typically caffeine and tea-free. However, each bubble tea shop has its own recipes, and it is best to ask before ordering.
If you prefer to make your own bubble tea, you can order bubble tea kits on Amazon. This gives you complete control of the sugar, caffeine, and toppings that your child will enjoy.
Why Do Kids Love Bubble Tea?
Maybe it's the chewy tapioca balls, the delicious flavors, the numerous toppings, or the mesmerizing colors of the bubble teas. It is a dessert in a glass. With all of the options to choose from, it is no wonder kids will flock to this tasty treat.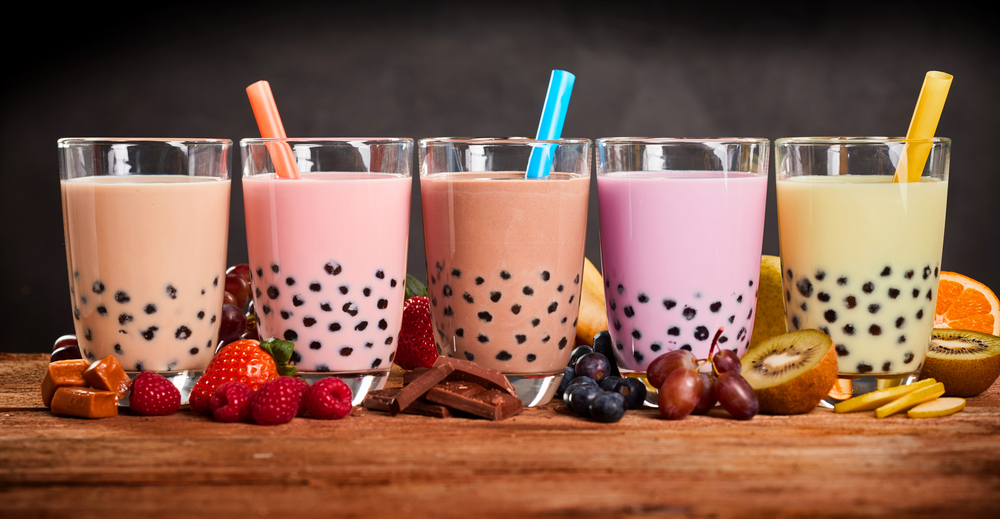 Will Anything Bad Happen if My Child Drinks Too Much Boba Tea?
For children and adults, consuming too much pearl milk tea will likely cause weight gain. The calories and carbs in this Taiwanese drink add up quickly. Another thing to be cautious of is the number of tapioca pearls your child consumes.
In 2019, a 14-year-old girl in China was hospitalized for severe constipation. After a CT scan, the doctors discovered over 100 tapioca pearls in her stomach. In the end, the doctors prescribed laxatives to help her pass all of the pearls.
It is unclear if she chewed the pearls, but explaining to your child how to enjoy bubble tea before indulging is essential. Consuming too many starchy pearls could lead to indigestion and other ailments. Limiting your child's bubble tea consumption to special occasions is advisable.