Pudina milk tea is a traditional South Asian recipe with fresh mint leaves and black tea. Because it aids digestion, it is a perfect refreshment after a meal. Learn how to make pudina milk tea at home with this recipe.
This pudina mint tea recipe uses fresh mint leaves and black tea bags. Add your favorite milk, and you have a delicious tea that will both soothe and energize you. For even more digestional benefits and flavor, add a dash of ginger.
Print
Pudina Milk Tea
---
Total Time:

20 minutes

Yield:

2

Servings

1

x
Description
Unlike traditional mint tea bags, this recipe has caffeine and an authentic flavor. Enjoy it as a hot or iced tea. Cool the milk tea to room temperature for iced tea and pour it over ice.
---
10–12 fresh mint leaves
2 cups water
2 black tea bags
1/2 cup milk
1/2 tsp powdered ginger (optional)
2 tbsp white sugar (or jaggery)
---
Instructions
Bring 2 cups of water to a boil. Remove from the heat and add the black tea bags and the ginger (if using).
Add the sugar and milk, and stir to combine.
Let steep for 5 minutes. Discard tea bags.
Add the fresh mint leaves and let steep for 1-2 minutes.
Strain the mixture, reserving the tea and discarding the mint leaves.
Pour into 2 glasses and serve warm.
Notes
Jaggery is an Indian sweetener made from raw sugar, but you can use your favorite sweetener.
Turn this pudina milk tea into a bubble tea by adding tapioca pearls or your favorite bubble tea topping.
Pudina mint tea often uses spices like fresh ginger, lemongrass, cardamom, tulsi, cinnamon, fennel, or crushed cloves. Add a pinch of some or all of these spices when you add the black tea.
Prep Time:

5 minutes

Cook Time:

15 minutes
What Does Pudina Milk Tea Taste Like?
Pudina milk tea is light, refreshing, and creamy. The mint leaves help warm your body and add a fragrant flavor. Pudina milk tea is a variation of Indian chai and tastes slightly sweet.
True pudina is sweetened with jaggery. If you add masala chai spices to your pudina mint tea, you'll also taste the cinnamon, ginger, cloves, or cardamom in your tea.
Does Pudina Tea Have Caffeine?
Yes, pudina tea has caffeine because it is made from black tea. Each serving of this pudina tea has about 50 mg of caffeine. If you are sensitive to caffeine, use a caffeine-free black tea.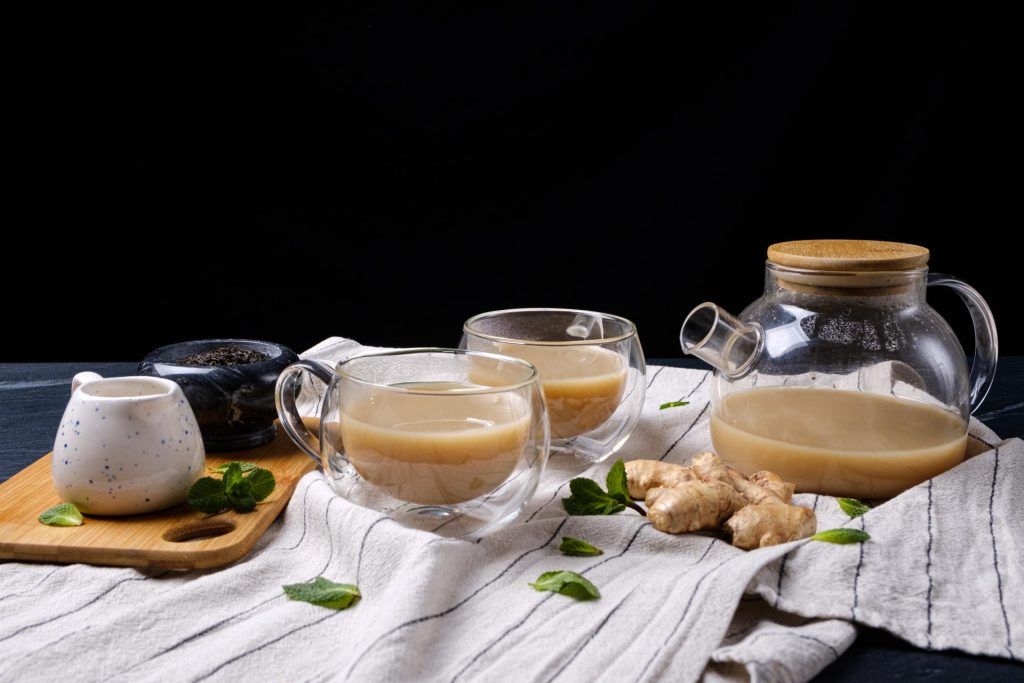 9 Health Benefits of Pudina Chai
Both mint leaves and black tea offer numerous health benefits. Together, they help support bodily functions and offer antioxidants, keeping you healthy.
Aid digestion
Ease headaches
Freshen breath
Reduce bloating
Support the immune system
Help your body produce bile, which may lower cholesterol
Aids gut health
May reduce blood pressure
Supports good digestion
If you use dairy milk, each serving of pudina milk tea will contain vitamins A, D, potassium, and calcium. Calcium helps build strong bones and teeth and aids heart function.
Can You Make This Recipe With Pudina Tea Powder Instead of Fresh Mint?
Pudina milk tea needs both black tea and fresh mint. Instead of black tea bags or tea leaves, you can use black tea powder. Find a powder like this one from Amazon that is 100% pure black tea with no additives. Follow the package instructions for how much to add. Black tea powder is concentrated, so you'll need just a pinch or two. For best results, you'll need fresh mint leaves—called pudina in Hindi.
Where Is Pudina Milk Tea From?
Pudina milk tea is from India. The traditional recipe uses fresh mint leaves, black tea, milk, and sugar like ours. Mint chai* is naturally vegetarian and gluten-free. It is refreshing and soothing, perfect for a chilly day. Since the mint leaves aid digestion, serve pudina milk tea after your morning or evening meal.
*Remember that 'chai' means 'tea' in Hindi. The spiced tea we think of as 'chai' is called 'masala' in India.