If speed, affordability, and reliability are what you're after, you can whip up a refreshing drink in an instant using bubble tea powder. Bubble tea powder is a concentrated pack of dissolvable powder that can replicate the taste of milk tea drinks. 
While original bubble tea powder dominates the market, bubble tea powders of all kinds exist. Depending on your interest, you can find green tea powder, taro powder, matcha tea powder, and more on grocery shelves.
Print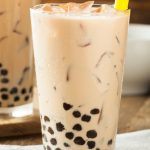 Bubble Tea With Powder
---
Total Time:

7 minutes

Yield:

16 ounces

1

x
Description
Making this beverage is as simple as adding water (or milk) and ice to the powder and mixing it until the powder is fully dissolved. No black tea bags are required!
---
1

scoop flavored milk tea powder

3/4

cup

cold water, milk, or almond milk

1 tbsp

brown sugar or sweetener

1

scoop dairy creamer

2

cups

ice

1/4

cup

boba pearls
---
Instructions
In a large shaker, add one scoop of milk tea powder, sugar or sweetener, and dairy creamer.
Pour water or milk into the shaker, close the lid, and shake the cup until all the powder is gone.
Place the ice inside the shaker and shake until the froth settles at the top of the mix (approximately one minute).
Place chewy tapioca pearls in the serving cup.
Pour the mixed liquids over the tapioca pearls and enjoy your bubble tea- don't forget a thick boba straw!
Notes
In general, one scoop of powder is equal to approximately two tablespoons, but it depends on the exact brand of tea powder you are using.
You can add more or less brown sugar/sweetener, depending on your preference.
If your bubble tea powder tends to clump in cold water, melt it with hot water before adding it to the rest of your ingredients for a smoother texture.
If you have more time and prefer to switch out the liquid for home-brewed tea, your boba milk tea will be even more delicious.
Prep Time:

2 minutes

Cook Time:

5 minutes
Are Most Bubble Teas Made From Powder?
Most bubble tea recipes use some form of powder to create the beverage. This is often the case even in well-known bubble tea houses. While you can absolutely make classic boba using brewed tea leaves and freshly pureed ingredients, it takes more time and effort to prepare.
Powdered mixes are a common ingredient in bubble tea recipes because they dissolve quickly and easily while still providing the tea flavor that makes the drink so unique.
Additionally, some bubble tea recipes use a syrup base instead. These recipes might use fruit concentrates or jelly syrup to add flavor and sweetness to the drink. Creating bubble tea through this process is similar to bubble tea with powder variants.
Does Instant Bubble Tea Taste as Good as Fresh Bubble Tea?
Make no mistake: a freshly-brewed tea base enhances the flavor profile and texture of bubble tea. It brings out the best flavors in a milk tea drink because the leaves have time to steep and release their natural flavors into the milk or water.
That said, many instant bubble tea powder variants have replicated the taste of freshly brewed tea at a stunningly accurate level. If you want to make bubble tea at home but don't have the time to brew tea leaves, using an instant powder mix is the next best thing.
Do Bubble Tea Powders Have a Lot of Caffeine?
Bubble tea powders contain roughly 50 milligrams of caffeine per cup. Similarly, fresh black tea leaves have approximately 47 milligrams of caffeine per cup. This figure is significantly less than the average cup of joe, which has 90 to 500 milligrams of caffeine, depending on the roast.
If you want to indulge in a bubble tea that won't keep you up at night, you can always switch out your chosen tea powder for a less-caffeinated version.
Where Can You Buy Bubble Tea Powder?
You can purchase bubble tea powder online or in Asian supermarkets.
Amazon has a large selection of bubble tea powders that homeowners can purchase and have delivered right to their doorstep.
Other online retailers that sell boba powder include:
Bubble Tea Supply
Milk Tea Factory
Boba Tea Direct
Empire Eagle
Sunnysyrup Food
BOBACHIC US
If you want to buy a large selection of bubble tea powder in bulk, wholesale retailers like Alibaba and Bubble Tea Warehouse are suitable. These websites offer a variety of bubble tea powder flavors at a fraction of the price.