Strawberry boba is a refreshing drink for any time of year. It is easily customizable by experimenting with boba flavors and different tea bases. You can even make homemade strawberry syrup to take your boba drink to the next level. 
Before beginning this recipe, ensure you have a clear glass cup and a boba straw (or a straw wide enough to accommodate the tapioca pearls). Of course, you can enjoy this boba milk tea from a different cup, but you won't get the full experience.
Print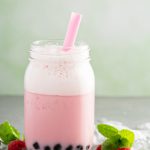 Strawberry Bubble Tea
---
Total Time:

20 minutes

Yield:

16 ounces

1

x
Description
Next time you're craving something sweet, whip up this easy-to-make strawberry boba tea. You can use store-bought strawberry syrup and tapioca pearls, or make your own to make it truly original.
---
2/3

cup

water

2

bags green tea (or

2 tsp

green tea leaves)

1/3

cup

milk (dairy free or regular)

1/4

cup

strawberry syrup (homemade recipe in notes)

1

cup

ice

1/2

cup

tapioca pearls
---
Instructions
To make the tea base, bring ⅔ cup of water to a boil.
Add tea bags or leaves and let steep for 3-5 minutes.
Discard the tea bags and set the tea aside to cool.
Cook the tapioca pearls according to the package instructions and run them under cold water afterward.
Put the tapioca pearls at the bottom of your glass.
Add strawberry syrup.
Layer the milk over the syrup.
Add ice.
Slowly pour the green tea over the ice.
Notes
Pro tip: If you want to preserve the layers while pouring the tea, aim to pour the tea over an ice cube.
Be sure to cook the tapioca pearls just before combining your drink. If they cool too long, they begin to harden and clump together. They should be slightly warm to the touch and easy to hold in your hand. If the tapioca balls are too hot, they could burn your mouth and melt your drink.
Homemade Strawberry Syrup
Bring 2/3 cup water, 1/4 cup sugar, and 3/4 cup sliced fresh or frozen strawberries to a boil.

Once boiling, mash strawberries with a potato masher or large spoon.

Strain out strawberry solids and preserve the liquid.

Chill before using to intensify the flavor.

* This syrup can be made ahead of time— store it in an airtight container in the refrigerator for up to two weeks.
Prep Time:

10 minutes

Cook Time:

10 minutes
Does Strawberry Boba Tea Actually Taste Like Strawberries?
Yes, strawberry boba tea tastes like strawberries. It has a rich, milky mouthfeel and a subtle tea flavor. Using different tea bases will change the flavor. Experiment with jasmine, black, or matcha tea to see which flavor you enjoy the most.
The boba pearls also give flavor. Classic brown sugar boba will add a burst of sweetness to each sip. Choosing strawberry tapioca pearls or different fruit-flavored pearls will also change the taste of this boba tea.
Is It Possible to Make Strawberry-Flavored Tapioca Pearls?
Yes, it is possible to make strawberry-flavored tapioca pearls. These boba balls are made similarly to brown sugar boba. Instead of cooking the tapioca balls in brown sugar syrup, cook them in strawberry simple syrup.
You can use homemade boba or pre-cooked boba to make strawberry-flavored tapioca pearls. Popping boba also comes in a strawberry flavor and is available on Amazon.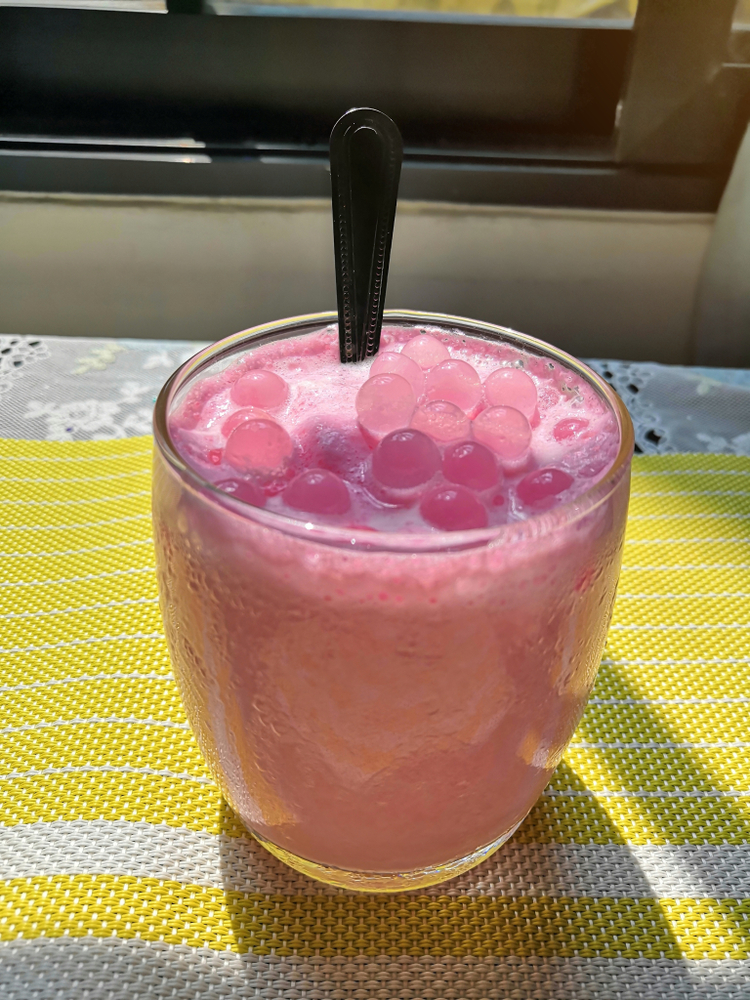 Does Strawberry Milk Tea Have Caffeine?
Any caffeine in strawberry milk tea comes from the tea base. Black tea has more caffeine than green tea but less than coffee. If you are sensitive to caffeine, you may want to substitute the amount of tea in the recipe with milk. This will remove any caffeine in the boba tea and create a creamy-rich drink that tastes like strawberries and cream.
Is Strawberry Boba Tea Healthy?
Strawberry boba tea should be considered a treat. While strawberries are high in vitamins and fiber, tapioca pearls contain high levels of sugar and carbohydrates— too much of which can affect overall health.
Some alternatives for a healthier boba tea include:
Using honey or maple syrup as sweeteners rather than brown or white sugar
Experimenting with low-glycemic sugars like stevia and monk fruit
Using low-calorie milk, like almond milk
Choosing popping boba rather than tapioca pearls since they are lower in carbs