Mango milk tea is a refreshing drink that includes mango, green tea, and milk. Bubble tea originated in Taiwan and has spread to many other countries. This boba tea recipe is quick and easy, especially if you use store-bought boba pearls. 
The mango milk tea recipe uses easy-to-find ingredients. You can whip it up as a refreshing drink to follow any meal. There are also many ways to tailor the recipe to your tastes and preferences.
Print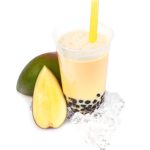 Mango Milk Tea
---
Total Time:

20 minutes

Yield:

1

16oz drink

1

x
Description
Enjoy the taste of summer any time of the year! This recipe comes together quickly and is always a crowd favorite.
---
1

green tea bag

1

cup

water

1/4

cup

quick-cooking tapioca pearls

2 tbsp

sugar, divided (white, coconut, or brown sugar)

1

cup

mango nectar or juice

1/2

cup

milk (oat milk is our top choice)
---
Instructions
Bring 1 cup of water to a boil over medium heat. Remove from heat and add the green tea. Let steep for 3-5 minutes.
While the tea is steeping, cook the tapioca pearls according to the package instructions.
Strain the tapioca pearls through a strainer and rinse them with cold water. Move them to a bowl and sprinkle them with 1 tablespoon of sugar. Stir to coat.
Add the cooked tapioca pearls to the bottom of a large glass. Add ice if using.
Pour mango juice over the top, followed by tea and milk.
Stir to combine the layers. Add 1 tablespoon of sweetener, if desired.
Notes
You can use fresh mango instead of mango juice. Blend 1 cup of fresh mango and the milk in a blender and pour over the tapioca pearls as directed in step 5. If you can't find mango or mango juice, you can use mango-apple or any other mango juice combination. Try to choose one without added sugars and ingredients.
For added sweetness, soak the tapioca pearls in a simple syrup rather than sprinkling sweetener over them. 
Remember, tapioca pearls come in different flavors. Strawberry tapioca pearls will compliment the mango flavor. Using a boba straw will help you to enjoy the combined flavors in your mouth.
Experiment with different add-ins like popping boba or jellies. Choose a fruit flavor that compliments the mango, like apple, peach, or strawberry. You can even use mango boba for a more intense mango taste!
Prep Time:

5 minutes

Cook Time:

15 minutes
What Does Mango Milk Tea Taste Like?
Mango milk tea tastes fruity and creamy. The mango juice brings a fresh, sweet, fruity taste. Using jasmine green tea will give a slightly earthy, floral flavor to your mango milk tea. Using different teas or kinds of milk will change the flavor slightly.
How Much Caffeine Is in Mango Bubble Tea?
Your tea determines how much caffeine is in your mango bubble tea. Jasmine green tea has an average of 28mg of caffeine per cup. It is considered a low-caffeine tea compared to other tea varieties. Black tea is the highest in caffeine, with about 50 mg per cup, followed by matcha tea, oolong tea, green tea, and finally, white tea has the lowest amount of caffeine.
If you are sensitive to caffeine, you can easily substitute the green tea above with white or decaf tea.
How Many Calories Are in Mango Milk Tea?
Each recipe is different, but the Boba Buddha's recipe produces a mango milk tea with the following nutritional values:
| | |
| --- | --- |
| Nutritional Value | Amount |
| Calories | 430 |
| Carbohydrates | 102 grams |
| Sodium | 43 milligrams |
| Sugar | 35 grams |
| Potassium | 166 milligrams |
The exact calorie count is determined by how much sweetener you use. The beauty of making mango milk tea at home is that you can choose your favorite sweeteners and milk. Lower-carb milk options, like almond milk or coconut milk, will yield fewer carbs and sugars than whole milk.
Can You Use Mango Powder?
Using mango powder makes this yummy recipe even more effortless. Usually, you combine the powder with hot tea or water and stir until the powder dissolves. But for best results, follow the directions on the package. Add the tapioca pearls to the glass first, followed by the powder mixture and a handful of ice. Keep in mind that mango powder may already have added sugar and creamer. Check the package for the exact ingredients.
Other variations of this bubble tea recipe include frozen mango in place of mango juice. Add one cup of frozen mango to a blender with milk and blend until smooth. If you don't want a smoothie-like texture, allow the mango to defrost before blending. Finally, pour the mixture over the cooked boba pearls and top with tea.
Differences Between Mango Milk Tea and a Mango Smoothie
| | |
| --- | --- |
| Mango Milk Tea | Mango Smoothie |
| Served over ice | Mango is blended with ice |
| Includes a tea base | Not made with tea |
| Tea, milk, and juice create separate layers | No distinct layers |
| Served over tapioca pearls (or other toppings) | Not often served with toppings |
| Liquid texture | Thick texture |