The subtle sweetness, decadent flavors, and bright green hue make matcha milk tea an unmatched beverage. You can find it in boba shops and coffee shops around the country, but we will tell you how to make your own in this step-by-step recipe.
This recipe is easy and fun! With minimal ingredients, you can make a delicious iced matcha milk tea exploding with flavor in just four easy steps!
Print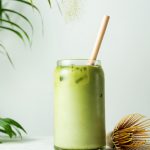 Matcha Milk Tea
---
Total Time:

7 minutes

Yield:

0

16-18 ounces

1

x
Description
Enjoy the unique flavor and health benefits of this simple match milk tea recipe. Experiment with different milk and sweetener combinations until you find your favorite blend.
---
1 tsp

matcha green tea powder

1/4

cup

boiling water

2

tbsps sweetener of choice

1 1/2

tbsps vanilla (optional)

1

cup

milk or creamer

1/2

cup

tapioca pearls (optional)

1

cup

ice
---
Instructions
Add the hot water and a teaspoon of matcha powder to a bowl.
Mix the matcha and water with a whisk until you get a frothy consistency. Allow it to sit and cool.
Assemble the drink. Start with your sweetener and vanilla. Then add your milk of choice and the ice cubes.
Finally, add the matcha tea and enjoy!
Notes
Add boba pearls to turn this matcha milk tea into a matcha bubble tea. Put them on the bottom of the glass and then build your drink like normal.
In terms of milk, almond milk is our top choice, but you can make a matcha latte with any milk or cream you like.
Honey is our choice of sweetener for this recipe, but additional options that work well with this tea include brown sugar syrup, maple syrup, or coconut sugar.
A traditional Japanese matcha whisk works best to keep the powder from clumping. However, a regular whisk, milk frother, or blender will also work. 
Prep Time:

2 minutes

Cook Time:

5 minutes
What Does Matcha Milk Tea Taste Like?
Matcha on its own is an explosion of unique flavors; it is bitter, vegetal, nutty, grassy, and slightly sweet. However, the umami flavor is what makes it stand out. It is similar to green tea but with more of a punch.
When combined with milk and sweetener, the flavors are subdued. It takes on a creamy, earthy flavor. The drink's sweetness depends on how much honey, sugar, or syrup you add. Sweeten slowly; you don't want to cover up these exciting flavors.
Health Benefits of Matcha Tea
Matcha green tea has several health benefits (hence its overwhelming popularity). Some of those benefits include:
Antioxidants: Matcha is rich in antioxidants which can help stabilize free radicals (compounds that damage cells and cause chronic disease).
Liver Health: Some studies have shown that matcha may help protect your liver by reducing liver enzymes (which, when elevated, can mark liver damage).
Cancer Prevention: Green tea extract has been shown to reduce the risk of cancer, and, in one study, it reduced the size of a tumor and even slowed breast cancer growth in rats.
Weight Loss: Green tea extract has been used in weight loss products worldwide. It can speed up your metabolism and increase fat burning by up to 17% when taken during moderate exercise.
Boost Brain Function: Studies have shown that matcha can increase and improve attention span, memory, and even reaction time.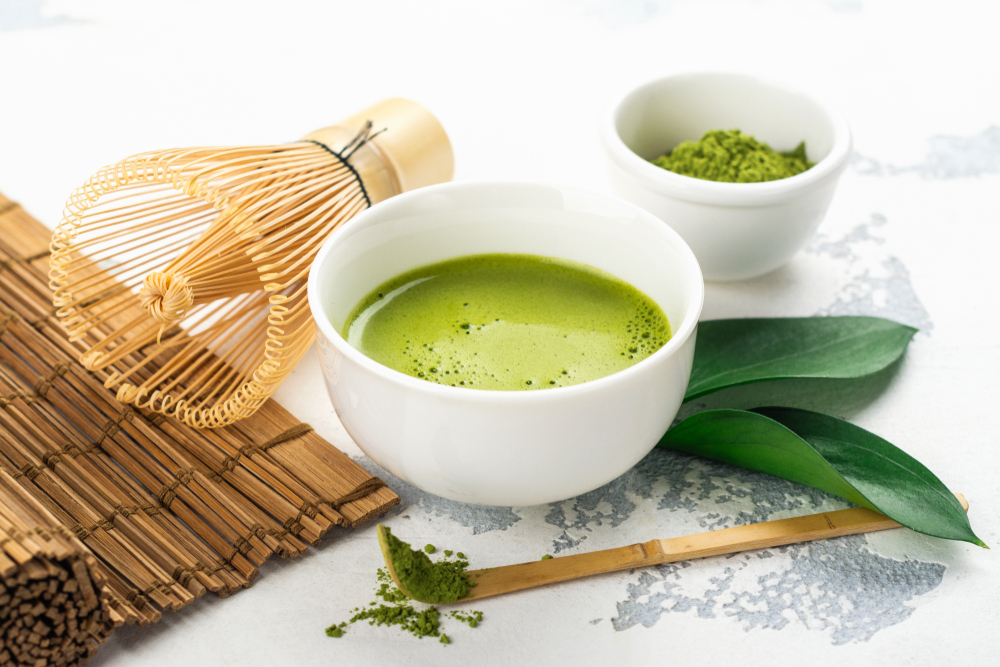 What Types of Milk Are Best With Matcha Boba Tea?
If you're trying to decide what type of milk to use in your matcha bubble tea, you should consider a few things. The first is how creamy you want it. If you like creamy bubble tea, you may wish to use oat milk or dairy milk.
However, if you want it to be a bit lighter and smoother, then almond milk works very well and is delicious. You could also give soy milk a try. It is all about your tastes and preferences when deciding. We suggest trying different types and seeing what works best for you.
Does Matcha Tea Have Caffeine?
Though it has more caffeine than regular brewed green tea, matcha drinks have less caffeine than a regular cup of coffee or black tea. A cup of matcha tea can contain between 38 and 176 milligrams of caffeine. It all depends on the freshness of the powder, how you brew it, and exactly how much you use (always measure).
If this caffeine jolt is too much for you, you can search on Amazon or other tea retailers for caffeine-free matcha tea.
Matcha Tea vs. Green Tea
Though they are both derived from the Camellia sinensis plant, there are several differences between matcha tea and green tea.
| | |
| --- | --- |
| Matcha Tea | Green Tea |
| Ground into a fine powder | Sold as loose tea leaves or bagged |
| Grown in the shade for the last couple of weeks to slow its growth and protect it from the sun | Quickly heated after harvesting to avoid oxidation |
| Dissolves into water | Must be steeped |
| Five calories per serving | Two calories per serving |
| Approximately 70 mg of caffeine | About 28 mg of caffeine |