Cookie Crush bubble milk tea is a deliciously creamy twist on traditional milk tea that will satisfy even the sweetest of sweet tooths. It's a fun boba drink made with real cookies and it is customizable for everyone's tastes. 
Adding cookies to milk tea enhances the flavor and texture of the drink. Make sure you have a strong enough blender that will be able to pulverize the cookies so that they give the tea an even consistency. I used Milano dark chocolate cookies and matcha tea in this recipe, but you can customize it to your liking.
Print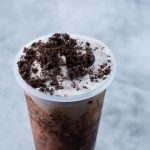 Cookie Crush Bubble Milk Tea
---
Total Time:

25 minutes

Yield:

1

1

x
Description
This drink combines the earthy flavor of a matcha latte with the sweet crunch of cookies. While there's no doubt that it is a sweet, indulgent drink, the matcha flavors help to round out the sweetness.
---
3/4 tsp

matcha tea powder

3/4

cup

hot water

3.5

ounces

whole milk

4 tsp

brown sugar simple syrup (or any soluble sweetener)

1/4

cup

cooked tapioca pearls

2

drops vanilla extract

5

crushed Milano cookies
ice cubes
whipped cream and more crushed cookies (for garnish)
---
Instructions
Add the matcha powder and hot water to a mixing bowl and whisk until frothy.
Pour the matcha tea into the blender, along with vanilla extract, milk, and crushed cookies. Blend until smooth.
Fill the shaker with ice, combine the blended mixture with your simple syrup, and shake.
Taste and add more simple syrup if needed.
Place the tapioca pearls at the bottom of the serving glass and then fill it with ice.
Strain the mixture over the ice and top the beverage with whipped cream and crushed cookies. Add a boba straw, and enjoy!
Notes
If you want to get really creative (and sweet), you could use ice cream instead of milk. This would give it more of a milkshake consistency.
Technically, you could mix all the ingredients in the blender and skip the shaking part. However, shaking the beverage gives it a frothy and bubbly texture that bubble teas are known for.
Prep Time:

15 minutes

Cook Time:

10 minutes
What Does a Cookie Crush Bubble Tea Taste Like?
This unique bubble tea combines matcha tea's earthy and grassy flavors with brown sugar and dark chocolate cookies. The result is similar to a cookies 'n cream milk tea with adult flavors. It is rich, creamy, and very sweet.
Can You Use Different Types of Cookies in This Recipe?
Absolutely! Several types of cookies would go well with this recipe. For example, you could use chocolate chip cookies, Oreos, shortbread cookies, white chocolate strawberry cookies, peanut butter cookies, mint cookies, or ginger snaps. Just remember to think about the flavor profiles and how the cookies and tea flavors will taste together.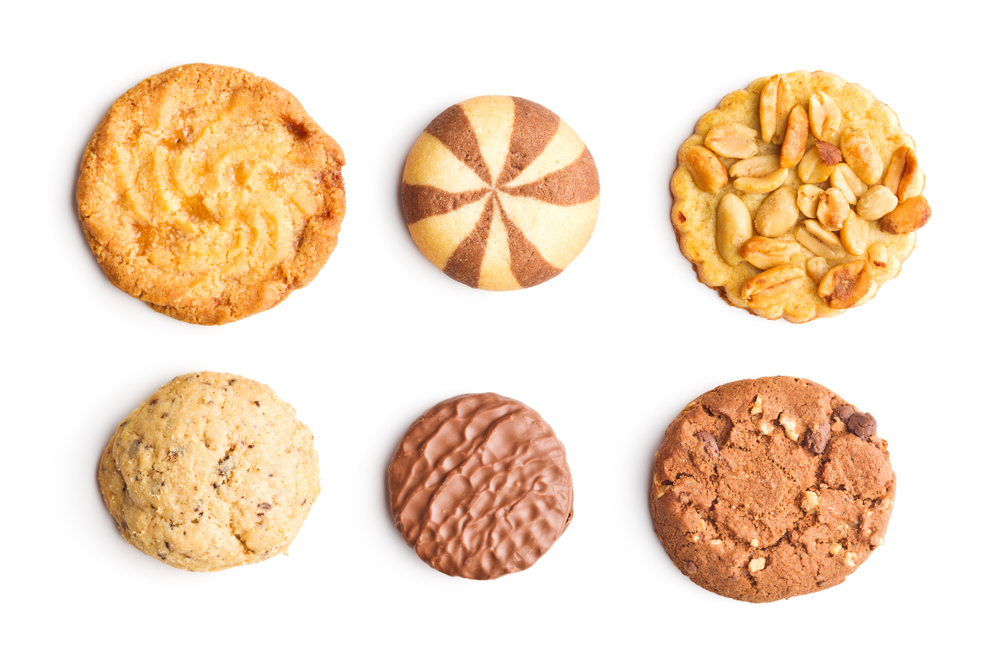 What Can You Use Instead of Matcha?
Matcha has a strong, unique taste and 3/4 teaspoon contains approximately 60 mg of caffeine. There are several alternatives if you don't have matcha on hand or want a different flavor.
For a robust, spiced flavor, try chai or Thai tea. For something potent but less intense, black tea is a great choice. Oolong or green tea will take a backseat to the cookies, while jasmine tea will add a hint of floral flavor. For a tea with little-to-no caffeine, herbal and fruit tea are great options.
You could also use plain chocolate milk or chocolate milk tea. There are many different options for this delicious drink.
Is It Possible to Make a Vegan Cookie Crush Bubble Tea?
Yes, making a vegan cookie crush boba tea is simple. Rather than using full-fat milk or any dairy milk, you will substitute plant-based milk such as almond milk, oat milk, or, our favorite, coconut milk.
This may come as a surprise, but Oreo cookies are vegan! They are a great option in this recipe and pair well with matcha tea.
Does Cookie Crush Boba Tea Have Any Health Benefits?
This recipe, made with matcha tea, has several proven health benefits, including the following:
Rich in antioxidants
Boosts brain function
Could help liver function
May prevent some types of cancer
Can boost heart health
May aid in weight loss
These health benefits pertain specifically to matcha tea. If you use a different tea, this information will change.
Depending on the type of milk you use, you'll also be getting a decent dose of calcium. However, it is essential to remember that combining these ingredients with sugar and cookies reduces health benefits.
Which Toppings Are Best in a Cookie Crush Boba Drink?
Most toppings and garnishes will taste great with any possible boba milk tea/cookie combinations.
A few of my favorite additions include:
Fresh fruit
Tapioca pearls
Passion fruit or lychee popping boba
Taro balls
Sweet red beans
Pomegranate seeds
Whipped cream
Dark chocolate shavings