Discover this Taiwanese twist on a classic beverage. Chocolate boba is a layered, creamy chocolate drink served with chewy boba balls. To make this drink even more indulgent, consider soaking the cooked boba in homemade chocolate syrup. 
This chocolate bubble tea recipe is quick and easy. Depending on your ingredients, it can be dairy-free, gluten-free, or lower sugar. Serve it warm or cooled over ice. All you need is a few easy-to-find ingredients, and you can make this bubble tea drink at home!
Print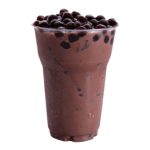 Chocolate Boba Tea
---
Total Time:

20 minutes

Yield:

2

1

x
Description
This recipe is a great option for the entire family! Unlike traditional boba drinks, this chocolate bubble tea is not made with a black tea base. It is truly a liquid dessert.
---
1/2

cup

water

6 tbsp

hot chocolate mix

1 1/2

cups

milk

1/2

cup

quick-cooking tapioca pearls

1 tbsp

sweetener (white sugar, maple syrup, honey)
ice cubes
whipped cream (optional)
---
Instructions
Prepare the tapioca pearls according to the package directions. Rise briefly under cool water and toss with sweetener. Set aside.
Boil ½ cup water. Add the hot chocolate mix and stir until dissolved.
Add half of the tapioca pearls to each glass. Add ice and divide the milk in each glass.
Top with the hot chocolate mixture. Stir with a boba straw to combine the layers if desired.
Top with whipped cream (optional).
Notes
Try different flavors of hot chocolate mix. Double the amount of hot chocolate mix for a richer bubble tea.
Variations and optional add-ins:
Add 1 teaspoon of cinnamon to your hot chocolate mix as you dissolve it in the boiling water or sprinkle cinnamon on top of your bubble tea just before enjoying. 
Add 1 teaspoon of vanilla to the milk.
Drizzle caramel syrup over the top of your chocolate bubble tea. You can also drizzle caramel syrup over the cooked tapioca pearls as you assemble your drink in the glass.
Sprinkle a handful of chocolate chips on top for garnish and flavor.
Prep Time:

5 minutes

Cook Time:

15 minutes
What Does Chocolate Boba Taste Like?
Chocolate Boba tastes like rich, creamy hot chocolate. The tapioca pearls add a chewy texture to this milky, chocolatey bubble tea.
You can make several variations on the original chocolate milk tea recipe, including the addition of caramel syrup, hazelnut syrup or creamer, or a drop of peppermint extract (one drop is plenty!). These easy variations will make your boba drink unique and even more delicious!
Is There Caffeine in Chocolate Boba Milk Tea?
Both chocolate and cocoa beans have caffeine. Powdered hot chocolate mixes generally have about 5mg of caffeine per cup. Mixes made with real cocoa powder have more caffeine, averaging about 25 mg per cup. In comparison, a cup of green tea has about 40 mg of caffeine per cup, while a cup of coffee averages 95 mg of caffeine.
If you are sensitive to caffeine, read the nutritional information on your package of hot chocolate mix to ensure the amount of caffeine is within a tolerable range.
Can Chocolate Boba Tea Be Made With Non-dairy Milk?
You can easily make chocolate boba tea with non-dairy milk. Soy or oat milk will make your chocolate boba tea thicker and creamier. Coconut or almond milk is lower in carbs and could benefit those on a low-carbohydrate diet.
Choose unsweetened non-dairy milk to help reduce added sugar in your chocolate boba tea. Non-dairy milk with vanilla will add a subtle hint of vanilla and extra sweetness to your milk tea drink.
Is Chocolate Bubble Tea Better Hot or Cold?
Chocolate bubble tea can be served hot or cold—whichever way you like best! Hot chocolate bubble tea is like fancy hot chocolate—a great treat on a cold winter day. If you decide to serve it cold, add plenty of ice.
Can Tapioca Pearls Be Chocolate Flavored?
Chocolate tapioca pearls are not common, but they do exist. You only need a few ingredients to make homemade chocolate-soaked tapioca pearls.
After cooking the tapioca pearls, soak them in homemade chocolate simple syrup. To make the syrup, combine the following:
1/4 cup cocoa powder
1/2 cup sugar
3/4 cup water
Bring the ingredients to a boil, stirring to dissolve the chocolate and sugar.
Once boiling, turn it down to a simmer and cook the syrup for 10 minutes until it thickens and reduces, stirring often.
Once the syrup is finished, use it immediately or store it in an airtight container in the fridge for up to five days.
Additionally, some online boba shops or local tea shops sell chocolate-flavored popping pearls. Because they are not common, they tend to be expensive.
What's the alternative? Using classic brown sugar boba pearls is always a good choice. These sweet tapioca pearls complement just about every bubble tea flavor and will add a sweet chewiness to your chocolate boba.