Milk tea is exactly what it sounds like- tea with milk added. It has been a tradition for thousands of years, from Britain to China, South America, and Taiwan. Milk is often added to tea to balance out the bitterness of the tea. It can be as simple or as complex as you want it to be.
This recipe provides the steps to make an easy milk tea using tea bags or tea leaves. Black tea leaves work well, but you can personalize the recipe according to which tea flavors you prefer.
Print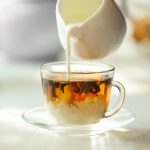 Milk Tea
---
Total Time:

10 minutes

Yield:

1 cup

of tea

1

x
Description
This delicious milk tea recipe is traditionally served hot. By adding ice cubes you can make a chilled version, creating a great base for bubble tea.
---
1

cup

water

1

black tea bag (ex: Earl Grey) (or

1 tbsp

of black, loose-leaf tea in a tea ball)

1/4

cup

milk

1 tbsp

sweetener, optional ((honey, brown sugar, white sugar))
---
Instructions
Bring water to a boil over medium heat in a small pot.
Once boiling, stir in the sugar, if using, until it dissolves.
Remove the pan from heat and add your tea bag or tea ball.
Steep the tea for 3-5 minutes. The longer the tea steeps, the stronger it will be.
Remove and discard the tea bag.
Pour in milk and stir to combine, adjusting the sweetness and/or amount of milk to taste.
Notes
For best results, use fresh or spring water. Tap water and distilled water won't develop tea flavors as well.
Adding too much milk can make the tea bland. Add just enough to turn the brewed tea a tan color.
Prep Time:

5 minutes

Cook Time:

5 minutes
Can You Use Different Types of Tea to Make Milk Tea?

Yes, you can use many different types of tea to make milk tea. Excellent milk tea options include jasmine, Ceylon, Assam, English Breakfast, Early Grey, matcha, chai, green, and oolong tea.
Even though most fruit teas won't curdle dairy, using one as the base of a milk tea could create a sour taste.
What Is the Best Type of Milk to Use?
Whole milk is the traditional choice and creates a creamy, decadent milk tea. If you enjoy especially rich beverages, try using half and half. You can even use goat's milk if you have access to it. Remember that whole milk or half and half will add more calories, sugars, and carbohydrates to your milk tea.
Dairy-free milk options, like almond milk, rice milk, coconut milk, soy milk, or cashew milk, make great choices for lactose-free or vegan milk teas.
Condensed milk also makes a delicious milk tea. Many brands of condensed milk contain additional sweeteners, so check the ingredients before using it. If you find your condensed milk is already sweetened, you may want to leave out the sweetener when making your tea base.
You can use milk fresh from the dairy case or shelf-stable boxed milk. Use the kind of milk you prefer or the one that fits your eating plan- you can't go wrong.
How Does Milk Tea Become Bubble Tea?
Milk tea becomes bubble tea when paired with tapioca pearls, also called boba, and sugar syrup. The tapioca pearls are cooked in hot water, cooled to room temperature under cold water, and then soaked in brown sugar syrup. The tapioca pearls are added to the glass first, followed by milk tea or sweetened brewed tea.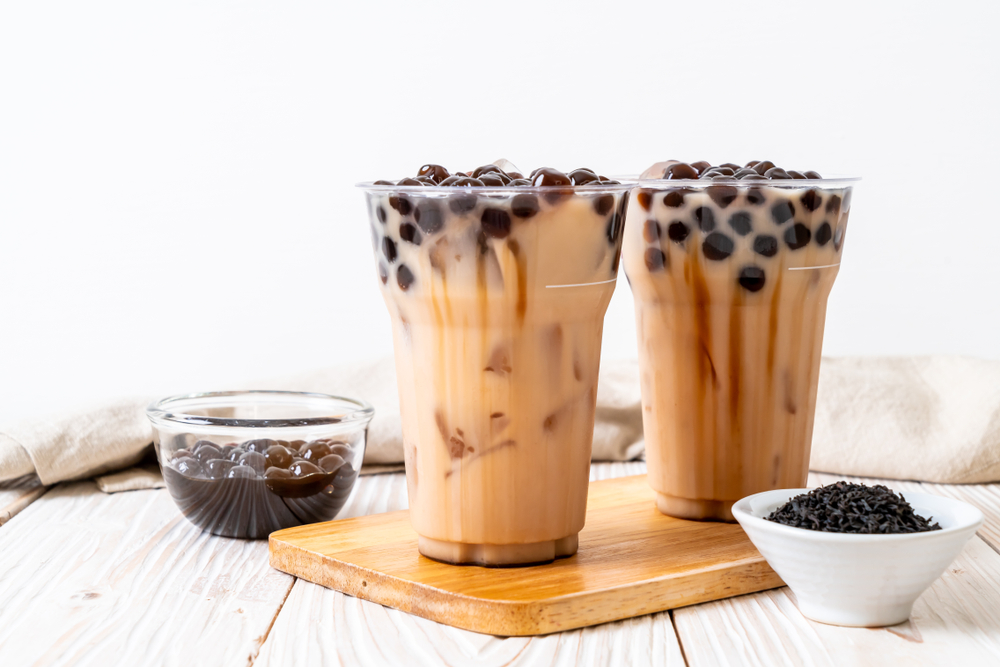 Tapioca pearls and milk tea are staples in Asian countries. They were combined in the 1980s in a Taiwanese tea shop into the drink we now know as bubble tea.
Aside from boba pearls, there are plenty of add-in options, including fruit purees, jellies, and additional simple syrups.
Are There Other Names for Milk Tea?
Milk tea is also referred to as:
Black pearl tea
Boba
Boba milk tea
Boba tea
Bubble tea
Pearl milk tea
Pearl shake
Tapioca ball tea
* Tea lattes can also be considered milk teas and are made by combing brewed tea with steamed milk
Which Sweetener Is Best to Use?
The best sweetener to use is the one you enjoy the most. There's nothing wrong with the classic sweeteners- brown sugar and white sugar, but honey, agave, and maple syrup also work well.
You can experiment with different sweeteners and find the one you like best. You may also discover that specific sweeteners work best with varying tea flavors. The fun of making homemade milk tea is that you can experiment until you find the perfect combination for you!