Thai and Taro bubble tea are two of the most famous boba teas you can find. Thai bubble tea tastes floral with a hint of warm spices like cardamom and cinnamon, whereas taro bubble tea is nuttier and earthier. Deciding between so many different flavors can be overwhelming, but you can't go wrong with either of these. 
Thai Bubble Tea
Bubble tea first originated in Taiwan in the mid-1980s, but it wasn't until a couple of years later that this refreshing drink made its way to the shores of Thailand.
It's fascinating to note that tea has only become popular in Thailand recently. While the exact origins are unknown, many people believe that a prominent Thai official, Field Marshal Pibul Songkram, helped popularize the drink across the country.
He was particularly fond of Western influences, which is one reason why Thai bubble tea is made with condensed milk and black tea leaves instead of the more traditional green tea.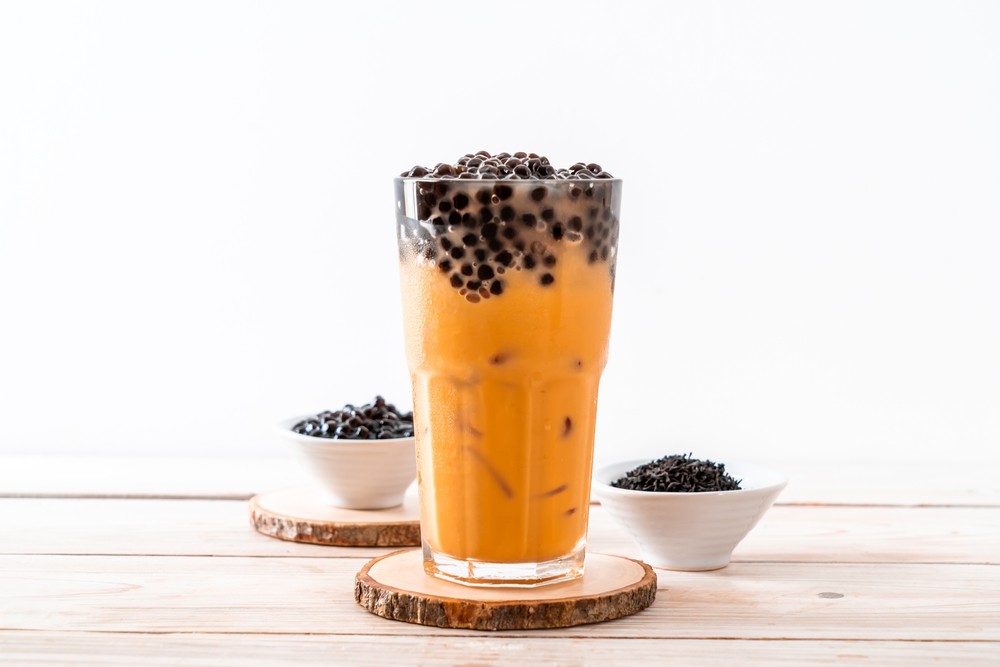 Ingredients
There are various tea recipes and powder mixes available on the market, but a few common ingredients include:
Sweetened condensed milk
Coconut milk
Spices: anise, green cardamom, whole cloves
Black tea
Sweetener
Tapioca pearls
Flavor
Thai milk tea's distinctly warm and floral taste differentiates it from other milk tea flavors. Using condensed milk also adds a rich sweetness and creaminess to this drink.
The spices used in Thai tea contribute to its overall flavor profile. Anise star and cardamom give off a pleasant licorice-like taste, while cloves provide a slightly astringent and woody note. The mellow iced tea base complements Thai milk tea, making it delicious and refreshing.
Nutritional Information
Here's the nutritional information breakdown of an eight-ounce serving of Thai iced tea.
| | |
| --- | --- |
| Nutrition | Amount |
| Calories | 131 |
| Calories from fat | 63 |
| Total fat | 7 g |
| Saturated fat | 4.5 g |
| Trans fat | 0.2 g |
| Cholesterol | 23 mg |
| Sodium | 30 mg |
| Total carbohydrates | 16 g |
| Dietary fiber | 0 g |
| Sugars | 15 g |
With the addition of tapioca pearls, there is an additional 272 calories and 67.5 carbohydrates. Substituting coconut milk with other dairy or almond milk can also affect its nutritional breakdown.
Taro Bubble Tea
Taro bubble tea is famous for its beautiful lavender color and distinct nutty flavor. As traditional milk tea gained fame in Taiwan in the late 1980s, this flavor's popularity also skyrocketed as an equally refreshing and sweet alternative.
Of course, the main ingredient in this flavor is the elusive ground taro root. Taro is common in many Asian cuisines and has a starchy texture similar to potatoes with a flavor that's a cross between sweet potato and vanilla.
This root is commercially grown in tropical and subtropical climates, including Taiwan, China, and regions in Southeast Asia. The taro root vegetable can also be grown in warmer areas in America and Mexico.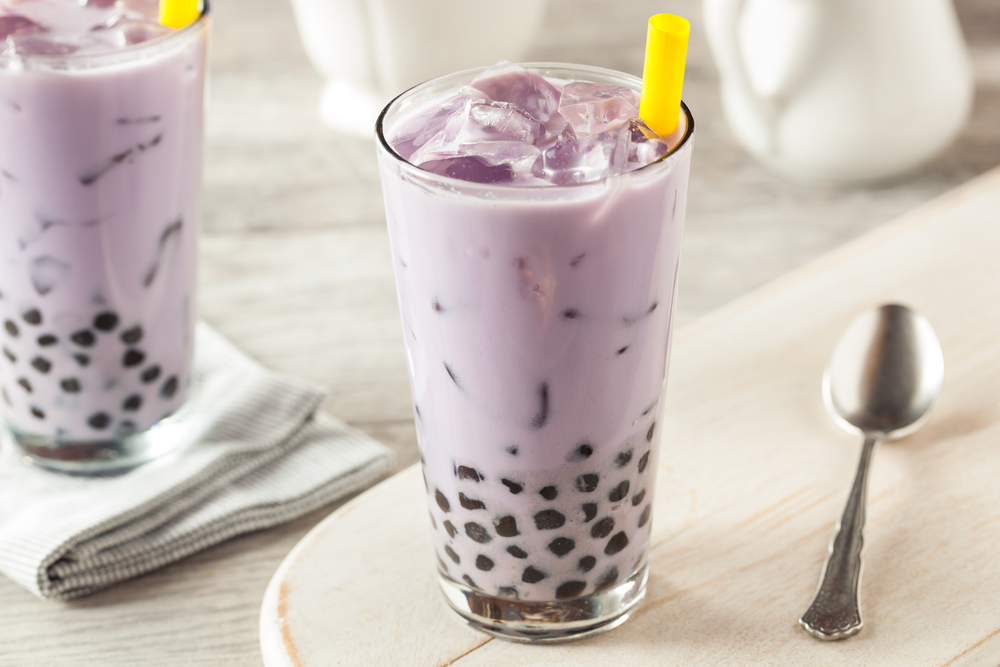 Ingredients
Taro milk tea generally includes:
Jasmine green tea
Taro powder
Sweetener
Dairy
Brown sugar tapioca pearls
Flavor
Taro milk tea has a rich creaminess along with nutty and earthy flavors. The green tea in this recipe provides a grassy and slightly floral note that helps balance the beverage's sweetness.
Compared to Thai milk tea, taro has a thicker and creamier texture and is absent of warm and spicy flavor profiles.
Nutritional Information
Here's the nutritional information breakdown of an 8-oz serving of Taro milk tea.
| | |
| --- | --- |
| Nutrition | Amount |
| Calories | 260 |
| Calories from fat | 36 |
| Total fat | 4 g |
| Saturated fat | 3.5 g |
| Trans fat | 0 g |
| Cholesterol | 5 mg |
| Sodium | 270 mg |
| Total carbohydrates | 48 g |
| Dietary fiber | 0 g |
| Sugar | 49 g |
Again, with the addition of tapioca pearls, the calorie and carb count will increase.
Which One Should You Try?
Neither option has many health benefits. In terms of flavor, Thai milk tea and taro bubble tea are both delicious and sweet drinks that make for a pleasant pearl milk tea. You can't go wrong with either of them.
Thai bubble tea is an excellent choice if you want a light milk tea flavor with an aromatic and floral kick. If you prefer a thicker and creamier drink with nutty undertones, taro boba tea is the way to go.
Some bubble tea lovers might disagree, but we'd pick Thai milk tea because the sweetness and taste profile is unlike any other drink. So if your local bubble tea shops serve that flavor, be sure to give it a shot!