Homemade Thai boba tea is quick and easy. Follow this guide to create a refreshing, creamy, sweet treat like you'd find in your favorite Thai restaurant with only need a few ingredients. The combination of condensed milk, evaporated milk, and spices is truly unique. 
This bubble tea recipe combines easy Thai tea with boba pearls, creating Thai bubble tea. Make the brewed tea ahead of time and keep it in the fridge to make this Thai boba tea even more quickly. When ready to serve, prepare the tapioca balls and add them to the milk tea. If you've never tried Thai tea, be sure to read the additional information under the recipe.
Print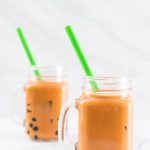 Thai Boba Tea
---
Total Time:

20 minutes

Yield:

1

1

x
Description
This recipe uses Thai tea powder, making it easy to get the right balance of flavors. However, if you happen to have all of the spices on hand, you can make a truly unique tea.
---
1 tbsp

Thai tea mix

1

black tea bag (or

1 tsp

of black tea leaves)

1

cup

water

1 tbsp

brown sugar

1/4

cup

evaporated milk

2 tbsp

sweetened condensed milk

1/4

cup

quick-cooking tapioca pearls
ice cubes
---
Instructions
Bring 1 cup of water to a boil in a medium saucepan. Stir in the Thai tea mix and brown sugar. Add the black tea and remove the pan from the heat.
Allow the tea to steep for at least 10 minutes; Thai tea is traditionally more potent than other tea drinks. Once steeped, pour the tea through a strainer to remove the tea mix. Set the brewed tea aside to cool.
Cook the tapioca pearls according to the package instructions. Drain and rinse with cool water to bring the pearls to just above room temperature.
Combine the evaporated milk and the sweetened condensed milk in a separate bowl and set aside. If using different dairy, see the recipe notes below on how to prepare the milk.
Spoon the cooked tapioca pearls into the bottom of a large glass. Pour the cooled tea over the top and add a large handful of ice. Top with the mixed milk. Stir and serve.
Notes
As with all boba tea recipes, there are endless sweetener, milk, and tea swaps. Here are a few variations and suggestions for this recipe:
The addition of black tea makes this Thai boba even stronger. It is entirely optional but does enhance the flavor quite a bit.
Instead of evaporated and sweetened condensed milk, you can use the milk of your choice and additional sweetener. Try full-fat coconut milk for a creamy, rich taste. Add 1-2 extra tablespoons of brown sugar or maple syrup for sweetness.
Since the tea needs to steep for at least 10 minutes, you can make it ahead of time and store it in the fridge for 2-3 days. Prepare the rest of the ingredients right before serving.
Instead of a Thai tea mix, you can steep plain black tea with spices like star anise, vanilla, cinnamon, and cardamom to create Thai boba tea.
Prep Time:

5 minutes

Cook Time:

15 minutes
What Does Thai Boba Tea Taste Like?
Along with strongly-brewed black tea, Thai tea is made with star anise, cardamom, cinnamon, crushed tamarind, and vanilla. These strong spices create a spicy, robust, and rich tea.
Thai tea powders often include these spices, along with sweeteners and creamers. The sweetened milk perfectly compliments the strong tea base, making the boba tea creamy. The tapioca pearls, assuming they are cooked with sugar, bring additional sweetness and a chewy texture. The cool sweetness of Thai boba tea pairs excellently with spicy cuisine.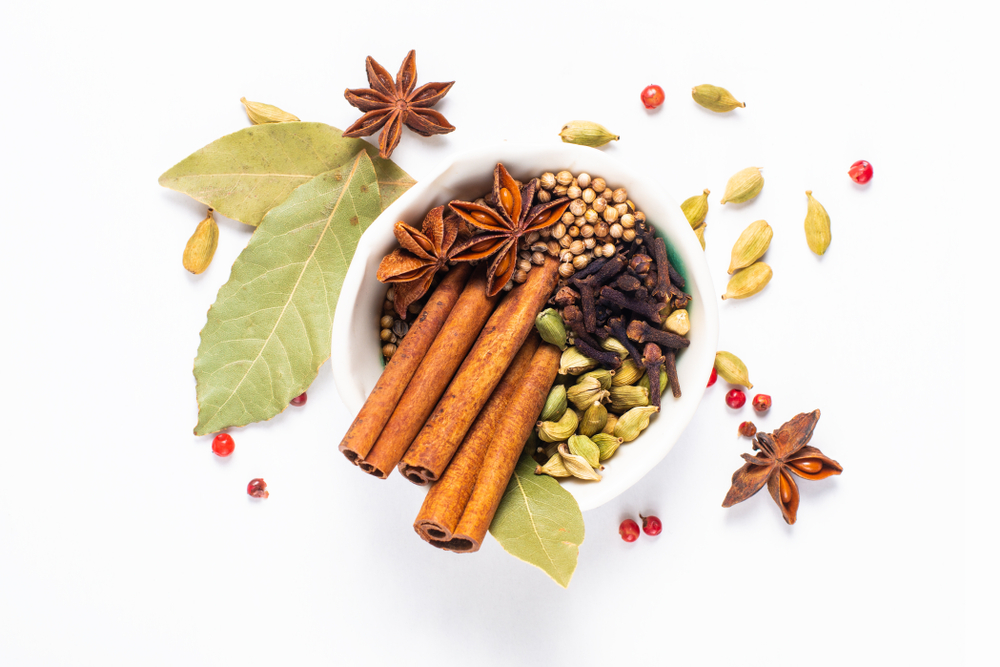 Why Is Thai Tea Orange?
The bright orange color of Thai iced tea comes from food coloring. This unique color of Thai tea is one of its trademarks. Thai tea mixes turn red from the spices and added food colorings. The drink then turns orange when the milk is added. Tea shops often add red and yellow food coloring to ensure their Thai tea takes on the bright orange color that customers expect.
What Is the Difference Between Bubble Tea and Thai Tea?
Bubble TeaThai TeaOriginated in TaiwanOriginated in China (was later introduced to Taiwan, where it became very popular)Can be made with any tea base and milk; does not include unique spicesCombines brewed black tea, spices, and condensed milkServed with tapioca pearls, popping boba, or jelliesNot traditionally served with boba pearlsServed with a boba strawServed with a regular straw
Both options are typically served over ice but can also be enjoyed hot.
Is Thai Bubble Tea Caffeinated?
Thai bubble tea does contain caffeine. One cup of black tea, the base tea of Thai bubble tea, has an average of 50mg of caffeine, depending on how it is brewed. If you're sensitive to caffeine, you may want to swap the black tea for a tea lower in caffeine, like white tea or decaf tea.
Black tea has numerous health benefits, including antioxidants that have the potential to reduce inflammation and lower the risk of cardiovascular diseases.
Black tea nutritional information per 6oz serving:
| | |
| --- | --- |
| Nutrition | Amount |
| Potassium | 37 mg |
| Carbohydrates | .5 mg |
| Cholesterol | 0 mg |
| Fat | 0 mg |
| Calories | 1.8 |