Looking for an imaginative way to enjoy coffee? Try putting a boba spin on it! Coffee boba is a delightful beverage that infuses aromatic coffee with a creamy milk tea concoction. Continue reading to learn how to create this refreshing bubble tea coffee recipe in your home kitchen.
Coffee milk tea is a refreshing way to get a caffeinated kick. Drink this creamy, bittersweet concoction as a substitute for your cup of joe or as a mid-afternoon beverage.
Print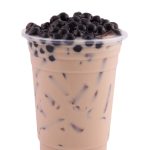 Coffee Boba
---
Total Time:

15 minutes

Yield:

1

1

x
Description
Combine two of your favorite beverages with this simple and delicious recipe. If you don't have cold brew coffee on hand, check out the recipe notes below.
---
1/4

cup

quick-cooking tapioca pearls

1 tbsp

brown sugar syrup

1/3

cup

cold-brew coffee

1/4

cup

heavy cream

2 tbsp

maple syrup
ice cubes
---
Instructions
Cook the tapioca pearls according to the package instructions.
Strain the pearls and run them under cold water for ten seconds.
Put the pearls aside in a separate bowl and soak them in brown sugar syrup.
Stir the maple syrup into the cold coffee.
In the serving cup, assemble the tapioca pearls, coffee, and ice. Top it with milk and stir.
Adjust the sweetness level by adding or subtracting sweeteners as needed.
Notes
For a stronger version of this delicious iced coffee, try using espresso instead of cold brew. A cup of strong coffee, made in your regular coffee maker, is also an alternative. Remember to cool or refrigerate the coffee base before building the boba drink.
We used heavy cream in this recipe to cut the bitterness of the coffee, but you can use any creamer, dairy, or plant-based milk.
If you need a recipe for brown sugar syrup, click here. You can use this syrup to soak your store-bought tapioca balls, or you can click here to learn how to make homemade tapioca pearls.
Prep Time:

5 minutes

Cook Time:

10 minutes
What Does Coffee Boba Taste Like?
Depending on the drink's sugar levels, coffee boba can be faintly bitter to sweet. Remember that you can always adjust the sweetness to your taste. Coffee boba is typically creamier and richer than regular coffee, thanks to the addition of milk.
The tapioca pearls also enhance the texture of this drink, giving it a nice, chewy topping.
What Type of Milk Should You Use in Bubble Coffee?
Whole-fat milk gives bubble tea coffee a creamy and rich consistency, making it extra indulgent. Most boba tea chains use this type of dairy, so if you want to create a restaurant-quality drink, go for whole-fat milk.
If you're looking for a healthier option, you can pare down the creaminess and use skim milk instead. Plant-based substitutes like almond milk, coconut milk, or oat milk are also viable alternatives.
Is It Possible to Order a Black Bubble Coffee?
Black bubble coffee may be unavailable depending on the bubble tea chain you visit. In most cases, boba shops use powdered coffee to create their coffee drinks, so some milk or cream might already be mixed in.
However, it's best to inquire your local boba barista about it since some shops may be receptive to your request.
How Many Calories Are in Bubble Coffee?
Bubble coffee contains 128 kcal if left unsweetened. However, this figure can shoot to around 400 kcal depending on the additional sugar, boba pearls, and whipped cream you may include in your drink.
Coffee Boba vs Tea Boba
Coffee boba adds a fun twist to boba drinks, but tea-based boba is still the undisputed champion in terms of flavor and versatility. And since there's less caffeine in boba tea, you can enjoy this drink any time throughout the day.
| | |
| --- | --- |
| Coffee boba | Tea boba |
| About 100 mg of caffeine per 8 ounces | Approximately 85 mg of caffeine per 8 ounces |
| Strong coffee flavor | Easy to incorporate other flavors, including fruit |
| Not all toppings mix well (ex: fruity popping boba) | Pairs well with many toppings |
| Not available in all boba cafes | Numerous options in any boba tea cafe |
How Much Caffeine Is in a Coffee Boba?
Boba Buddha's coffee boba recipe uses a third cup of cold brew coffee containing about 60 mg of caffeine. Standard boba tea, in contrast, has approximately 50 mg of caffeine, depending on the tea you use.

Is Decaf Coffee Boba Possible?
Yes, decaf coffee boba is something you can make in your home kitchen. If you can obtain decaf coffee beans, you can use those to make your coffee boba.
Even so, decaffeinated coffee beans retain about 3% of their original caffeine content. If you want to avoid caffeine altogether, a milk tea drink may not be your best beverage.
Does Coffee Boba Have Any Nutritional Benefits?
Coffee boba is a decent source of calcium, Vitamin A, and potassium.
That said, acquiring these minerals and vitamins from other food sources is usually better since continuous caffeine and sugar consumption can harm your health.
Here's the nutritional breakdown of an unsweetened cup of boba coffee:
| | |
| --- | --- |
| Nutrition | Amount |
| Calcium | 82 mg |
| Calories | 128 kcal |
| Carbohydrates | 25 g |
| Cholesterol | 7 mg |
| Fat | 2 g |
| Potassium | 109 mg |
| Vitamin A | 99 IU |
Of course, coffee boba isn't a drink renowned for its health benefits. Give yourself a break now and then, and enjoy this delicious beverage in moderation.