Bubble tea is usually high in sugar and carbohydrates and does not fit a low-carb diet like keto. You can, however, make keto boba tea using keto boba pearls and a few other simple swaps. Find out how to create a keto-friendly bubble tea at home!
The good thing about boba tea is that it can almost always be altered to fit a person's dietary restrictions. This keto boba tea is low in carbs without sacrificing flavor. This recipe uses heavy cream, sugar-free sweetener, and gelatin-based boba pearls.
Print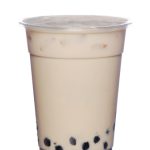 Keto Boba Tea
---
Total Time:

20 minutes

Yield:

2

Servings

1

x
Description
Like all bubble teas, this keto boba recipe is versatile. Use your favorite keto sweetener, low-carb milk, and tea to create a boba drink you'll love!
---
2

cups

of water

2

black tea bags

2 tbsp

keto-friendly sweetener like Swerve, monk fruit, or erythritol

2

large handfuls of ice cubes

1/2

cup

heavy cream

1/2

cup

keto boba pearls
---
Instructions
Bring 2 cups of water to a boil over medium heat. Remove from heat and add the tea bags and sweetener.
Stir to combine and let steep for 5 minutes. Discard the tea bags.
Add 1/4 cup keto boba pearls to the bottom of each serving glass.
Pour half of the heavy cream into each glass.
Add a large handful of ice to each glass.
Slowly pour the tea over the top.
Top with unsweetened whipped cream (optional).
Serve with a boba straw.
Notes
Use any tea you enjoy—oolong, green tea, white tea, fruit tea, or herbal tea.
Swerve makes several sugar replacements, including one for brown sugar. Choose your favorite. Keep in mind that different keto sweeteners are substituted at different ratios for sugar. Taste test along the way.
Make this recipe dairy-free by using dairy-free, low-carb milk, like unsweetened almond milk.
Prep Time:

10 minutes

Cook Time:

10 minutes
What Is the Nutritional Information for This Keto Boba Recipe?
Following the boba tea recipe above will create a sugar-free bubble tea with low carbs. Each serving of this bubble tea has the following:
| | |
| --- | --- |
| Nutrition | Value |
| Sugar | 1.75 g |
| Carbohydrates | 1.75 g |
| Calories | 218 calories |
The majority of the sugar and carbohydrates come from the heavy cream. The calories come from the heavy cream and the keto boba pearls. Teas typically contain less than one calorie and carb per cup.
Are Traditional Tapioca Pearls High in Carbs?
Yes, a half cup of tapioca pearls contains 67.5 grams of carbs. There is less than 1 gram of fiber in half a cup of tapioca pearls, making them unsuitable for the keto diet. The ketogenic lifestyle generally limits carb intake to less than 50 grams daily.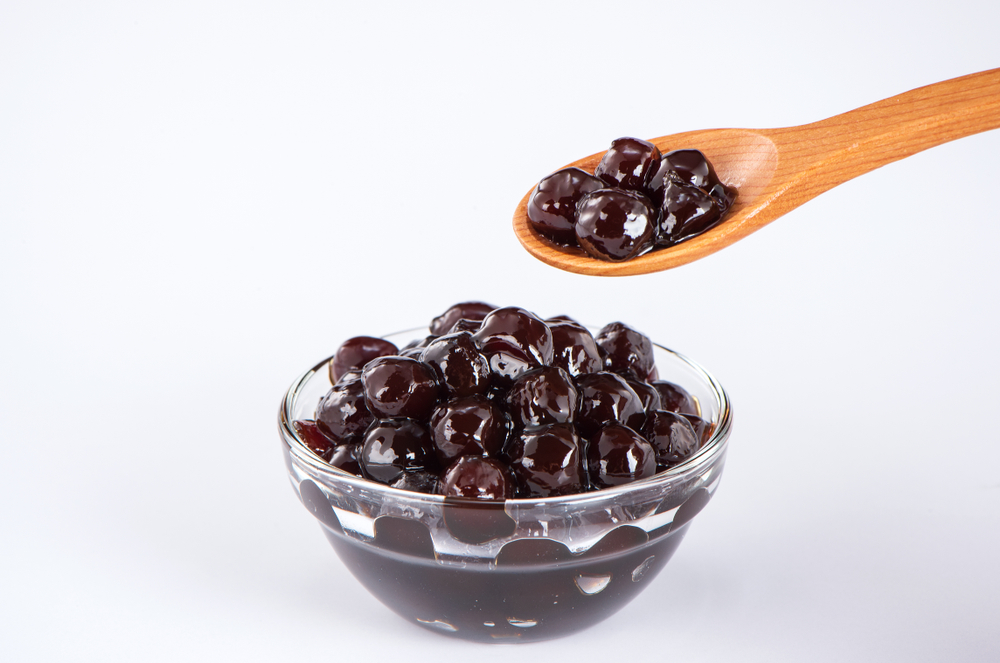 Keto-friendly tapioca pearls are made from gelatin, tea, and oil. A half cup of keto tapioca pearls made this way contains under 0 grams of net carbs. Essentially, gelatin is combined with hot water and left to set. The gelatin is then sucked into a dropper, and tiny gelatin boba pearls are dropped into very cold oil, creating ketogenic boba.
Which Milk Tea Dairy Options Are High in Carbs?
Dairy milk and some non-dairy milk are high in carbs.
| | |
| --- | --- |
| Type of milk | Net carbs per 1/2 cup |
| Goat | 5.5 g |
| 2% | 6 g |
| Whole | 6 g |
| Oat | 8 g |
| Rice | 10.5 g |
| Sweetened condensed | 83 g |
Keto-friendly milk options include heavy cream, half and half, almond milk, cashew milk, soy milk, and flax milk. Some coconut milk has five net carbs per cup, which is 1/5 of the daily carb total for the keto diet. Be sure to check the nutritional information of the coconut milk before adding it to your bubble tea.
4 Ways to Lessen the Sugar Content in Bubble Tea
Bubble tea is typically high in sugar. Here are a few ways to lower the sugar content in your bubble tea or make it sugar-free!
Order sugar-free bubble tea, or ask for 25% sweetness.
Request (or use) a keto sugar substitute, like stevia, erythritol, or monk fruit.
Skip the boba pearls, ask for sugar-free jellies instead.
Choose sugar-free toppings, like sugar-free whipped cream made from heavy cream.
Does Keto-Friendly Boba Taste as Good as Regular Boba Tea?
Keto bubble tea still tastes like sweetened boba milk tea. The most significant change would be in the low-carb, sugar-free boba pearls. Instead of tasting chewy and starchy, they'll taste like sweetened gelatin.
Keto sweeteners taste slightly different than regular sugar. If you're not used to them, you may notice the difference. However, keto boba tea still tastes sweet and delicious.