Fresh mint makes a bubble tea that tastes like summer. Mint from your garden or fresh from the farmer's market will bring the best flavor. There's no alcohol in this recipe, so it's safe for any event. Grab your cocktail shaker and get ready to create a delicious bubble tea.
Nojito bubble tea, a variation of the original Taiwanese bubble tea, is a refreshing drink based on a mojito. You'll need fresh mint, a cocktail shaker (or a mason jar with a lid), and a few ingredients. You can whip up this virgin nojito boba in under 20 minutes.
Print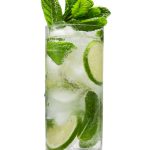 Boba Buddha's Nojito Bubble Tea Recipe
---
Total Time:

15 minutes

Yield:

2

Servings

1

x
Description
Fun and refreshing for the entire family, this nojito recipe is easy to make and delicious. This recipe is made with lychee juice, but you could use pomegranate, passion fruit, honeydew, yuzu, or pineapple instead.
---
2

handfuls of fresh mint leaves (about

15

leaves)

2/3

cup

lychee juice

1/2

cup

brewed green tea

1

cup

coconut water

1

cup

nata de coco

1

sliced lime
Ice cubes
---
Instructions
Place the mint leaves in your shaker or mason jar. Crush them with a muddler or a wooden spoon.
Add ice to the shaker.
Add the lychee juice, brewed tea, and coconut water.
Place the lid on and shake vigorously for 20-30 seconds.
Place 1/2 cup of nata de coco in the bottom of the serving glass.
Pour 1/2 of the juice mixture and ice into each glass.
Serve with a boba straw and sliced limes as garnish.
Notes
Spearmint works best—peppermint will make this bubble tea taste like toothpaste.
If you prefer a blended beverage, put everything in the blender (without the toppings) to make a nojito smoothie.
If you'd like more coconut flavor and a sweeter, richer nojito, use coconut milk instead of coconut water.  Coconut milk is the only milk that works in this recipe; other kinds of milk will change the flavor and clash with the mint.
Prep Time:

5 minutes

Cook Time:

10 minutes
What Does Nojito Bubble Tea Taste Like?
Nojito bubble tea tastes minty, citrusy, slightly sweet, and fresh. Coconut water adds a bit of sweetness while keeping the bubble tea light. Lychee adds a citrus taste, complementing the mint. Green tea adds a bit of earthiness, adding to the refreshing flavor of this beverage. Nata de coco adds more sweetness and coconut flavor. Overall, you can think of it as a tea-based virgin coconut mojito.
Can You Add Rum to Nojito Bubble Tea?
Bubble teas are all about customization. If you'd like to add rum to your nojito bubble tea, go right ahead. Since rum is a sugar-based alcohol, your finished bubble tea will be quite sweet. To keep the flavors balanced, you can substitute up to a half cup of coconut water with rum (for two servings). Don't use coconut milk if you add rum— the finished product will be overly sweet.
Is Nojito Bubble Tea Healthy?
Coconut water is made from the clear fluid found inside the coconut. It is low in calories and fat and contains potassium, magnesium, and calcium. If you decide to make this a milk tea, coconut milk drastically increases the calories, fat, and carbs, making the drink less healthy.
Mint is a good source of iron, manganese, and Vitamin A. Mint can help relieve indigestion and upset stomachs. It can also help hide bad breath!
Since this milk tea drink has little added sugars and carbs, nojito bubble tea is one of the healthier choices for bubble tea. Even so, bubble tea should be consumed in moderation.
How Much Caffeine Does Nojito Boba Tea Have?
This recipe for nojito boba tea made with green tea contains about 7 mg of caffeine per serving. If you use jasmine tea, your finished boba tea will have around 10 mg per serving. Matcha tea is higher in caffeine, containing about 18mg of caffeine per serving. I do not recommend using black tea in this recipe— the flavor is too strong.
If you prefer less caffeine, use a fruit tea. Passionfruit tea works well in this recipe and contains no caffeine.
Where Can You Buy Nojito Bubble Tea?
Bubbleology, a UK-based bubble tea brand, sells a very similar drink. Their recipe calls for jasmine tea, while this one uses green tea. This recipe also calls for more mint than the Bubbleology recipe.
Check your local boba cafe for bubble tea made with mint and coconut. Bubbleology has stores in the UK and many US cities, including New York and Tampa.
What Is Nata de Coco?
Nata de coco is a chewy food produced from fermenting coconut water. It originated in the Philippines and is used in desserts, drinks, ice cream, and puddings.
Nata de coco is high in fiber, which helps with digestion and keeps you feeling full longer. It is low in calories and a good source of B vitamins.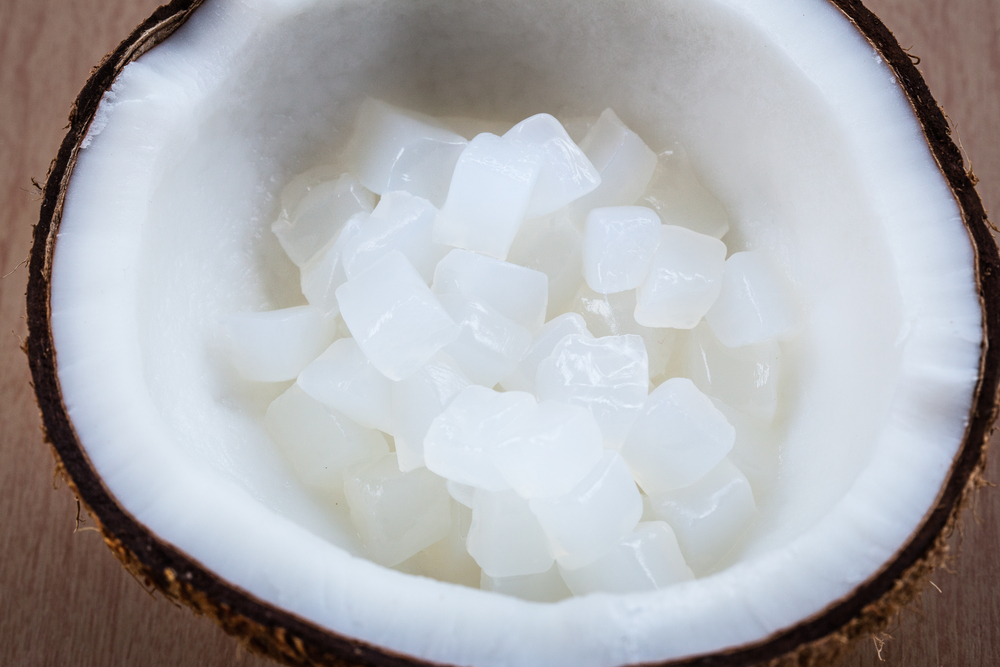 You can find it at your local Asian grocery store or online at Amazon. It comes in plain coconut and other fruit flavors like strawberry, lychee, and mango.
Which Other Toppings Are Good With Nojito Boba Tea?
Nojito boba tea works best with lighter, fruity toppings. Brown sugar tapioca pearls are too heavy for this delicate mixture of flavors. Experiment with these ideas and see which you like best!
Aloe jelly
Fresh fruit—try mango, watermelon, pineapple, apple, or orange
Grass jelly—adds more mint and earthiness
Popping boba
A scoop of ice cream