Boba drinks are widespread across the United States, but have you ever tried boba ice cream? This ice cream is made from a milk tea base, drizzled with brown sugar syrup, and mixed with tapioca pearls. The result is a decadent frozen treat sure to satisfy your sweet tooth.
This recipe requires several steps, but making your own brown sugar boba popsicle is worth it. You can customize the boba milk tea base with any tea flavor. With some preparation, you can make a fantastic treat at home.
Print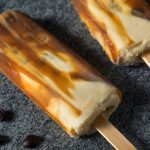 Brown Sugar Boba Ice Cream
---
Total Time:

25 minutes

Yield:

8

popsicles

1

x
Description
Cool off with this frozen treat. Boba ice cream is customizable, delicious, and requires minimal cooking time.
---
1/2

cup

quick-cooking tapioca pearls

4

black tea bags

1 1/2

cups

heavy cream

1 1/2

cups

whole milk

1/2

cup

white sugar

1

pinch salt

4

egg yolks

2 tbsp

brown sugar

1 tbsp

molasses

2

tbsp water, plus 1 tsp water separated

1 tsp

cornstarch
---
Instructions
Cook the tapioca pearls according to the package instructions. Overcook them by a minute or two, so they don't become hard when they freeze. Set aside.
Make the brown sugar syrup: Dissolve 1 teaspoon of cornstarch into 1 teaspoon of water. Combine the brown sugar, molasses, and 2 tablespoons of water in a medium saucepan.
Bring to a boil, constantly stirring, until the mixture thickens. Once thickened, spread on a plate and place in the fridge to cool completely.
Make the milk tea ice cream base: In a medium saucepan, combine the milk, cream, sugar, salt, and tea bags until the sugar dissolves. Stir frequently.
Whisk the egg yolks in a separate bowl.
Temper the egg yolks: While whisking the egg yolks, slowly pour half of the saucepan mixture into the egg yolks. Then, pour that mixture back into the saucepan and return to medium heat.
Continue heating and stirring until the mixture reaches 170 degrees Fahrenheit. It should be thick enough to coat the back of a spoon.
Remove the tea bags and strain the tea if necessary.
Cover and chill for at least 4 hours.
Once chilled, churn in an ice cream maker according to the manufacturer's directions.
Drizzle a spoonful of the brown sugar syrup into ice cream molds.
Fill the mold partway with churned ice cream and add a popsicle stick.
Drizzle more brown sugar syrup, add prepared tapioca pearls, and fill the rest of the way with ice cream.
Tap molds lightly on the countertop to get rid of any air bubbles.
Freeze for at least 4 hours.
Notes
Use green tea, fruit tea, herbal tea, matcha tea, or Thai tea instead of black tea.
In addition to tapioca pearls, you can add fresh fruit, sprinkles, or cookie crumbles to your boba ice cream.
Use chocolate syrup or caramel syrup instead of brown sugar syrup.
If you don't have ice cream molds, freeze the ice cream for at least 4 hours after churning. Once frozen, scoop out your desired amount of ice cream, drizzle with brown sugar syrup, and top with tapioca pearls.
Prep Time:

10 minutes

Cook Time:

15 minutes
What Does Boba Ice Cream Taste Like?
Boba ice cream tastes like tea with milk. The overall texture is the same as traditional ice cream, but with boba balls. The chewy texture of the tapioca balls is similar to mochi ice cream.
Your boba ice cream will take on the taste of any flavorings or add-ins, just like regular ice cream. In the case of this recipe, you'll taste hints of brown sugar and molasses. You can add extra flavor with small fruit pieces, flavored tapioca pearls, Oreos, caramel swirls, or chocolate.
Is Boba Ice Cream Healthy?
Boba ice cream is typically high in fat and sugar, and can have more than 350 calories per serving, depending on the ingredients. The tapioca pearls are high in carbohydrates but low in fat and cholesterol.
Boba ice cream is best enjoyed as an occasional treat.
Which Boba Ice Cream Flavor Is the Best?
The answer to this question depends on who you ask. Depending on your personal preferences, you can enjoy boba ice cream in many different flavors. Three of the most popular options are:
Milk Tea Ice Cream, which can be made with any tea flavor as described above.
Brown Sugar Boba Ice Cream, which has tapioca pearls are coated with brown sugar after they are cooked. This flavor is extra sweet and caramelly; it tastes like a traditional brown sugar milk tea bubble tea.
Green tea ice cream, which has an earthy taste.
You can make any flavor of boba ice cream you prefer. If you don't like tea, you might want to consider trying coffee, mango, strawberry, or vanilla boba ice cream flavors.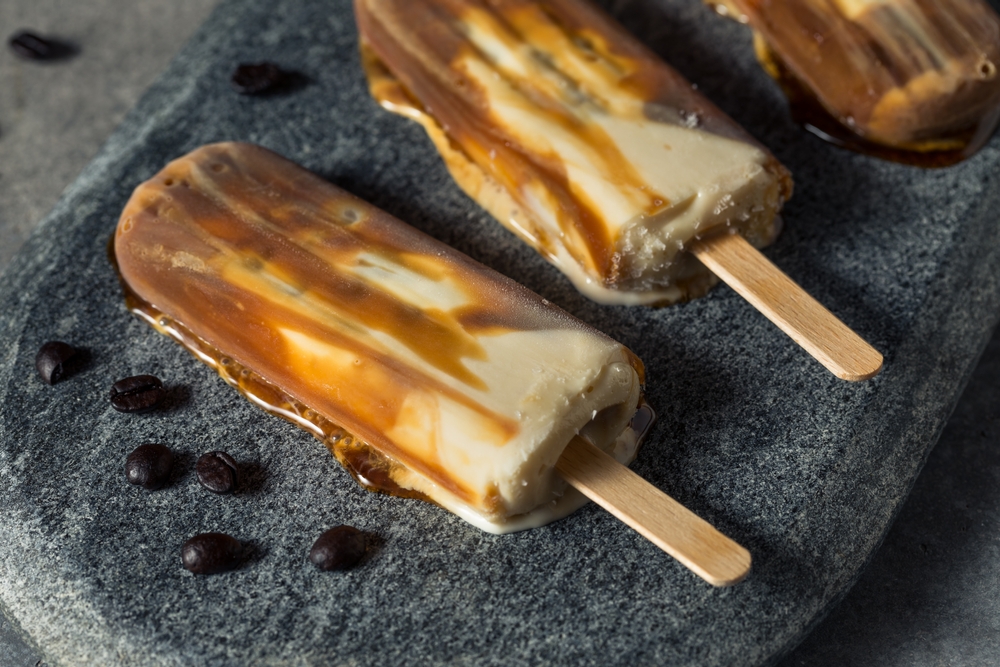 Can You Use Different Types of Milk For Boba Ice Cream?
You can substitute the heavy cream and whole milk for full-fat canned coconut cream.
Low-fat milk, like 2% or skim, will affect the ice cream's texture. The ice cream will be watery and develop crystals when frozen. It will also be more difficult to scoop.
Do Tapioca Pearls Become Hard When They're Frozen?
Yes, tapioca pearls can become hard when they freeze. To keep them as soft as possible, overcook them for a few minutes. Tapioca pearls are best when fresh, so make them right before you make your ice cream.
If you have leftover tapioca pearls, store them in brown sugar syrup in an airtight container in the fridge. When you're ready to use them, microwave the pearls with just enough syrup to cover them until they are warm to the touch—start with 15-second intervals.
Tapioca pearls can last for about two days in the fridge, and then they start to break down.
What Are the Benefits of Boba Ice Cream?
Serving boba ice cream to friends or guests is sure to impress. With some preparation, you can build an ice cream bar with various toppings and syrups for your milk tea ice cream. Or, you can dip your frozen ice cream popsicles into chocolate for an even more decadent treat.
Boba ice cream popsicles can be prepared ahead of time and stored in the freezer, making it a great grab-and-go frozen treat for summer.
While boba ice cream offers few health benefits, it will bring a novel, refreshing taste to your next gathering.
Where Can You Buy Boba Ice Cream?
You can find boba ice cream in-store at:
Trader Joe's: offers a black tea boba frozen dessert. They also have a cold brew boba ice cream for coffee lovers.
Costco: sells boba ice cream bars.
Sams Club: has brown sugar boba ice cream bars.
Some Krogers and Safeways also advertise brown sugar boba ice cream bars. Check your local stores to see their selection. As bubble tea gains popularity, boba ice cream may become more readily available at local grocery stores.