Grass jelly is commonly found in East and Southeast Asia. This black jelly is used in boba tea and other desserts because its herbal taste pairs well with sweet dishes. Grass jelly is also called leaf jelly or herb jelly. 
This grass jelly boba recipe is quick and easy. It takes minimal ingredients to make this unique bubble tea drink. Brew the tea with the milk and sugar to create a sweet tea base that perfectly compliments the grass jelly.
Print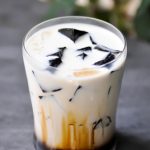 Grass Jelly Boba
---
Total Time:

15 minutes

Yield:

2

1

x
Description
Whether you're watching your weight or just looking to try a new boba topping, you'll enjoy the herbal-mint flavor that grass jelly adds to bubble tea with this easy-to-follow recipe.
---
1

cup

canned grass jelly

2

black tea bags (or

2 tsp

black tea leaves)

1

cup

water

2/3

cup

milk

2 tbsp

brown sugar
ice cubes
---
Instructions
Bring 1 cup of water to a boil.
Remove from heat and add the brown sugar and milk. Stir until dissolved.
Add tea bags or tea leaves. Let steep for 5 minutes. Remove the tea bags. Let cool to room temperature.
Open the can of grass jelly and cut the jelly into small squares.
Place ½ cup of jelly into each serving glass.
Top with a handful of ice cubes.
Pour ½ of the milk tea mixture into each glass.
Stir to combine. Serve.
Notes
You can make the tea ahead of time and store the mixture in the fridge for up to 2 days.
Black tea works best, but you can substitute a different tea if you prefer. Green tea or matcha may make the finished tea drink too bitter since the grass jelly tastes slightly bitter.
Once the canned grass jelly is open, use it within 3-4 days.
Any milk works well—soy, oat, or coconut milk are great dairy-free options, while whole milk or heavy cream makes the creamiest boba drink.
Prep Time:

5 minutes

Cook Time:

10 minutes
What Does Grass Jelly Taste Like?
Grass jelly has a flavor that isn't specific or strong. It tastes herbal with a hint of mint. Because of its mild flavor, grass jelly pairs well with honey and other sweet foods.
The flavor can be more intense depending on how it is prepared. Sometimes it can taste bitter, depending on the amount of sweetener added during the cooking process. Grass jelly has a texture similar to jello.
Where Does Grass Jelly Come From?
Grass jelly is made from the leaves and stems of the Chinese mesona plant, Mesona chinensis. This plant is common in China, Taiwan, and other Asian countries. It grows well in sandy, dry, and grassy areas.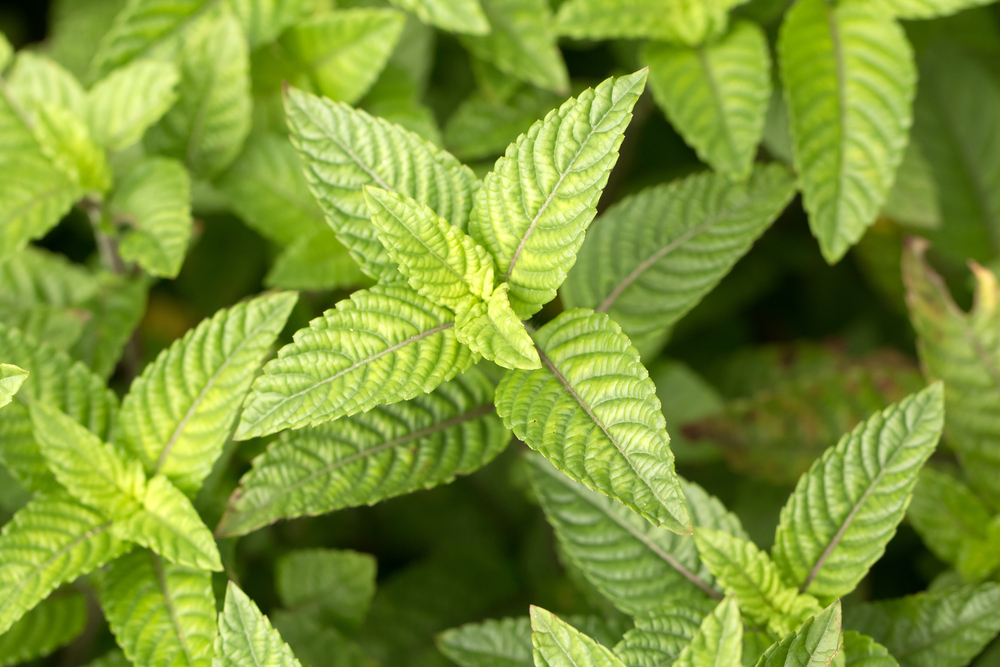 Can You Make Homemade Grass Jelly?
Yes, you can make homemade grass jelly. Depending on the recipe, you'll need a few ingredients. Typically, you'll need Chinese mesona, corn or potato starch, sugar, and potassium carbonate.
First, dry the Chinese mesona plant in the sun.
Then, place the leaves and stems in a large pot and boil them for around 8 hours.
Add the sugar and cornstarch to thicken the mixture and then chill it.
Homemade grass jelly doesn't require many ingredients, but it does take time. It is easier to buy pre-made grass jelly than to find and prepare the Chinese mesona plant.
Is Grass Jelly Healthier Than Tapioca Pearls?
Grass jelly is lower in calories than tapioca pearls. Grass jelly is also high in fiber and low in fat and cholesterol. Tapioca pearls are high in carbohydrates and lack vitamins and minerals. Two cups of grass jelly have about 15 carbs, making it much lower in carbohydrates than tapioca pearls which average 135 carbs per cup.
Both tapioca pearls and grass jelly are served with added sweeteners, but since grass jelly is lower in carbs, it is a healthier choice for most people.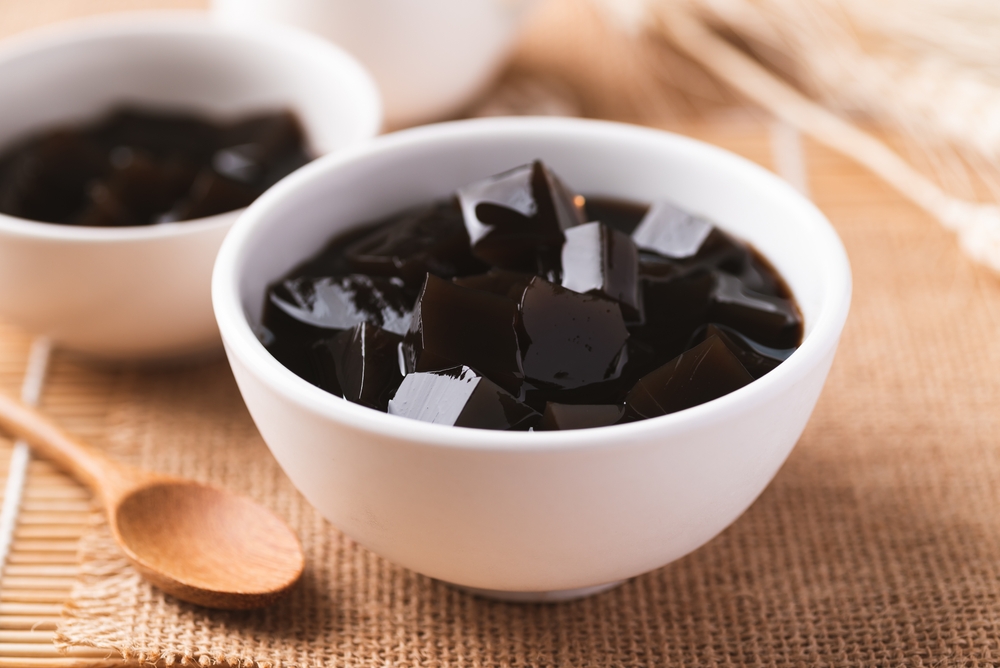 Health Benefits of Grass Jelly
Grass jelly is believed to have health and medicinal benefits. It is said to:
Be an antioxidant
Have antibacterial properties
Help lower cholesterol, blood pressure, and blood sugar
Additionally, it is vegan and gluten-free.
Where to Buy Grass Jelly
Check your local Asian grocery store for grass jelly. You can buy canned grass jelly or grass jelly powder to add to your bubble tea for an overall grass jelly flavor instead of a topping. Grass jelly powder is easy to use—add the powder to boiling water and cool. To make various grass jelly desserts, you can add grass jelly powder to whipping cream, icing, shaved ice, or ice cream.
If you'd like to order grass jelly online, try this one from Amazon. It is ready to serve right out of the can. This grass jelly concentrate from Bossen takes a bit more work to prepare, but it makes several servings of jelly.
Which Bubble Tea Flavors Are Best With Grass Jelly Topping?
Grass jelly pairs well with milk or fruit tea, such as brown sugar, Thai tea, and lychee green tea. You don't want to overpower or hide the flavor of the jelly, so it is best to enjoy it with a simple sweetened milk tea boba drink. The milk tea mixture's sweetness complements the grass jelly's herbal, slightly bitter taste.
If you can't decide on just one topping, try mixing grass jelly with red beans or taro balls. Taro balls and grass jelly is a classic Taiwanese combination.