Red bean boba topping is traditionally made with adzuki beans, sometimes called aduki beans or azuki beans. These beans are red but should not be confused with red kidney beans. Adzuki beans are small red beans, about half the size of kidney beans. 
This recipe needs just a few ingredients. You can use dry adzuki beans or canned beans. Adding a few pinches of salt and mashing the beans will bring out their slightly sweet, earthy flavor and complement the milk tea. You can use red kidney beans in this boba tea recipe if you can't find adzuki beans at your local Asian grocery store.
Print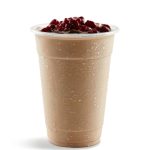 Red Bean Boba Tea
---
Total Time:

2 hours 15 minutes

Yield:

2

1

x
Description
Red bean boba tea is full of fiber and flavor. This unique addition creates an earthy, sweet milk tea that you'll wish you had tried sooner.
---
1/2

cup

dried adzuki beans

1/4

cup

brown sugar, packed

2

pinches salt

1

cup

milk

2 1/2

cups

water (divided into 2 and 1/2 cup portions)

2

black tea bags (or

2 tsp

of black tea leaves)
ice
---
Instructions
Rinse 1/2 cup red beans in cool water. Add to a large pot with 2 cups of water.
Bring to a boil over high heat, then turn down to a simmer. Let simmer for about 2 hours, until beans are very soft. Stir often.
Drain the beans, add the salt and brown sugar and mix them together. Mash the beans just a bit to create a better texture for the finished boba tea.
Bring 1/2 cup water to a boil in a medium saucepan. Remove from the heat and add the milk and the tea bags or tea leaves.
Let steep for 5-8 minutes, then remove the tea bags or loose tea. Cool the milk tea to room temperature.
Add half of the red beans to the bottom of each serving glass. Top with a large handful of ice.
Pour the cooled milk tea over the top.
Stir to combine and enjoy through a boba straw.
Notes
If you like sweeter bubble tea, increase the sugar or sweeten the milk tea while you brew it.
You can use any milk you prefer, but whole, oat, or soy milk creates a rich, creamy red bean boba tea. 
Black tea or green tea makes the best flavor of milk tea for this recipe. Matcha also works well but creates a very earthy flavor when mixed with the beans. If you are caffeine sensitive, opt for decaf tea.
You can also use canned beans for this bubble tea recipe. Boil them in water before preparing the milk tea to ensure they are extra soft.
You can store any extra red bean mixture in the refrigerator for about five days.
Even though the recipe doesn't call for boba pearls, you can add them to your red bean boba if you'd like.
Prep Time:

15 minutes

Cook Time:

2 hours
What Does Red Bean Bubble Tea Taste Like?
Red bean bubble tea tastes like creamy, sweetened milk tea. The red beans create a grainy texture while adding sweetness to the drink. This tea isn't as sweet as traditional boba tea because the only sweetness comes from the beans.
The flavor of tea you use will change the exact flavor slightly. Green tea can be more bitter, while black tea creates a stronger tea taste.
Can You Make Red Bean Milk Tea With Bean Paste?
Yes, you can make red bean milk tea with bean paste. Check your local Asian supermarket for sweet red bean paste. You can also order bean paste online.
Because the red bean paste will blend with the tea, make sure it is smooth before adding it to your boba tea. You can push it through a strainer once or twice to create a smooth, fine texture. Add the red bean paste at the bottom of the serving glass or use it as a topper. You may even consider shaking the milk tea together with the paste to further incorporate it.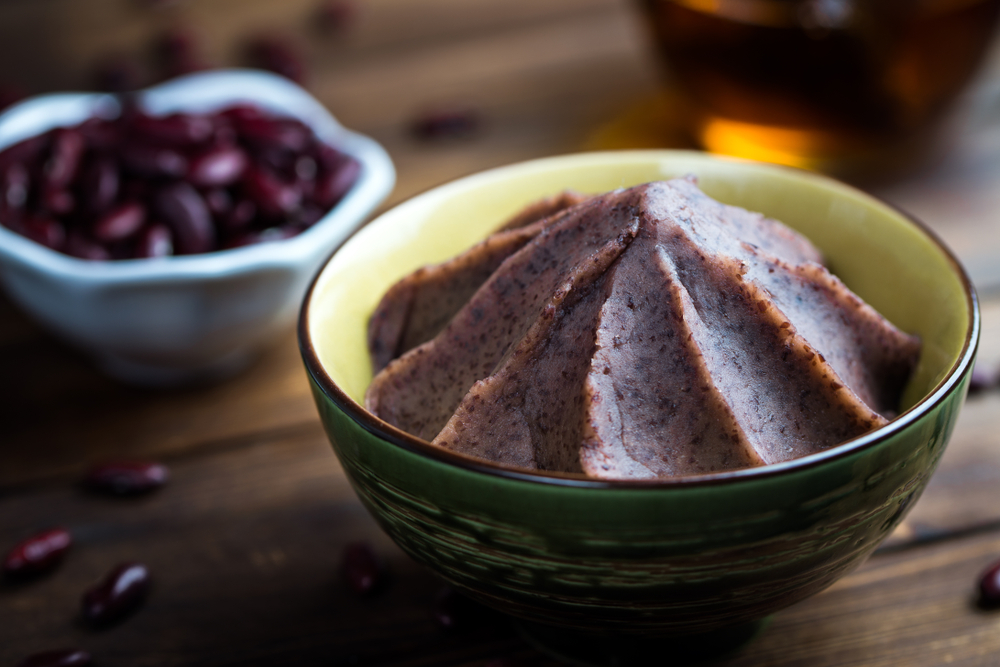 Are Red Beans Healthier Than Tapioca Pearls?
Both red beans and tapioca pearls have iron, which is necessary for good health. Red beans also have fiber, magnesium, and potassium. Generally, red beans are lower in calories and carbs.
| | | |
| --- | --- | --- |
| Average per serving | Red beans | Tapioca pearls |
| Calories | 180 kcal | 280 kcal |
| Carbs | 55 grams | 93 grams |
| Sugar | 25 grams | 30 grams |
Health Benefits of Red Bean Boba Tea
Most bubble teas use sugar syrup, which can make them high in sugar. However, red bean boba tends to have less overall sugar, making it a healthier option. Additionally:
Red beans are high in fiber, which aids digestion and helps balance blood sugar levels, reducing the risk of type 2 diabetes.
They are high in protein. Foods high in protein and fiber can aid in weight loss since they make you feel full for extended periods.
Tea is high in antioxidants, which help skin health and overall body health.
Which Milk Tea Recipes Are Best With Red Bean Topping?
Matcha, green, and black tea make great milk tea bases for red bean topping. Their flavors compliment the sweet earthiness of the red beans. However, avoid fruit teas—the flavor combination doesn't quite work.
Red beans are used in most Asian countries as toppings for desserts like ice cream, shaved ice, waffles, and, of course, boba tea.