Fruit bubble tea is incredibly versatile. This refreshing boba drink is commonly made with green tea or caffeine-free herbal tea and flavored with fruit syrup. Fruit bubble tea is a delicious drink to enjoy anytime.
Follow this recipe to make bubble tea at home. This particular fruit bubble tea uses green tea as a base, but you can easily substitute herbal or fruit tea if you prefer. Instructions for making homemade fruit syrup are below the recipe.
Print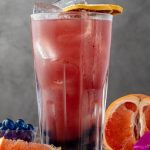 Fruit Bubble Tea
---
Total Time:

25 minutes

Yield:

2

1

x
Description
The most challenging part of this recipe is deciding which fruit flavor you want to try! This general fruit bubble tea guide will become your go-to recipe.
---
1

green tea bag (or

1 tsp

of green tea leaves)

1

cup

water

3 tbsp

fruit syrup (store-bought, or follow the instructions below the recipe)

1

cup

milk

2 tsp

honey or other sweetener (optional)

1/2

cup

tapioca pearls
---
Instructions
Make the fruit syrup. Set aside.
Brew the tea: boil 1 cup of water and add a tea bag or leaves. Remove from heat and let steep for 5 minutes. Discard the tea bag or tea leaves.
Prepare the tapioca pearls: follow the instructions on the package. Rinse briefly under cool water.
Layer ½ of the tapioca pearls in each glass. Top with a few spoonfuls of fruit syrup.
Pour ½ cup of milk into each glass, followed by the optional honey and a handful of ice cubes.
Slowly pour the brewed tea on top. Stir with a boba straw to combine the layers.
Notes
Substitute the green tea with your favorite herbal fruit tea for a caffeine-free bubble tea. This also enhances the flavor of your bubble tea. You can also experiment with oolong or matcha tea for different flavor combinations.
See below for how to make homemade fruit syrup.
Prep Time:

10 minutes

Cook Time:

15 minutes
Are Fruit Bubble Teas Healthy?
Fruit bubble teas are best enjoyed in moderation as part of a healthy lifestyle. Tapioca pearls are high in carbohydrates. Many commercially made fruit bubble teas contain large amounts of added sugar in fruit syrups and toppings.
If you make fruit bubble tea at home, you can control the amount of added sugar and make your boba tea healthier.
How to Make a Homemade Fruit Syrup
You can make fruit syrup by combining fresh or frozen fruit, water, and sweetener.
Bring 1 cup of fruit with 1/3 cup water and 1/2 cup white sugar to a boil.
Let simmer for 10 minutes; until the fruit is soft and begins to break down.
Blend or mash the ingredients together.
Strain the mixture for smoother fruit syrup (optional).
Can You Add Milk to a Fruit Tea?
You can add milk to fruit teas. The best fruits to mix with dairy milk are low-acid fruits like mango, honeydew, papaya, strawberries, and coconut. Foods high in acid include pineapples, oranges, blueberries, and passion fruit. Acidic fruits like these do not mix well with dairy milk. They can also contribute to acid reflux and aggravate upper GI issues like ulcers.
You can combine non-dairy milk with any fruit flavor. Almond milk, coconut milk, soy milk, and oat milk make great choices for bubble teas. Plus, using this milk will make your bubble tea dairy-free.
Fruit Bubble Tea vs. Milk Tea
| | |
| --- | --- |
| Fruit Bubble Tea | Milk Tea |
| Traditionally made with green tea | Traditionally made with black tea |
| Always has fruit | Always has milk |
| Averages 28 mg of caffeine | Averages 40 mg of caffeine |
Most Popular Fruit Bubble Tea Flavors
Popular fruity bubble tea flavors include:
Passion fruit
Lychee
Pineapple
Peach
Most boba shops include these flavors in their bubble tea selections. These fruit flavors are also usually available in jellies, popping boba, and other flavor add-ins.
Which Toppings Are Best in a Fruit Bubble Tea?
Many toppings enhance fruit bubble tea. Some popular choices include:
Ice cream – Boba shops typically have different flavors to choose from. You can mix it into your fruit tea or add it on top.
Cheese cream – This sweet and salty cream can be the perfect topper for fruit tea. Cheese cream is made from cheese powder.
Fresh fruit – Add a variety of fruit or stick with fruit in the same flavor as your bubble tea. Either way, fresh fruit always complements fruit bubble tea.
Cookie crumbles – Some boba shops offer chocolate chip or chocolate sandwich cookies crumbled on top of your fruit bubble tea.
Red beans – These beans are cooked in a sweet syrup and add a small amount of protein, plus additional sweetness and texture to your fruit bubble tea. This topping is popular in Asian countries.
Jellies – These are made from a coconut base and flavoring. They are available in fruit flavors, but if you're feeling adventurous, you can also try coffee, aloe, or grass.
Tapioca balls – The same boba pearls that form the base of bubble tea can be added for added texture.
Add Fruit Boba Pearls For Extra Fruity Flavor