Did you know that one of the original floral variations of bubble tea is jasmine tea? Originally from China, this delicate blend of tea and flowers has become a classic across the world. Follow this recipe for an easy and delicious jasmine boba tea recipe.
If you're craving a delicate, creamy, and sweet boba flavor, give jasmine boba tea a try. It's refreshing and easy to make at home. Our recipe is topped with boba pearls and contains all of the nutritional benefits you expect from jasmine tea.
Print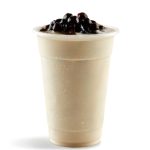 Jasmine Boba Tea
---
Total Time:

25 minutes

Yield:

1

1

x
Description
Put a twist on your favorite boba tea recipes by using this floral-infused tea as the base. This recipe is easy, delicious, and indulgent.
---
1

jasmine green tea bag (or

1 tsp

loose-leaf jasmine tea leaves)

1

cup

boiling water

3 tbsp

half and half

2 tbsp

simple syrup, honey, or sweetener of your choice

1/4

cup

quick-cooking tapioca pearls
ice cubes
---
Instructions
Cook the tapioca pearls according to the package instructions. Run them under cold water and set them aside.
Steep the jasmine green tea in hot water for 3 to 7 minutes. Remove the bag and set the tea aside to cool for 10 minutes.
Mix the half-and-half, simple syrup, and tea.
In a serving cup, add the cooked boba pearls and top with ice.
Pour the milk tea mixture into the serving cup.
Adjust the sweetness to your liking, and enjoy!
Notes
As with all bubble tea recipes, you can use whole milk or dairy-free milk if you prefer. Soy milk and oat milk are two non-dairy favorites.
You can prepare the jasmine tea in advance and cool it in the fridge so that you won't need to pause mid-recipe.
Be sure to have a wide straw to enjoy the chewy tapioca pearls with each sip!
Prep Time:

5 minutes

Cook Time:

20 minutes
What Does Jasmine Milk Tea Taste Like?
Jasmine tea has a subtly sweet and floral taste that is delicate yet refreshing. When mixed with milk and sugar sweeteners, it takes on a creamier consistency while still maintaining its light flavor profile.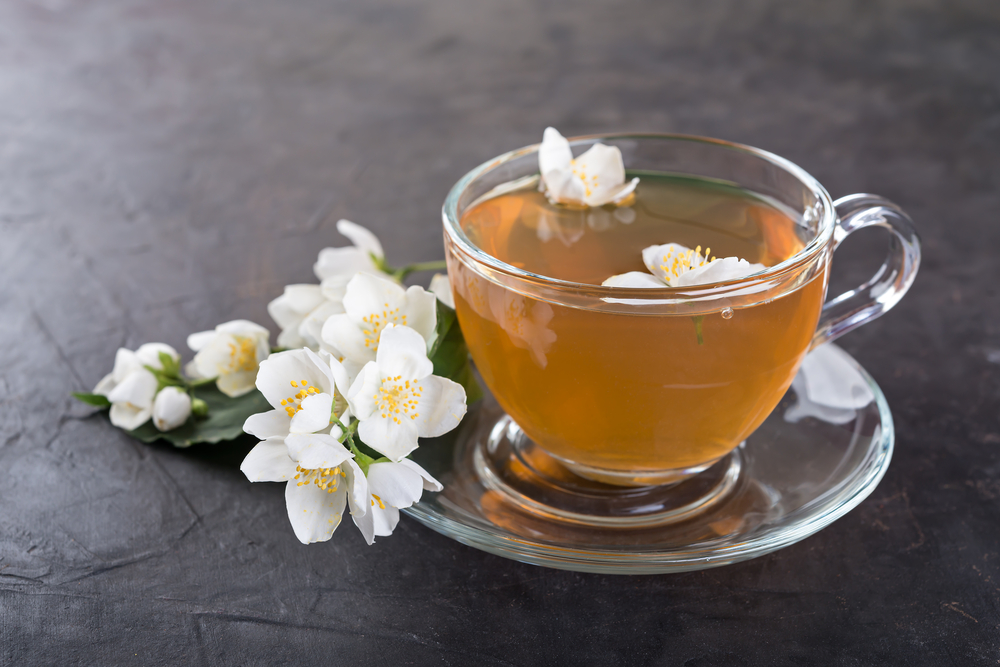 How Many Calories Does Jasmine Bubble Tea Have?
A 16-oz cup of jasmine bubble tea contains approximately 278 kcal. However, this can range from 100 to 400 calories depending on the amount of extra sugar you add to the drink.
While a standalone cup of jasmine tea has zero calories, the calories from various sweeteners and milk add up quickly. Throw tapioca balls into the mix, and the number of calories you end up consuming is quite high.
Is Jasmine a Type of Green Tea?
Jasmine tea is often made with a green tea base, but it's not always a type of green tea. This tea can also be created with a black tea or white tea base.
For a drink to be considered jasmine tea, the tea has to be scented with jasmine flowers. This means that any tea base is suitable as long as it's properly scented, including green tea.
When scented properly, the resulting tea has a subtly sweet, floral, and delicate flavor with undertones of black, white, or green tea.
Which Boba Tea Flavors Are Good With Jasmine Tea?
Two flavors that pair exceptionally well with jasmine tea are taro and strawberry.
Taro is a root vegetable that has a naturally sweet and nutty flavor. When mixed with jasmine tea, it creates an explosion of flavors that result in a creamy and slightly heavier drink.
Strawberry milk tea is also complemented by a jasmine tea base. The sweet and fruity flavors of the strawberry balance out the delicate floral notes of the jasmine tea for a refreshing and well-rounded beverage.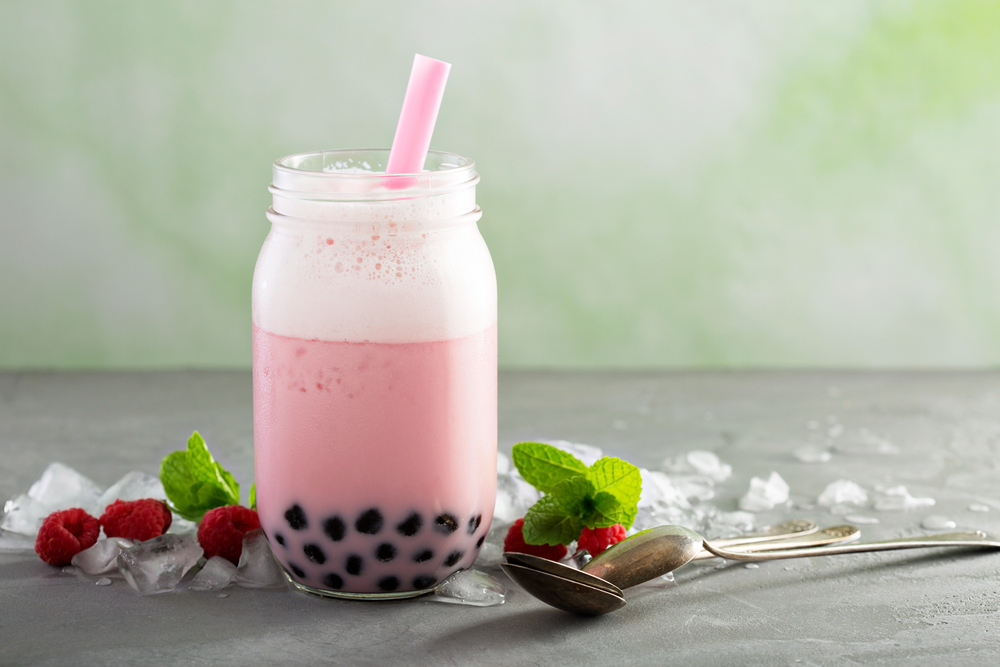 Does Jasmine Milk Tea Have a Lot of Caffeine?
The tea that's been infused with jasmine milk tea determines the caffeine content. Tea is made from the Camellia Sinensis plant, which naturally contains caffeine.
Here's the caffeine breakdown of an eight-ounce cup of tea:
Green tea: 30 to 70 mg
White tea: 35 to 75 mg
Oolong Tea: 50 to 75 mg
Black tea: 70 to 90 mg
If you've prepared your jasmine milk tea with green tea, your mind will be fairly stimulated. However, it's not to the same extent as jasmine milk tea with a black tea base. For comparison, a cup of coffee contains approximately 90 mg of caffeine.
Health Benefits of Jasmine Tea
Jasmine tea has been enjoyed ever since its rise to popularity during the Ming Dynasty in China, which lasted from 1368 to 1644. Not only is it a soothing drink, but it also comes with various health benefits for the mind and body.
Here are some of the notable benefits of this Asian beverage:
Jasmine tea has antioxidants that fight off free radicals, helping prevent cancer in the body.
Jasmine tea can help promote weight loss by increasing your resting metabolic rate.
Jasmine tea's relaxing aroma can be a potent stress reliever and mood enhancer.
If jasmine tea is made with green tea, it can lower your risk of developing type 2 diabetes.
Jasmine tea helps promote skin health and minimizes wrinkles and fine lines.
This tea also has plenty of minerals and vitamins, such as calcium, potassium, and vitamin A.
The benefits of jasmine tea are still being researched, but there's no doubt that it's a healthy and powerful tea. However, if you choose to consume it as boba milk tea, do so sparingly to prevent your blood sugar levels from rising.