Taro milk tea is a delicious and refreshing milk tea variety that was first concocted in Taiwan in the 1980s. This tea is made with jasmine tea, tapioca balls, sweeteners, and taro powder. What makes taro milk tea so popular is its distinct purple color and creamy, smooth texture.
Taro's distinctively sweet and nutty flavor makes it a popular choice for various Asian desserts and dishes. It also pairs incredibly well with milk and tea, delivering a thick, creamy, and delicious kick that's perfect if you're looking for a filling, refreshing, and vibrant beverage.
Print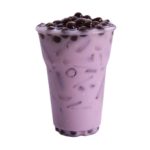 Taro Milk Tea With Tapioca Pearls
---
Total Time:

40 minutes

Yield:

1

1

x
Description
Find out what all the fuss is about. Taro is one of the most-requested bubble tea flavors. This recipe is easy, delicious, and customizable. Feel free to completely leave out the tea if you prefer a caffeine-free beverage.
---
1/4

cup

homemade or packaged tapioca pearls

1/3

cup

cane sugar

1 1/3

cup

water

3 tbsp

taro powder or fresh taro paste

1

cup

whole milk or coconut milk

3 tbsp

simple syrup

1

teabag of jasmine tea ((or

1.5 tsp

loose leaf tea))
Ice
---
Instructions
Cook the tapioca pearls according to the package directions. (typically 20 minutes over medium heat)
As you simmer the boba, whisk ⅓ cup of cane sugar and ⅓ cup of water together in a mixing bowl until the sugar dissolves.
Strain the tapioca pearls and run them under cool water.
Combine the boba and the sugar mixture and soak the pearls for about 30 minutes.
Brew the jasmine tea in boiling water for 2-3 minutes and allow it to cool to room temperature.
Once the boba and jasmine tea is ready, mix the taro-flavored powder, milk, and simple syrup in a blender for 30 seconds.
Add the tapioca pearls to a glass, add the ice, and then pour the taro milk tea. Enjoy!
Notes
Try different variations to get creative with your taro milk tea recipe. For instance, add non-traditional toppings to this recipe, like grass jelly, pudding, or nata de coco. Additionally, you can make homemade boba by following this Boba Buddha recipe.
Black tea or green tea may also be used instead of jasmine tea leaves. 
To make simple syrup, combine equal parts water and sugar in a saucepan. Allow it to simmer until all the sugar has dissolved.
If you prefer other dairy-free milk options, you may also opt for plant-based milk such as soy or almond milk. If you are vegan, read the ingredients to ensure the powdered taro doesn't include milk powder.
You can also use brown sugar instead of cane sugar for a more intense flavor profile.
Lastly, be sure to have thick straws on hand to suck up the chewy boba pearls!
Prep Time:

10 minutes

Cook Time:

30 minutes
Is Taro a Vegetable?
Yes, taro is a starchy root vegetable. It is commonly used as a sweet potato substitute in Asian cuisine. Taro has a more floral and nutty flavor profile than other starchy vegetables.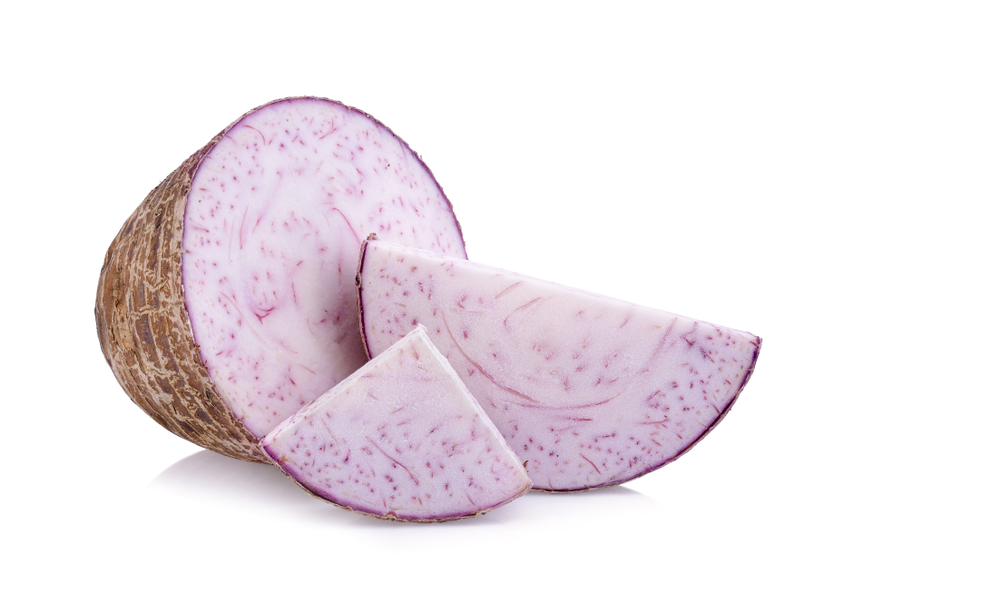 What Does Taro Milk Tea Taste Like?
When blended with milk and tea, this purple drink is a creamy and thick beverage with a slightly nutty taste. Many people say that taro milk tea tastes like fruity vanilla. It is also somewhat sweet with a smooth and refreshing finish.
Most taro milk tea variants carry a refreshing hint of sweetness. However, you can always request Taiwanese bubble tea shops to adjust the sweetness level if you have a particular preference. Unsweetened taro milk tea still carries a signature sweetness from the taro root itself, so you're not missing out on any flavors by keeping the sugar levels low.
Is Taro Boba Healthy?
In its vegetable form, taro is a good source of fiber, potassium, calcium, vitamin C, vitamin A, and vitamin B6. It also has bioactive molecules that help assist the body in fighting against cancer and carcinogens. Compared to traditionally-brewed milk tea, taro boba milk tea is much richer in nutrients.
That said, boba tea beverages are loaded with sugars and empty carbohydrates that may be more harmful to your health in the long run. This is especially true if you have a family history of diabetes. Of course, you can always enjoy taro boba once in a while; just do it in moderation.
How Much Sweetener Should You Add to Taro Boba Tea?
Taro straight from the root is naturally sweet and flavorful. You can enjoy sipping on taro tea without any added sugar, though the sweetness will be more subtle.
However, sugar syrups are great for elevating the flavors of taro tea. If you're making taro boba tea from scratch, we recommend adding three tablespoons of simple syrup to the blender. This will give the tea a light sweetness that's not too overpowering.
Why Are Taro Bubble Teas Different Colors?
Taro roots vary in coloration; some may be pink, others purple, and a few white. Some taro powder producers also add artificial dyes to make the taro beverage look more vividly purple.
Depending on your taro powder, your taro bubble tea may turn out in different colors. It will have a gray-purple hue if you're determined to drink taro milk tea made from fresh taro root.