Nothing compares to the delightful, earthy flavor of matcha bubble tea. Its flavor profile is pleasant and creamy, and it has a middle-of-the-road calorie count of only 280 calories per cup. The milk base and the kind of sweetener used to prepare the tea account for the majority of the calories.
Ingredients in Matcha Bubble Tea
Matcha bubble tea doesn't involve many ingredients. This delicious boba drink generally contains the following:
Matcha powder
Water
Milk or creamer (dairy or non-dairy)
Sweetener (brown sugar syrup, honey, or artificial sweeteners)
Tapioca pearls
Ice cubes
Matcha Bubble Tea Nutritional Information
Matcha green tea is touted for its various health benefits, but its bubble tea counterpart differs slightly due to the addition of other ingredients.
Here's the nutritional value breakdown of a standard serving size of matcha bubble tea:
| | |
| --- | --- |
| Nutrition | Amount |
| Calcium | 353 mg |
| Calories | 280 kcal |
| Carbohydrates | 50 g |
| Total fat | 5 g |
| Fiber | 1 g |
| Iron | 2 mg |
| Potassium | 333 mg |
| Protein | 8 g |
| Saturated fat | 1 g |
| Sodium | 146 mg |
| Sugar | 16 g |
| Vitamin A | 1027 IU |
| Vitamin C | 17 mg |
How Many Calories Are in a Matcha Bubble Tea Without Sugar?
A regular 16-ounce cup of matcha bubble tea with no sugar added contains only about 108 calories. If you choose chewy tapioca pearls as the topping, add approximately 130 more calories per 1/4 cup.
The number of calories in a boba drink vary depending on the type of milk you choose. For instance, whole milk has almost double the number of calories as skim milk.
Understanding the different milk bases can help ensure you don't exceed your recommended daily calorie intake.
Matcha Bubble Tea Health Benefits
Matcha bubble tea carries over some health properties from traditional matcha tea. Matcha boba tea may:
Boost metabolism: The catechins in matcha powder have thermogenic properties that increase stamina.
Lower cholesterol and blood pressure: The EGCG in matcha helps to lower harmful cholesterol levels and keep blood pressure in check.
Aid in weight loss: Matcha bubble tea, specifically no-sugar variants, is a low-calorie drink that can help quench your thirst and lessen your desire to drink sugary drinks that increase weight.
Fight free radicals: The antioxidants present in matcha tea can help prevent the development of cancerous cells.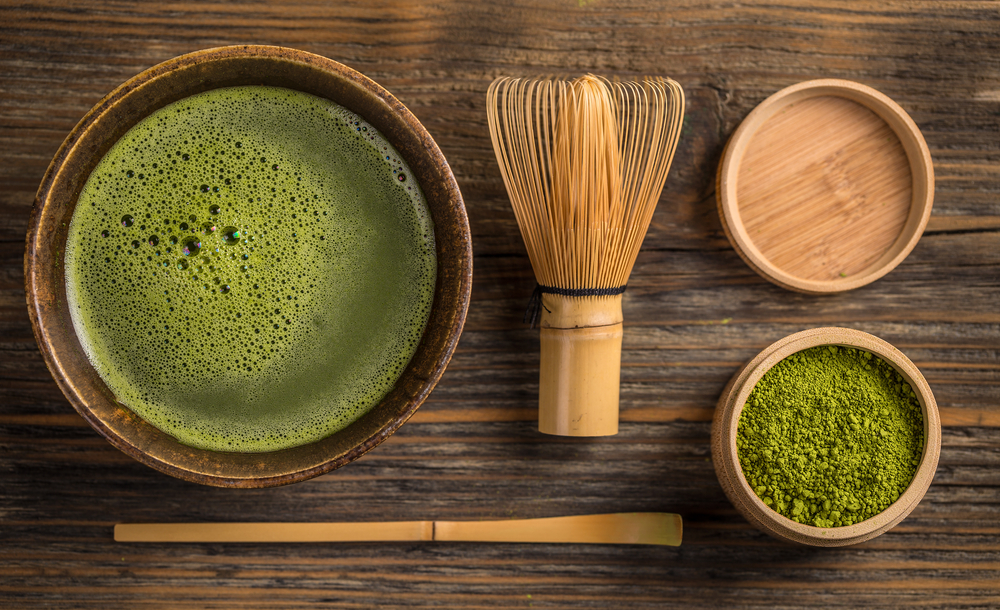 It's important to note that matcha bubble tea shouldn't be used as a substitute for medical care. If you have any concerns about your health, please consult a doctor.
4 Ways to Make Matcha Milk Tea Healthier
Matcha milk tea is a delightfully sweet beverage but it's not without its health drawbacks. If you drink too much of it, you might find yourself packing on extra pounds. To make it healthier overall, you can:
Switch out whole milk for skim milk
Many boba shops use whole milk or non-dairy creamer as their primary milk base, but you can request that they use skim milk instead. Additionally, non-dairy milk, like almond milk or soy milk, can be low-cal and healthier, depending on your goals.
Opt for zero sugar
Sugar adds sweetness and calories to matcha milk tea. If you're watching your waistline, ask for zero sugar the next time you order.
Substitute sugar and milk altogether
Don't mind a minor reduction in flavor quality? Sugar can be opted out in favor of honey and you can switch out milk for a water base. While the flavor won't be what you're used to, these substitutes will help reduce the calorie content of your boba tea.
Add some healthy toppings
Instead of using boba pearls, which are loaded with carbs, opt for healthy toppings like chia seeds or cubed fruits. These two add-ins are not only lower in calories, but they'll also add a more well-rounded flavor to your beverage.
Can You Make Matcha Boba Tea at Home?
Yes, you can make a cup of matcha boba tea at home with simple ingredients.
All you need is matcha powder, milk, a sugar sweetener, and tapioca pearls. Once you have these ingredients, making boba tea is a breeze!
Making this milk tea recipe at home allows you to control the exact amounts of sugar, milk, and toppings— making it as healthy, or indulgent, as you want. Click here for a step-by-step recipe.