Although most bubble tea recipes are made with black tea, green tea boba tea can be a nice change of pace when indulging in this sweet treat. If you go to a boba shop, you are bound to find a variety of flavors and choices. But if you prefer to make your bubble tea at home, here's a great recipe you don't want to miss.
Green tea boba is a great on its own, but it can also serve as a base for other bubble tea flavors. It is a refreshing drink that has multiple health benefits. If you are sensitive to caffeine, swapping out the regular green tea with a decaf version is simple and it makes it a great option for children also.
Print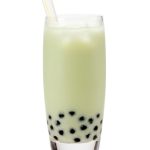 Green Tea Boba
---
Total Time:

35 minutes

Yield:

4

16 oz drinks

1

x
Description
This green tea boba is simple, yet delicious. The green tea mixed with milk and sweetener can be enjoyed as-is, or you can add fresh fruit or syrup to enhance the flavors.
---
1

cup

quick-cooking tapioca pearls

1/2

cup

sugar syrup (made with white or brown sugar)

4

cups

water

4

green tea bags or loose-leaf tea

4

cups

milk
ice
---
Instructions
Boil the water and steep your tea for 5 minutes. Set it aside to cool to room temperature.
Cook the boba pearls according to the package's directions.
Drain the boba, rinse them with cold water, place them in a bowl, and toss them in sugar syrup. Let the boba sit in the syrup for a while (up to 4 hours, not refrigerated).
To assemble, add 1/4 cup of tapioca pearls to each glass. Add 1 cup of tea, 1 cup of creamer, and ice. Enjoy!
Notes
As always, modify this recipe to your liking. Try sweetening the pearl milk tea with maple syrup, honey, or stevia. You can also use numerous dairy options, such as whole milk, half and half, oat milk, almond milk, coconut milk, soy milk, heavy cream, or even a non-dairy creamer.
To make the simple syrup, combine equal parts water and sugar. For this recipe, combine 1/2 cup water and 1/2 cup sugar in a saucepan over medium heat until the sugar dissolves.
If you are making matcha bubble tea, wait until before serving and whisk or blend the matcha tea with the water.
If you prefer to use homemade tapioca pearls, click here for a simple recipe.
Prep Time:

10 minutes

Cook Time:

25 minutes
Is Green Tea Boba Healthy?
Green tea has been known to have incredible health benefits. Some of these include:
Fat/Weight loss
Improved brain function
Lower risk of heart disease
Antioxidants that reduce the risk of cancer
Can help prevent type 2 diabetes
Could help you live longer
These and several other health benefits have been associated with drinking green tea regularly. Of course, you must also consider the other green tea boba ingredients.
Because bubble teas are sweetened, this yummy treat also contains many calories. The amount of sugar and the type of sweetener added can make a big difference in how healthy the tea drink is.
Is Green Tea Bubble Tea Good for Weight Loss?
While green tea has been shown to help with weight loss because it is rich in antioxidants and nutrients, whether or not a green boba milk tea will help you lose weight depends on the amount of sugar added and the toppings you put in it.
Tapioca pearls are pure carbohydrates with no nutritional value and are often sweetened, which will not help you lose weight. Also, the type of creamer you choose may play a role in whether or not it is helpful for weight loss. Some non-dairy milk options are sweetened, adding even more sugar to the mix.
Making this creamy drink at home allows you to keep fat and sugar levels down because you know exactly what goes into it and how much sugar is added.
Green Tea vs. Matcha Tea
Both matcha and green tea are harvested from the same plant (the Camellia sinensis plant). This plant is also used to make oolong tea and some herbal teas. However, there are several differences between green tea and matcha tea.
| | |
| --- | --- |
| Green Tea | Matcha Tea |
| Sold in its original leaf form | Sold as a powder |
| Slightly sweet | Has an earthy flavor |
| Produces translucent-colored tea | Makes a bright green-colored tea |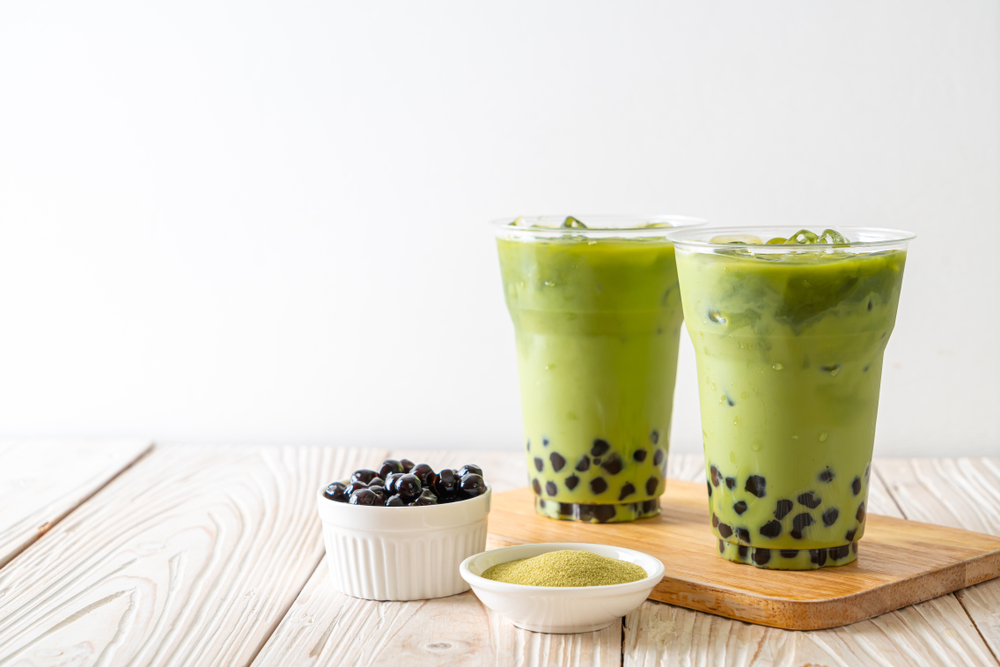 Which Dairy Option Is Best for a Green Milk Tea Boba?
If you choose not to use plant-based milk, then the best milk to use is whole milk. It is thicker and creamier than other milk and is an excellent addition to green tea boba tea.
Sweetened condensed milk is a delicious option that combines sweetness and dairy into one ingredient. However, it adds 61 calories per tablespoon.
Is Green Tea Boba Better Hot or Cold?
Although green tea is often served hot, green tea boba is traditionally served over ice. It is not only a more refreshing drink when served cold, but it is also the best way to achieve the visual appeal of bubble tea.
Whether in a boba shop or making it at home, you can choose the temperature of your boba tea.