You don't always need to travel to your local bubble tea shop to enjoy a quick and refreshing drink. Some homemade boba teas require various ingredients and spices, but not all. This recipe is made with milk tea powder and quick-cooking tapioca pearls.
Here is our favorite boba tea recipe; it is easy, refreshing, and tasty. This iced bubble tea has an enchantingly sweet flavor and a silky texture made with easy-to-find ingredients. Enjoy your drink with less than 10 minutes of cooking time, tops!
Print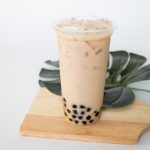 Easy Boba Tea
---
Total Time:

10 minutes

Yield:

1

1

x
Description
Toss the tea bags aside. This Taiwanese-inspired pearl milk tea recipe comes together with minimal ingredients and effort. If your chosen milk tea powder has dairy mixed in, adding the extra creamer is optional.
---
3/4

cup

water (or milk)

1

scoop milk tea powder

2 tbsp

sweetener

1/4

cup

quick-cook brown sugar tapioca pearls

1/4

cup

cream (optional)
ice cubes
---
Instructions
Cook the tapioca pearls according to the package directions.
While the pearls are cooking, add the water, powder, and sweetener to a shaker and shake vigorously to combine the ingredients.
Once the black tapioca balls are cooked and cooled to room temperature, add them to a serving cup. Add the ice and milk tea mixture on top.
Notes
If you want a rich, delectable flavor, you can substitute a water base with a full dairy one. You can also include or remove the toppings to your preference.
Dissolve the milk tea powder entirely before putting it in the serving cup. If the powder doesn't easily dissolve in cold water, use a little hot water to help the absorption process.
The creamer is optional in this recipe because most milk tea powders already have non-dairy cream in them. Adding fresh cream to the tea increases its decadence.
Most boba drinks are served as iced tea, but you can also enjoy this drink hot. If you are drinking the beverage cold, have boba straws on hand to enjoy all of the flavors in one slurp.
Prep Time:

5 minutes

Cook Time:

5 minutes
Can You Make Boba Tea With Different Types of Milk?
Yes, you can. While boba tea is best enjoyed with a whole milk base for its rich texture, you can use any milk you want. You can use almond milk, cashew milk, coconut milk, soy milk, half and half, oat milk, or even skim milk!
Believe it or not, some recipes don't even need milk. You can use water or fruit juice as your base. Or, just like in this recipe, you can use powder and water base. This is perfect for those who are lactose-intolerant or vegan.
Most powders are made with non-dairy milk or creamer, but it is best to read the ingredients if you have any doubts.
Do Powder Boba Flavors Taste Good?
Boba tea prepared using powder may seem like a quick and inauthentic way of crafting this otherwise delicious drink, but don't be fooled. Powder boba flavors can taste just as sweet and refreshing as the real thing.
While boba tea made with natural ingredients has a distinctly richer quality, powder boba doesn't stray too far in terms of flavor. Using powder is an excellent option if you want to save time or don't have all the ingredients on hand. In fact, many bubble tea shops use powdered tea flavors.
Thai milk tea powder, for instance, is an excellent Asian boba powder flavor. It retains the distinct sweet and spicy aroma of Thai boba tea without the hassle of preparing various ingredients.
Can You Use Different Types of Tea to Make Boba Tea?
Yes, boba tea's claim to fame partly lies in the sheer versatility of the drink. You can use any tea as a base and still have a great-tasting beverage.
Some of the most popular types of teas to use for boba include the following:
Green tea
Black tea
Earl Grey tea
White tea
Chai tea
Oolong tea
You can't go wrong with any of these teas with the right pairing. They all have unique flavors that can enhance the taste of your boba tea. And because they're so easy to find in your local grocery store, you can experiment with different kinds and see which ones you like best!
What Other Types of Sweeteners Can You Use to Make Boba Tea?
Brown sugar is one of the most popular sweeteners for boba tea. Dark brown sugar's high molasses content enhances the richness of the beverage and makes its sweetness truly pop out. However, brown sugar syrup isn't the only sweetener for milk tea. There is a multitude of ways to sweeten boba tea.
Here are some alternative ingredients that can bring out the sweetness in boba tea:
Honey
Simple syrup
White sugar
Condensed milk
Fructose
Artificial sweeteners, like NutraSweet and Sucralose
Should You Buy or Make Your Own Tapioca Pearls?
Store-bought tapioca pearls save time and effort, making them ideal for quick and easy recipes. They cook faster, and they're more consistent in size and shape.
That said, you can make boba pearls from scratch. It's a bit of a process, but if you want to control the ingredients and sugar levels, you can make these homemade chewy tapioca pearls with just three ingredients- water, sugar, and tapioca starch. Check out this recipe if you'd like to steep them in homemade brown sugar syrup.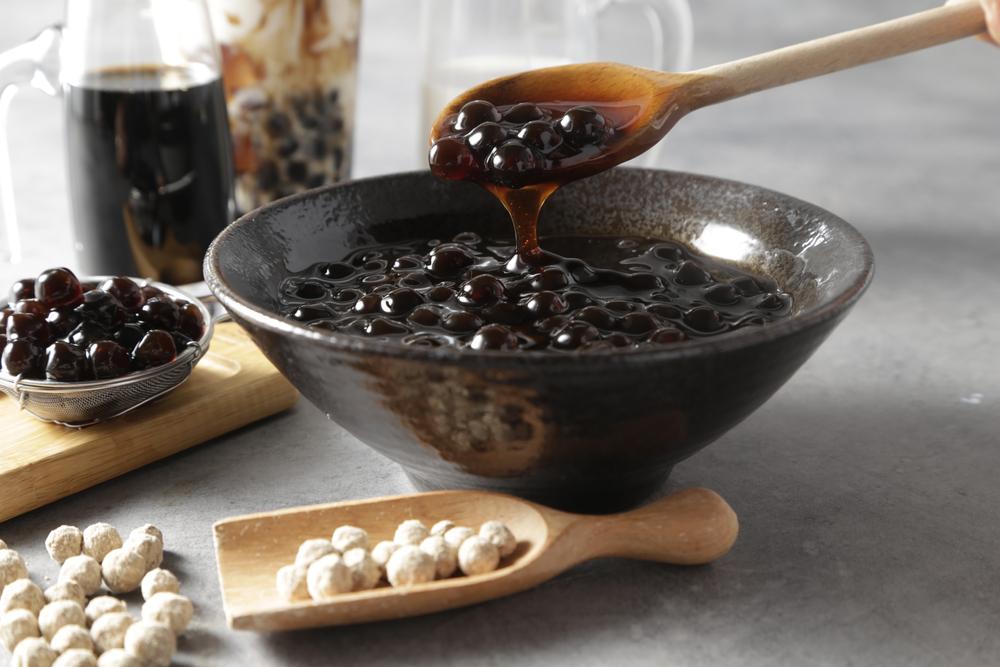 Is Bubble Milk Tea Healthy?
While tea has numerous health benefits like promoting relaxation, improving blood flow, and preventing cancer, bubble tea isn't exactly the poster child of healthy living.
For one, boba tea is infused with loads of sugar, which can contribute to obesity and type 2 diabetes over time. Tapioca pearls are full of carbohydrates and don't have much else to offer nutrition-wise.
So if you're looking for a healthy beverage, boba tea is not the best option. However, you can always request the boba barista to decrease the amount of sugar in the drink to make it a little healthier.