The majestic butterfly bubble tea is a festive drink that will leave you with a slight buzz, thanks to the addition of gin. It has citrus and botanical notes elevated by butterfly pea flower extract. Lucky for you, this easy recipe comes together in under 20 minutes.
This is a fun drink for special occasions because not only is it bubble tea with a kick (an alcoholic kick), but it changes colors right before your eyes when you add the gin! If you love boba drinks and enjoy a nice gin and tonic every once in a while, you'll love this recipe!
Print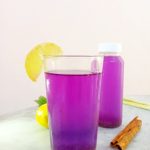 The Majestic Butterfly Bubble Tea
---
Total Time:

20 minutes

Yield:

1

Serving

1

x
Description
Enjoy our take on a gin and tonic mixed with bubble tea. This boozy boba tea tastes as amazing as it looks. The secret ingredient, butterfly pea flower extract, is what makes this drink truly unique.
---
1

cup

of water

1

jasmine tea bag or

1 tbsp

tea leaves

2

fl oz gin

2

–

3

drops of butterfly pea flower extract

1/4

cup

cooked tapioca pearls
Ice cubes

1/2

cup

tonic water
A squeeze of lemon juice
Borage flowers to garnish
---
Instructions
Bring 1 cup of water to a boil.
Remove from heat and add a tea bag or tea leaves. Steep for 2-3 minutes. Remove the tea bag and set the tea aside to cool.
Pour 2 fl oz of gin into a glass and add 2-3 drops of butterfly pea flower extract. Stir until the liquid becomes a deep blue color.
Spoon the boba pearls into a highball glass.
Pour in the tonic water and squeeze the lemon into the glass.
Add 2 tbsp of cooled jasmine tea and fill the glass with ice.
Slowly pour the pea flower-infused gin in, garnish, and enjoy!
Notes
A highball glass is recommended for serving. If you don't have one, you can use a regular serving glass or strain the chilled drink into a martini glass.
Instead of tapioca pearls, you could use popping boba or nata de coco for a different texture and fruity flavors.
Prep Time:

15 minutes

Cook Time:

5 minutes
What Does the Majestic Butterfly Bubble Tea Taste Like?
If you've ever had a gin and tonic, you know its piney, botanical flavor. Well, the majestic butterfly tastes similar but with some added flavor.
Butterfly pea flower extract has a mild flavor that some would compare to chamomile with hints of floral tones. And, of course, jasmine tea has a sweet, floral taste to it as well. These sweet, floral flavors pair nicely with the crisp, piney taste of the gin and tonic water. The squeeze of lime gives this drink a hint of citrus, enhancing the gin flavor.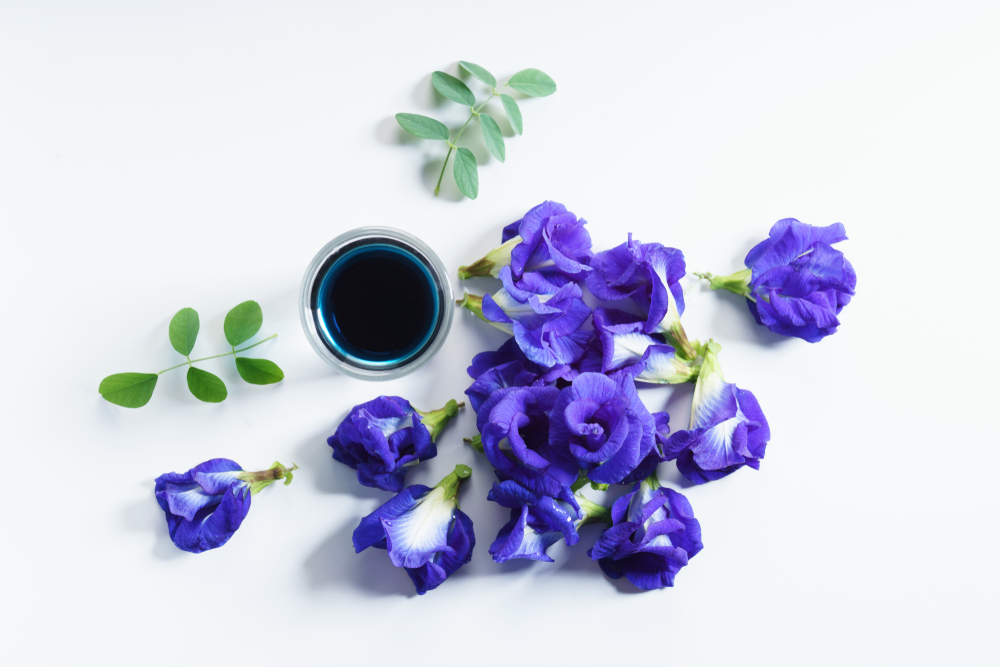 How Much Caffeine Does the Majestic Butterfly Have?
Because this recipe only calls for two tablespoons of tea, there is only around 3 mg of caffeine in this drink. The amount of caffeine depends on how long you steep the tea. Generally speaking, a cup of jasmine tea steeped for about three minutes will contain about 25 mg of caffeine.
Can You Use a Different Type of Tea?
You can use different types of tea for this recipe, but remember that it will change the flavor profile.
Herbal or fruit teas would be suitable substitutes, as they will still offer a bit of sweetness to the drink. Specifically, butterfly pea flower tea is a great option that sticks with the flavor profile of this drink.
You could use green tea if you'd prefer less sweetness and more earthy tones. Or, if you want a more robust, deeper-flavored tea, you could try Assam tea.
Can You Make This Recipe Without Alcohol?
To make this a non-alcoholic iced tea, you could make the recipe without gin, substituting more tea or tonic. However, because gin has such a robust and botanical flavor, making it without this ingredient would change the flavor profile.
Why Does Butterfly Pea Tea Change Colors?
Making this drink is so fun because when you add the butterfly pea extract to the tonic, lime juice, and tea, the drink's color changes right before your eyes. The reason behind this majestic color change is the PH level.

At its normal level, the PH of butterfly pea flower ranges between 6.0 and 8.0. However, when you add acidic lime juice and jasmine tea, the PH level changes to outside of this range which causes the color change.
Where Can You Buy the Majestic Butterfly Bubble Tea?
If you want to treat yourself and have a professional mixologist make your drink, Bubbleology in East Village, NYC, is a great place to find it. They offer several bubble tea cocktails, including the majestic butterfly, the blushing duchess, the peanut-loaded freak, and oreo madness.
Of course, using our delicious recipe, you can make the boba drink yourself and not worry about leaving the house.
Which Toppings Are Best in This Boba Drink?
This recipe uses tapioca pearls, but any boba-lover knows these teas are all about customization! Add some popping boba to add a fun textural component and amp up the fruit flavors. Or, as we mentioned earlier, you can use nata de coco, which is slightly crunchy and adds a deliciously sweet coconut flavor.
Some other great toppings include:
Lychee or passion fruit jelly
Brown sugar tapioca pearls
Cubed fresh fruit
Taro balls
Strawberry boba pearls
To garnish, I suggest the beautiful borage flower. These are small, edible, purple-ish blue flowers that go perfectly with the beautiful blue color of the cocktail.