Peach bubble tea is a fruity, sweet, and refreshing beverage. The fragrance of peach has a distinct earthy tone and is considerably smoother than other citrus fruits. Learn how to whip up a homemade peach bubble tea drink with our original recipe!
This peach bubble tea recipe uses natural peach fruits and freshly brewed green tea, as the fruity and floral tones of these ingredients perfectly complement each other. Tapioca pearls, sugar, and almond milk top off our recipe to give it an extra creamy and sweet kick.
Print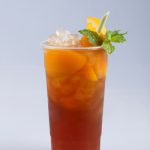 Peach Bubble Tea
---
Total Time:

20 minutes

Yield:

1

Serving

1

x
Description
Peach milk tea is an ideal summer drink. It is easy to make and highly customizable. If you don't have peaches on hand, swap them out for a different fruit, like plums, oranges, passion fruit, or strawberries.
---
1/4

cup

cooked brown sugar tapioca pearls

2

green tea bags or

2 tsp

loose-leaf green tea

1

cup

water

2

fresh peaches

3/4

cup

almond milk
Ice cubes
---
Instructions
Make a simple peach syrup by peeling, deseeding, and chunking the peaches. Add equal parts water and sugar (approximately a half cup of each) to a medium saucepan until they boil. Then add the peach chunks and mash them together on medium-low heat. Allow the mixture to simmer until it thickens into syrup, then pour it into a clean container with a strainer.
Steep the tea bags into a cup of hot water for three minutes. Put the tea in the refrigerator to cool for at least five minutes or until it is at room temperature.
Pour your desired amount of peach syrup and tapioca pearls into a serving cup. Following that, add ice, cooled tea, and almond milk. Grab a boba straw and enjoy!
Notes
If you're looking for an extra creamy texture, you can use whole or oat milk instead of almond milk.
To change the flavor, you can also choose different tea flavors, like jasmine or black tea.
The recipe is highly customizable, meaning you can adjust the measurements to your liking. If you want to tone down the sweetness, reduce the amount of sugar added to the syrup. You may even replace sugar with honey, maple syrup, or agave nectar.
Prep Time:

15 minutes

Cook Time:

5 minutes
What Does Peach Bubble Tea Taste Like?
Peach bubble tea is fruity, sweet, and creamy. The drink's sweetness is mellowed by the delicate earthiness of the tea, making for a pleasant beverage all around.
On top of that, the tapioca pearls add an exciting chewy texture to the bubble tea. This is one of the lighter and fruiter bubble teas out there, so keep that in mind if you're getting too accustomed to your rich boba chain usuals.
How Much Caffeine Does This Peach Bubble Tea Recipe Have?
One cup of green tea has between 30 and 50 mg of caffeine. Because this recipe uses two bags of green tea, you can expect to consume between 60 and 100 mg of caffeine.
If you'd like to lessen the caffeine content, use decaf green tea, steep the tea for less time, or use only one bag of green tea. You could also change the tea base for a fruit tea, which is generally caffeine-free.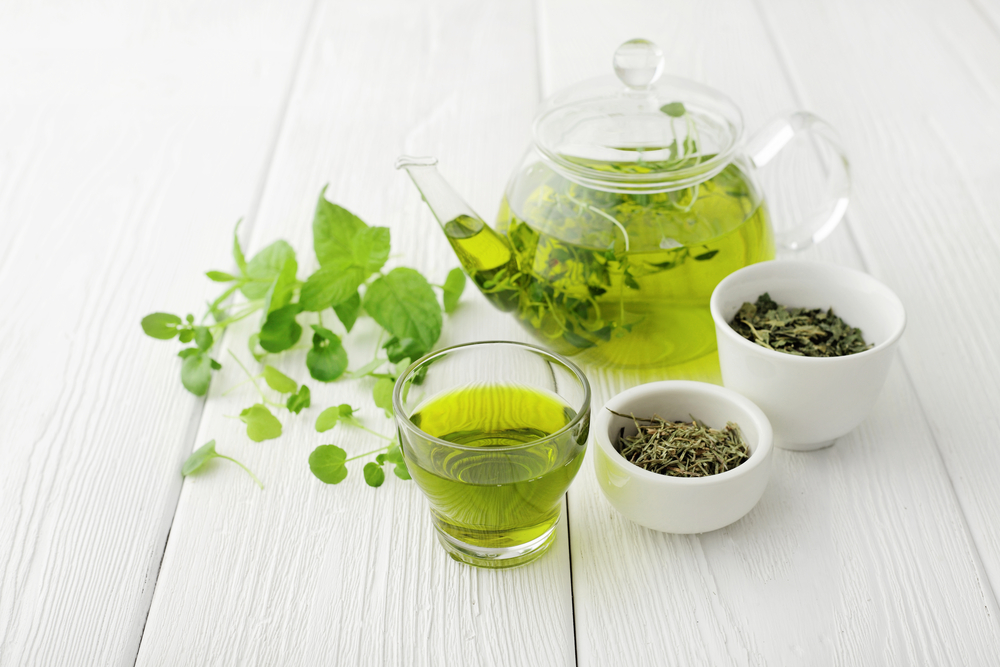 How Many Calories Are in Peach Bubble Tea?
Peach bubble tea has approximately 400 kcal. This includes everything, from the milk base and the sweeteners to the tapioca toppings. You can reduce the number of calories in this beverage by lessening the sugar content of the drink. You may also choose healthier toppings, like chia seeds, instead of tapioca pearls.
Another thing to know is that peach bubble tea, like most bubble teas, is high in carbs. A standard cup of bubble tea contains 45 grams of carbohydrates. To avoid consuming so many carbs, you may consider a low-carb milk tea recipe instead.
5 Health Benefits of Peach Boba Tea
There are several health benefits of drinking peach bubble tea. Let's look at some of the more notable ones:
Promotes heart health: Peach tea contains vitamins and minerals that are good for your heart.
Promotes bone health: Peach tea is rich in calcium.
Good for your teeth: Peach tea has fluoride, which can benefit teeth health.
Contains antioxidants: Peach tea contains antioxidants that help fight off cancer-causing free radicals.
Helps reduce signs of aging: Peach tea's antioxidants also help promote skin health and make people look younger.
Can You Make This Recipe Without Milk?
You don't have to use dairy or vegan milk to make a delicious peach drink. Iced peach green tea with boba pearls is a delightful and refreshing drink to beat the summer heat.
A milkless recipe would bring out the fruity flavor of the peaches while still providing bubble tea's delightful chewiness thanks to its tapioca pearls. You can even garnish this drink with herbs like rosemary, basil, or citrus peels.

Which Toppings Are Best With Peach Bubble Tea?
The delicate peach flavor in this boba recipe provides a versatile base for experimenting with many toppings.
Some toppings that complement peach bubble tea include the following:
Chunked peaches
Popping boba
Tapioca pearls
Coconut jelly
Taro balls
Watermelon slices
Sliced berries
Feel free to experiment and add more toppings that you think would work well with this iced tea. Add your own spin on it and see which flavors you prefer.