This refreshing and sweet mango green tea boba recipe will transport you straight to the tropics. Made with 100% natural ingredients, this beverage hits you with floral undertones and a citrusy sweetness that's addictive and downright delicious.
This iced tea is a fruity and refreshing twist on the classic green tea drink as it uses real mangos as a key ingredient. Boba Buddha's mango green tea boba recipe is an irresistible summer treat that's fun for the entire family.
Print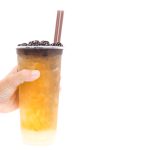 Mango Green Tea Boba
---
Total Time:

25 minutes

Yield:

2

1

x
Description
This refreshing mango fruit tea is sweet, tart, and delicious. It is made with green tea and has just enough caffeine to get you over the midday sleepiness. It is made without milk, but in the recipe notes, we have included a recipe for our famous mango milk tea.
---
1/2

cup

quick-cooking tapioca pearls

2

green tea bags (or

2 tsp

loose-leaf green tea)

2

cups

water

2

mangos, cubed

2 tbsp

lemon juice

2 tbsp

simple syrup
---
Instructions
Cook the tapioca pearls according to the package instructions. Rinse them under cold water and set aside to cool.
Steep the loose-leaf green tea in hot water for 5 minutes. Strain any excess tea leaves and leave the tea to cool in the fridge.
Simmer the mangos, lemon juice, and simple syrup in a saucepan on low-medium heat for 10 minutes.
After 10 minutes, smash the mango mixture until it becomes a puree. Continue stirring and smashing until it becomes smooth.
Spoon half of the tapioca pearls into each serving cup.
Divide the green tea between each cup, and add 2 tablespoons of the mango mixture (add more if you want it sweeter). Finally, serve with boba straw and enjoy!
Notes
If you can't find ripe, fresh mango, you can use mango juice but the texture and overall flavor will be different.
Fresh or frozen mango is ideal. But to save time, you can look for mango puree in your local supermarket. Beware that it may already contain added sugar.
The beverage above is great if you're craving a light and fruity drink. However, you can also consider adding milk to the mango mixture during the assembly process. This will give the drink a lovely creamy texture. Check out this mango milk tea for the complete recipe!
Prep Time:

10 minutes

Cook Time:

15 minutes
What Does Mango Green Tea Taste Like?
Mango green tea is a complex blend of citrusy sweetness, fragrant undertones, and a slight grassiness from green tea. This drink doesn't use any artificial flavoring, so you'll be able to taste the authentic flavors of each ingredient.
When combined, these ingredients produce a delightful summer drink with a smooth and fruity flavor. The recipe harmonizes the flavors instead of having them struggle to overpower each other.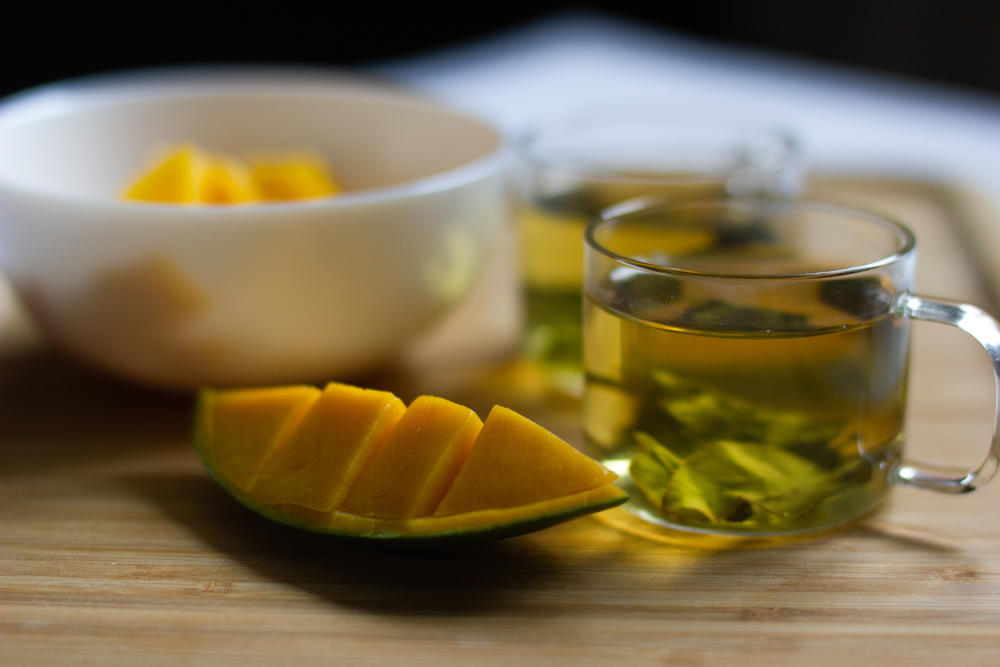 How Much Caffeine Does Mango Boba Tea Have?
The only caffeinated ingredient in a standard mango boba tea recipe is green tea. Therefore, you can expect around 20-30 mg of caffeine from this recipe.
While the presence of caffeine may dissuade you from sipping this drink at night, a cup of coffee contains twice as much caffeine. So, if you're looking for a milder caffeinated drink, mango boba tea is ideal.
Mango Green Tea Health Benefits
Green tea has more beneficial polyphenols and antioxidants than any other tea. This makes it more attractive than other teas like white, black, and jasmine tea.
Here are some of the benefits of drinking mango green tea:
Weight loss: Green tea boosts your metabolism and helps your body burn fat more efficiently
Lowers bad cholesterol: Green tea reduces LDL cholesterol levels and raises HDL cholesterol levels
Heart health: Green tea reduces the risk of cardiovascular diseases
Brain health: Green tea improves concentration and mood
Cancer prevention: Green tea antioxidants protect your cells from potential cancer growth
With the addition of mangos, this drink also provides a good source of vitamins A, vitamin C, dietary fibers, and folates.
How Many Calories Are in Mango Green Tea?
A standard serving of mango green tea contains up to 126 calories. This figure can go up and down depending on the additional toppings, the sweeteners, and whether milk has been added to the recipe.
Is Mango Bubble Tea Better Hot or Cold?
Mango bubble tea is often served cold and over ice, and many people enjoy it this way thanks to its refreshing and cooling effect.
However, if you prefer hot drinks, that's possible too. Pour the mango puree mixture as soon as it's ready into the freshly-brewed cup of green tea.
Which Toppings Are Good in Mango Boba Tea?
The most traditional topping for mango boba tea is boba pearls. The chewiness of the pearls provides a great textural contrast to the smooth mango tea.
Many people use homemade brown sugar tapioca pearls as their topping of choice. However, there's another way to enjoy this starchy topping. Instead of soaking tapioca pearls in brown sugar, you can soak the pearls in the mango puree directly! This gives your drink a fruitier flavor that's bound to tantalize your taste buds.
If you'd like to try something new, add popping boba, coconut jelly, or chia to your mango tea. But if you want to keep things simple, you can also top your mango boba tea with fresh mango slices.