This kombucha pomegranate punch bubble tea is the perfect mocktail for your next gathering. It's fizzy, sparkly, and contains probiotics. If you've been hesitant to try kombucha, make this recipe—it'll win you over! 
You'll need a cocktail shaker (or a mason jar with a lid) and a sturdy glass with a spoon to crush the lime and ginger. Add a dash of soda water if you'd like to mellow the flavor of the kombucha.
Print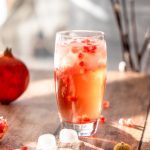 Kombucha Pomegranate Punch Bubble Tea
---
Total Time:

25 minutes

Yield:

2

Servings

1

x
Description
With antioxidants, probiotics, and Assam tea, this boba drink is packed with goodness. While each ingredient provides a strong taste profile, they all blend together harmoniously.
---
1/4

cup

of brewed Assam tea

1

lime (or

2 tablespoons

of lime juice)

1 tablespoon

fresh ginger, peeled and chopped

3/4

cup

of plain, organic kombucha

1/4

cup

cold-pressed organic pomegranate juice

1/4

–

1/2

cup

ginger beer
Pomegranate seeds and lime slices, plus more for garnish

1/2

cup

of apple or passionfruit popping boba
---
Instructions
Cut the lime in half. Add the lime (or lime juice) and the chopped ginger to the bottom of a sturdy glass.
Muddle the lime and ginger with a wooden spoon to release the juices and infuse the flavors.
Strain the mixture into a cocktail shaker or quart mason jar with a lid. Discard the solids.
Add the brewed tea, pomegranate juice, and kombucha to the shaker. Shake for 15 seconds.
Spoon 1/4 cup of popping boba into the bottom of each serving glass.
Add pomegranate seeds or lime slices.
Pour the contents of the shaker over the top and add ginger beer.
Garnish and serve with a boba straw.
Notes
Instead of plain kombucha, use flavored kombucha. Ginger, mint, lime, pink lady apple, or pomegranate kombucha will fit well in this recipe. Some kombucha has added sugars like cane sugar. Read the ingredients if you need a low-sugar kombucha.
Add 1/4 cup of cranberry juice or orange juice for an even tastier punch. Either substitute one of these juices or add it in addition to the juice called for in the recipe.
Prep Time:

10 minutes

Cook Time:

15 minutes
What Does Kombucha Pomegranate Punch Taste Like?
This kombucha tea mocktail tastes tangy and tart with a hint of sweetness underneath. Pomegranates add a tart flavor, similar to cranberries. The Assam tea adds a spiciness that works with the tartness of the kombucha. Ginger beer has a spicy, tangy, sweet ginger flavor. Ginger and kombucha complement each other perfectly.

What Is Kombucha?
Kombucha tea is a fermented beverage. Bacteria and yeast grow together and form a culture called a SCOBY (symbiotic culture of bacteria and yeast). The kombucha culture is then combined with black tea or green tea and sugar and allowed to ferment. The finished kombucha has vinegar, amino acids, and B vitamins. Kombucha tastes like a spicy, tart version of tea.
4 Health Benefits of Kombucha
Kombucha is naturally dairy and gluten-free. You can buy it online or at your local supermarket or brew it at home! Experts are still researching the health benefits of kombucha. Generally, kombucha is believed to:
Contain antioxidants that can help lower cholesterol and blood sugar levels
Boost energy levels
Contain probiotics which help with digestion
Help strengthen the immune system
There are some risks associated with kombucha. The fermentation process can sometimes go awry, leading to mold growth. If you make your homemade kombucha, use stainless steel and glass containers and keep everything sanitized.
Does Ginger Beer Have Alcohol in It?
Ginger beer is a non-alcoholic drink. It is made by boiling water, ginger, and sugar together. Once the mixture has boiled long enough, carbonation is added. Ginger beer often has added sugars, making it almost as high in total sugars as a soda. Though this recipe only calls for a few tablespoons per serving, look for a low-sugar ginger beer if you are watching your blood sugar.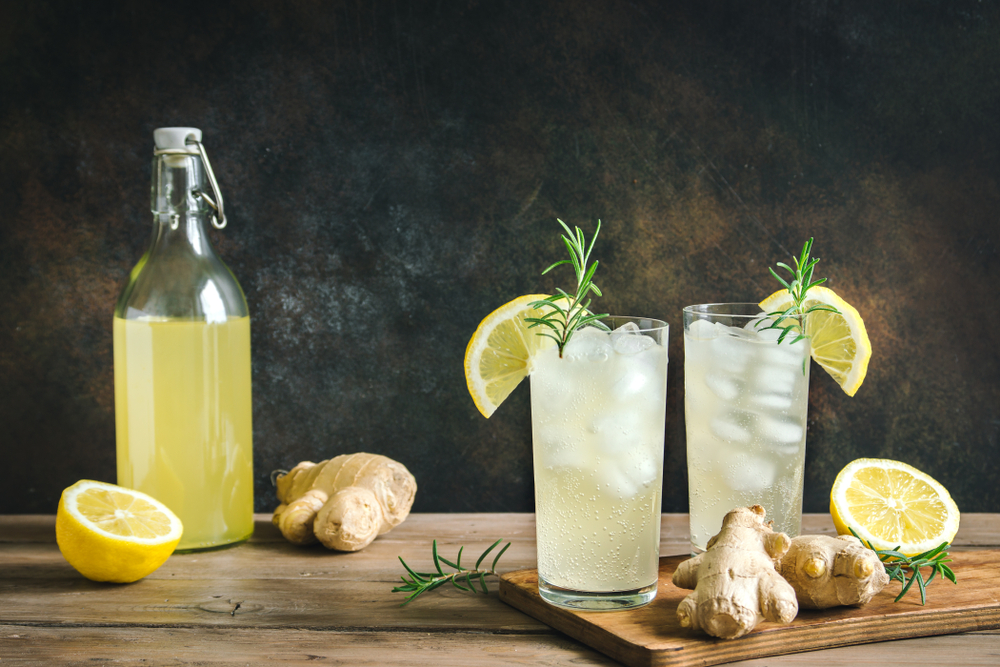 How Much Caffeine Is in Kombucha Pomegranate Punch Bubble Tea?
Assam tea is a type of black tea. A 1/4 cup of Assam tea will yield between 7 and 14 mg of caffeine per serving. Tea releases more caffeine when it is brewed for a longer time, in very hot water, or made from small leaves.
Kombucha has a small amount of caffeine. The fermentation process makes the caffeine count lower. Finished kombucha yields between 8 and 14 mg per 8 fl oz serving. This recipe calls for about 6 fl oz of kombucha, which yields between 6 and 10 mg per serving.
The total caffeine count for this kombucha punch is between 13 and 24 mg per serving. In comparison, an 8 fl oz cup of brewed coffee contains about 95 mg of caffeine.
What Other Toppings Are Good in This Boba Drink?
Our recipe uses fruit-flavored popping boba, but the options are endless. Try one of the following in your next kombucha punch:
Fresh fruit—chopped into small pieces
Fresh mint leaves
Nata de coco
Brown sugar tapioca pearls
Ginger and pomegranate go well with most fruits, vanilla, and cinnamon. Experiment and discover which toppings you like best!