Rose milk tea is a sweet and floral blend that derives its signature flavor from sweetened milk and authentic roses. It's a perfect drink to sip on during hot summer months or alongside any savory meal. Find out how to create your own rose milk tea blend with the help of this recipe.
This recipe uses homemade rose syrup to create a creamy and delicate cup of rose milk tea. It offers the perfect balance of sweetness, creaminess, and floral notes, making it a wonderful drink to enjoy any time of the year.
Print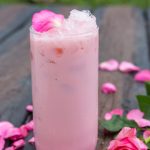 Rose Milk Tea
---
Total Time:

20 minutes

Yield:

1

Serving

1

x
Description
Enjoy this floral milk tea iced or hot. For a hot tea, don't allow the elements to cool down before mixing them, and don't add ice. The rose flavor will be more intense in hot milk tea.
---
2

cups

water, divided

1

cup

brown sugar

2 tablespoons

dried rose petals

1/2

cup

whole milk

1

green tea teabag or

1 tsp

loose-leaf tea leaves
Ice cubes
---
Instructions
Place 1 cup of water, brown sugar, and dried rose petals into a medium saucepan and boil over medium-high heat.
Remove the roses and reduce the boiling water's heat to low. Allow the rose water to simmer for 5 minutes or until it reaches a syrupy texture.
While waiting, steep the green tea in 1 cup hot water for three minutes. Let it cool down by putting it in the fridge.
Mix your desired amount of rose syrup with milk. Pour the rose milk with the tea into a serving cup with ice, and enjoy.
Notes
You can use plant-based alternatives for this recipe, such as oat milk, almond milk, or coconut milk.
Green or jasmine tea will provide a subtle base that allows the rose flavor to shine through. You can use matcha, Earl Grey, oolong tea, or black tea if you prefer, but the flavor profile will be altered.
If you prefer a stronger floral flavor with your rose milk tea, consider increasing the ratio of rose syrup to milk. You can also add sugar syrup to the milk when mixing, but it may make the drink a tad too sweet for some. For aromatics and flavor, garnish the tea with a few rose buds.
Turn this milk tea into a bubble tea by adding toppings like tapioca pearls or hibiscus, and enjoy with a thick straw.
Prep Time:

5 minutes

Cook Time:

15 minutes
What Does Rose Milk Tea Taste Like?
Rose milk tea tastes sweet, floral, and mellow. The silkiness of the milk is complemented by the subtle yet distinct rose flavor of rose petals, creating a drink that stands out from your usual cup of tea. The drink also has a slight vegetal and grassy flavor from the green tea. This freshness pairs well with the overall floral profile of the beverage.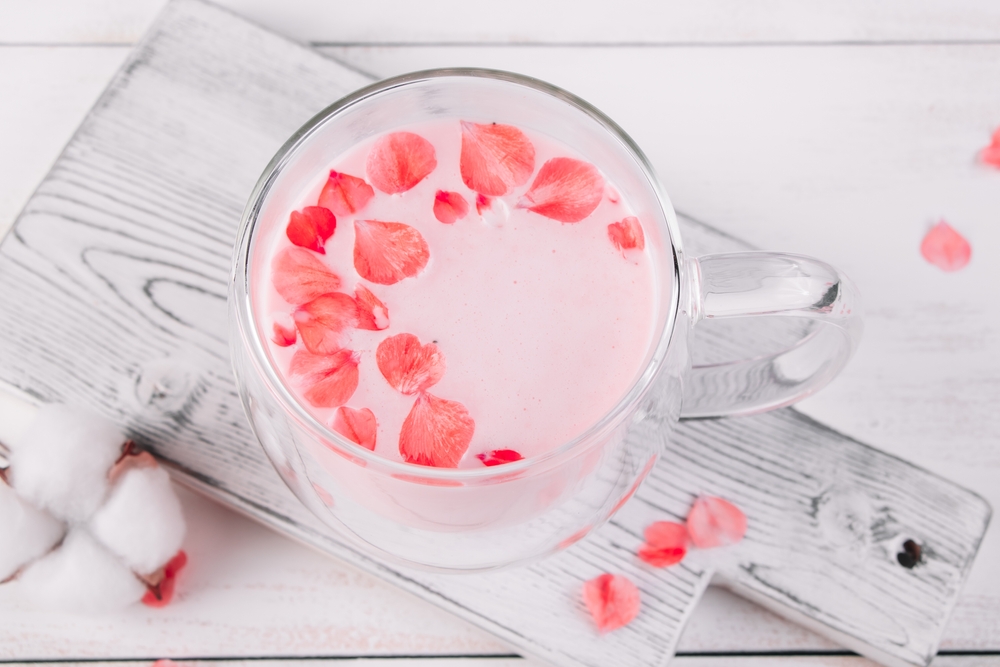 How Much Caffeine Does Rose Milk Tea Have?
The caffeine in rose milk tea depends on your tea base, as the other ingredients don't contain caffeine. Our recipe uses green tea, which has approximately 40 mg of caffeine per cup.
While 40 mg of caffeine doesn't come close to that of black coffee or energy drinks, it might still keep you awake at night. If you are caffeine sensitive, enjoy this rose tea latte earlier in the day.
5 Health Benefits of Rose Milk Tea
Rose milk tea is not only a calming beverage, but it also offers some useful health benefits. Here are some of the potential health benefits that this beverage can offer:
Improves digestion: Rose petals can be beneficial in relieving constipation.
Reduces anxiety: Rose petals possess calming properties that make it easier for people to handle stress or anxiety attacks.
Reduces inflammation: Rose petals are good at reducing inflammation in the body, which is beneficial for people who suffer from chronic illnesses such as arthritis or asthma.
Fights cancer cells: Green tea and rose petals are high in antioxidants that help fight free radicals in the body, decreasing the risk of degenerative conditions such as cancer.
Soothes menstrual pain: Rose milk tea can also soothe cramps and pains associated with the menstrual cycle.
These health benefits just scratch the surface of what this green tea-infused beverage can do for you. This beverage is undoubtedly a healthier choice than coffee or other caffeinated beverages.
Can You Make This Recipe With Milk Tea Powder Instead of Rose Petals?
Yes, you can make a rose milk tea using milk tea powder instead of dried rose petals. In fact, most boba tea stores use this as a cost-cutting measure or if they don't have immediate access to dried rose petals.
It's simpler to make rose milk tea with powder since it's pre-made already. All you have to do is pour the milk into a serving glass, add some green tea and powder, stir, and you're done. However, if you want a drink that tastes more natural and less artificial, opt for making it with fresh rose petals instead.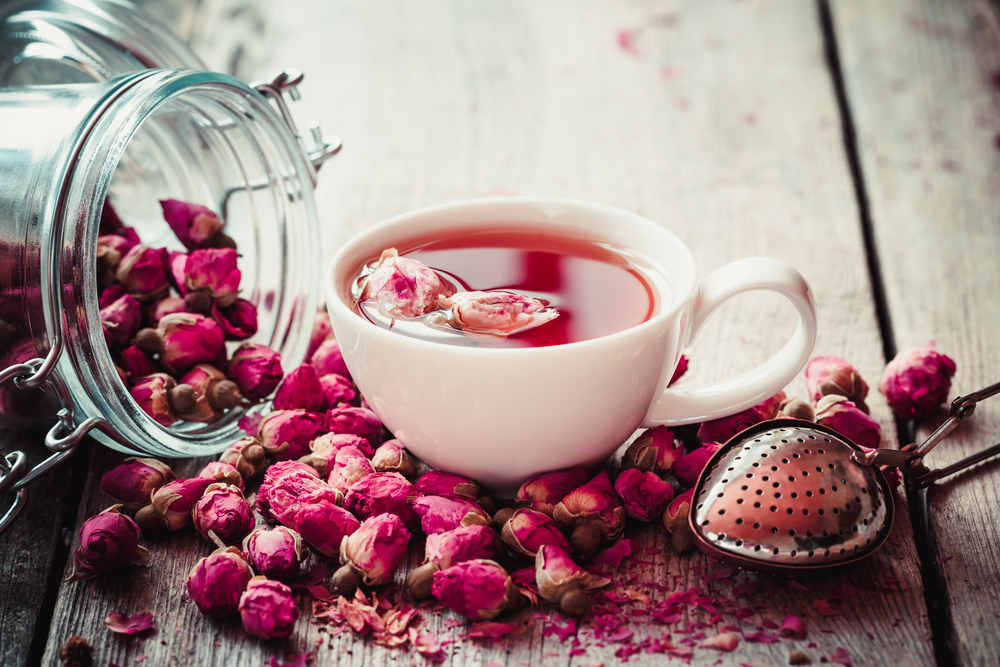 Which Toppings Are Good in Rose Milk Tea?
While rose milk tea is good on its own, you can elevate the beverage by adding some boba toppings.
Some of the best additions to this drink include the following:
Brown sugar tapioca pearls
Coconut jelly
Aloe vera
Popping boba
If you're feeling adventurous, you can mix and match different toppings to achieve a more complex flavor.