While tapioca pearls are the traditional topping, egg pudding is a delicious alternative for your bubble tea. You can make this dessert at home with minimal ingredients. Turn your homemade milk tea into a decadent treat with the recipe below.
This egg pudding recipe makes the perfect topping for your bubble tea. Choose whichever bubble tea flavor you enjoy with this sweet egg pudding. You can enjoy it in addition to tapioca pearls or as a singular topping.
Print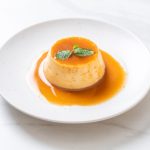 Egg Pudding Boba Topping
---
Total Time:

25 minutes

Yield:

3

1

x
Description
It will be difficult to resist eating this egg pudding before adding it to your bubble tea, but if you can resist, it is well worth the reward.
---
1

cup

whole milk (divided into 1/4 and 3/4)

2

egg yolks

2 tbsp

white sugar

1 tsp

vanilla extract

1 tsp

gelatin (see note below if using agar)
---
Instructions
In a small bowl, combine ¼ cup of the milk with the gelatin. Set aside.
In a medium bowl, whisk together the egg yolks, sugar, and vanilla.
In a medium saucepan, heat ¾ cup milk. Bring to a boil over low heat. Stir constantly so it doesn't burn.
Once the milk is simmering, slowly pour the warmed milk into the bowl with the egg yolk mixture. Stir the mixture constantly so as not to cook the yolks—they just need to be warmed. If there isn't room for all the milk, that's fine. As long as you incorporate at least half of the warmed milk into the egg yolks, they'll be warm enough for the next step.
Once the yolks are warm, pour the egg mixture back into the saucepan and whisk for at least 2 minutes over low heat until it starts to thicken.
Pour the milk and gelatin mixture into the saucepan and continue whisking.
Once the mixture is smooth, refrigerate it for at least 2 hours until it is set.
Scoop or cut small amounts of the egg pudding into your boba tea glass. Add ice and boba tea.
Notes
Agar is slightly trickier than gelatin. If you'd like to use agar powder, follow the suggestions below.
Substitute agar powder at a little less than 1/2 the amount of gelatine—so for this recipe, use a skinny 1/2 teaspoon of agar powder.
It sets more quickly than gelatin—dissolve it JUST BEFORE pouring it into the pudding in Step 6.
It doesn't dissolve quite as well as gelatin—you'll need to whisk the mixture really well or even use an immersion blender to get the mixture to a smooth silky texture.
After adding the agar powder, simmer for just 2-3 minutes more. Simmering too long will make the finished product rubbery.
Prep Time:

10 minutes

Cook Time:

15 minutes
What Does Egg Pudding Boba Taste Like?
Egg pudding itself is sweet. It is one of the sweetest boba tea toppings with the most added sugar. The exact taste of egg pudding boba tea depends on what kind of milk tea you use as a base.
Egg pudding has a solid, flan-like texture rather than a typical soft pudding. It adds a silky smooth texture to boba tea.
Which Milk Tea Goes Best With Egg Pudding?
Egg pudding goes well with any flavor of milk tea. It pairs exceptionally well with milk teas with a green, black, or oolong tea base. As the egg pudding melts, it sinks into the milk tea and creates a silky-velvety texture. It contrasts nicely with the chewy tapioca pearls. Experiment with the flavor of milk tea you enjoy most—you might discover a delicious new combination.
A few of our favorite combinations include caramel milk tea, brown sugar milk tea, or coconut milk tea. Egg pudding doesn't complement fruity teas or herbal teas quite as well.
Can You Make Egg Pudding With a Powder Mix?
You can make egg pudding with a powder mix. Most bubble tea shops make their egg pudding from a powder. Many recipes just call for egg pudding powder, sugar, and water. It's quick and easy and doesn't require fresh milk or eggs. You can use it to top your boba tea or eat it with fresh fruit and ice cream.
Egg Pudding vs. Egg Custard
There is a bit of confusion concerning the differences between these desserts, especially when you consider that 'egg pudding custard' blurs the lines between the two desserts. However, in general:
| | |
| --- | --- |
| Egg Pudding | Egg Custard |
| Sometimes includes eggs or egg yolks | Always includes eggs |
| Requires gelatin, flour, or cornstarch as a thickener | Doesn't always have added thickeners |
| Can be made on the stovetop | Usually baked in a steam bath |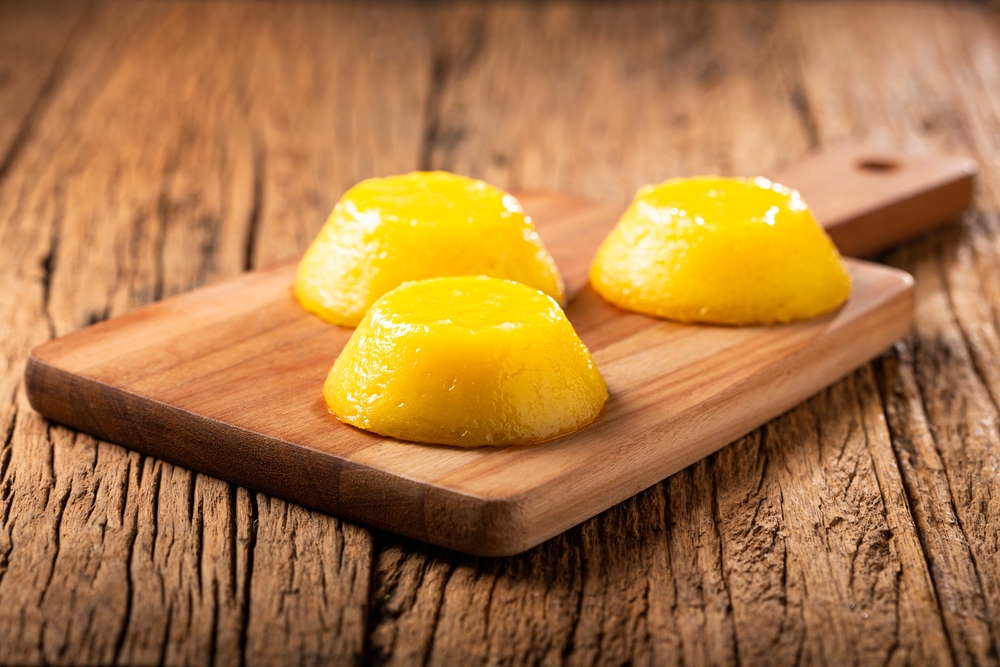 Can You Drink Egg Pudding Boba Through a Boba Straw?
Yes, boba straws are wide enough to accommodate egg pudding. Boba tea has large add-ins like boba pearls, red beans, popping boba, or jellies. Boba tea is always served with a thick boba straw, allowing you to enjoy the add-ins as you drink the tea.
Where Did Egg Pudding Originate?
It's not exactly clear. Some believe it originated in Great Britain, others in China, and others in Spain.
Crème caramel likely inspired egg pudding. Crème caramel, a custard pudding topped with caramel, was invented by the Europeans. In the late 1500s, British soldiers mixed leftover breadcrumbs with lard, eggs, and flour and created custard egg pudding. The French then made variations on that recipe and added caramel.
Meanwhile, in China, legend has it that a grandmother wanted to use up extra milk. She added eggs and developed a Chinese custard pudding.
Around the same time, the Spanish discovered sugar and used sugar, milk, and eggs to create flan.
As world trading became more common, the European versions of custard pudding were brought to Asia, and the Asian versions were brought to Europe. All these versions of custard pudding likely gave rise to the egg pudding now used in Taiwanese boba.