This Taiwanese boba drink doesn't contain any tea. Brown sugar milk tea is made from milk, caramelized brown sugar, and tapioca pearls. The cup is lined with caramelized brown sugar in this brown sugar boba tea recipe, and cooked tapioca pearls and milk complete this decadent drink. 
This boba drink is incredibly easy to make. Unlike many other recipes, and despite its name, it doesn't contain any tea or caffeine. However, if you're looking for a caffeine jolt, check out the recipe notes.
Print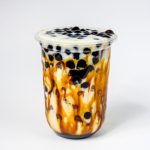 Brown Sugar Milk Tea
---
Total Time:

25 minutes

Yield:

2

16oz drinks

1

x
Description
This brown sugar milk tea recipe is perfect for an afternoon treat. The chewy tapioca pearls create texture amid the creamy, rich milk mixture. Once you try this boba recipe, you'll be sure to love it.
---
1/2

cup

tapioca pearls

1/2

cup

water

1/4

cup

brown sugar

2

cups

milk
ice (optional)
---
Instructions
Cook the tapioca pearls according to the package instructions. Drain and rinse with cold water, bringing the boba pearls to room temperature. Set aside.
In a medium saucepan, bring the water to a boil over high heat and add the brown sugar. Stir to dissolve.
Turn to medium heat; stir often as the sugar syrup thickens and it turns translucent brown.
Turn the heat to low and add the cooked boba. Let the pearls simmer in the sugar syrup for 5 minutes.
Tilt your glass to a 45-degree angle. Take a few spoonfuls of the sugar syrup and drizzle it on the inside and bottom of the glass. Turn the glass over and let the excess syrup drip back into the saucepan. Repeat with the other glass.
Add the brown sugar tapioca pearls with syrup to the bottom of each glass and pour the milk over the top. Add ice if desired.
Notes
Experiment by using tea in the recipe. Brew a cup of your favorite tea—black tea bags or tea leaves work well—and pour it over the milk as the final step in combing the bubble tea. Oolong or matcha tea will also work well.
Use different kinds of milk, including almond, oat, or soy, depending on your preferences.
Different kinds of sugar create different tastes. Dark brown sugar makes a richer, sweeter drink. Muscovado sugar creates a smoother texture.
If you want to make the Mudflip version:
Add a few more tablespoons of water in step two and let the sugar syrup thicken slightly less. This will create an easier-to-pour syrup that mixes better with the milk.
Use a mason jar instead of a glass. Prepare as directed above, but pour the syrup into the mason jar in step five. Top with the milk and screw on the lid. Flip the mason jar so the layers of the drink mix together.
*Tiger Sugar, one of the most famous boba shops serving Brown Sugar Milk tea, suggests shaking the drink 15 times to achieve the best mixing of ingredients and consistency.
Prep Time:

5 minutes

Cook Time:

20 minutes
What Does Brown Sugar Milk Tea Taste Like?
Brown sugar milk tea tastes very sweet. Since the ingredients are only brown sugar syrup, milk, and boba balls, this bubble tea is very high in sugar. It is one of the sweetest milk tea drinks. The caramelization of the sugar brings toasty, nutty tastes to this sweet treat.
How Much Caffeine Does Brown Sugar Milk Tea Have?
Traditionally, brown sugar milk tea is made without tea. Therefore, it does not contain caffeine. However, many tea shops throughout the United States and Britain have begun to make this boba drink with tea. The amount of caffeine then depends on which tea you choose as the base.
Brown Sugar Milk Tea vs. Regular Milk Tea
Brown sugar milk tea contains tapioca pearls infused with brown sugar syrup. This bubble tea also uses milk rather than tea. Caramelized brown sugar syrup drizzled into the glass sets this brown sugar boba milk tea apart from regular milk teas.
Regular milk tea does not necessarily contain tapioca pearls. If it does, they might be plain, cooked tapioca pearls or tapioca pearls that have been simmered in fruit syrup. Traditional milk tea always has a tea base, usually black tea.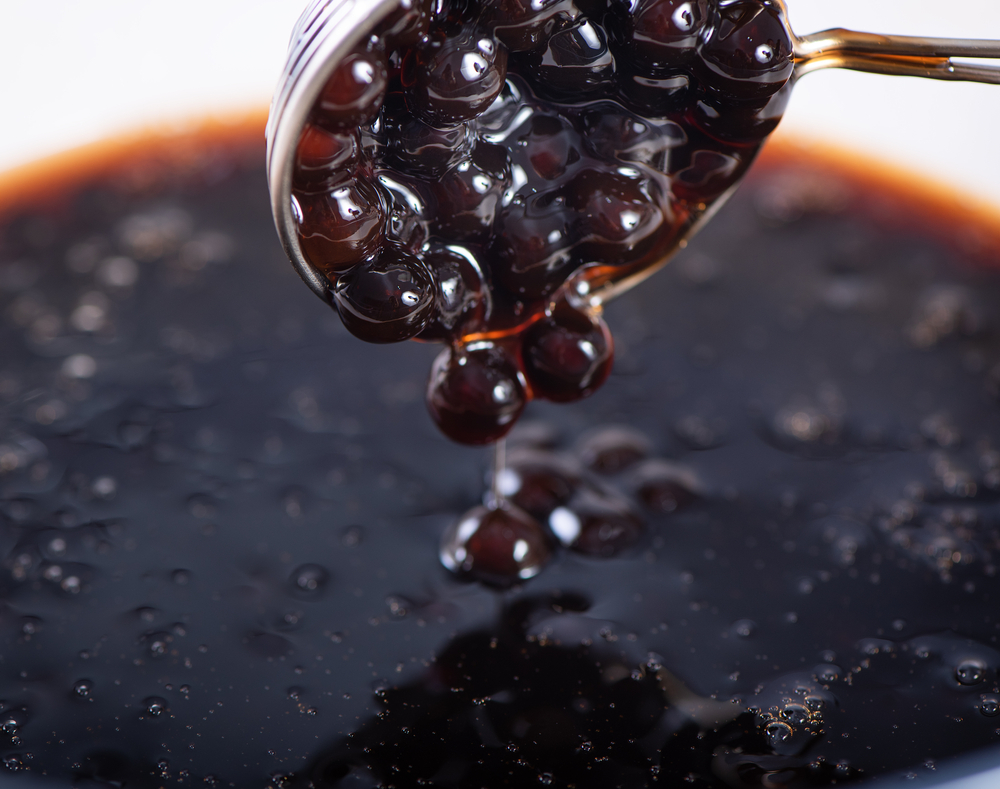 Can I Order Brown Sugar Milk Tea at Starbucks?
The most similar Starbucks drink to brown sugar milk tea is the iced brown sugar shaken espresso. This drink is made with an espresso base that is shaken with brown sugar and cinnamon. The espresso mixture is then topped with oat milk and ice. The iced brown sugar drink contains 120 calories and 12 grams of sugar.
Starbucks does not currently have tapioca pearls, so they cannot make brown sugar milk tea.
Is Brown Sugar Milk Tea the Same as Tiger Milk Tea and Mudflip Tea?
Brown sugar milk tea is sometimes called tiger milk tea. Drizzling the brown sugar syrup into the cup and then letting the excess drain out creates streaks of brown that look like tiger stripes.
Mudflip tea is a variation of brown sugar milk tea invented by YiFang boba shop. The ingredients are the same but the drink is built differently. The brown sugar syrup is poured into the bottom of the glass and topped with milk. The result is a drink that looks 'dirty' as the milk and brown sugar syrup mix together.
Originally, the shop recommended that customers shake the tea to mix it. However, after one creative customer posted a video on TikTok of his preferred mixing method, the boba shop now encourages customers to flip these drinks over and watch the lava lamp effect as the tea layers mix.
At YiFang, in London, Mudflip tea is so popular that they only make two batches per day, and the drink is limited to one per customer. The boba shop simmers the tapioca pearls in brown sugar syrup for two hours, which is why the drink must be limited.
Is Brown Sugar Milk Tea High in Calories?
Brown sugar milk tea is very high in calories. One serving can contain between 600 and 700 calories. This boba drink also has approximately 60 grams of sugar and around 100 grams of carbohydrates.
The recommended sugar intake is about 30 grams per day for an adult on a 2,000-calorie diet, as stated here. The final sugar and calorie count of any bubble tea are determined by which milk and how much sugar is in the recipe.