Now you can make keto boba to fit a low-carb diet! These keto tapioca pearls have only 1 net carb per serving. They require some prep time, but they come together quickly and make the perfect addition to your low-carb bubble tea.
You'll need gelatin, oil, and low-carb honey to make these low-carb, low-calorie boba treats. You'll also need a medicine dropper to form them into the traditional boba spheres. This recipe is surprisingly easy to make at home!
Print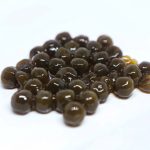 Keto Tapioca Pearls
---
Total Time:

1 hour 45 minutes

Yield:

2

Servings

1

x
Description
A small swap like this one will save you tons of carbs and calories. These keto pearls are as close as you can get to the real thing without blowing your diet.
---
1

cup

of avocado oil (or any neutral oil), chilled

1/2

cup

water

1

black tea bag

2 tsp

sugar-free honey

1 tbsp

unflavored gelatin
---
Instructions
Place the avocado oil in the fridge for a minimum of 1 hour. Ideally, you would do this the night before.
Brew the tea by combining 1/2 cup hot water with 1 black tea bag. Let steep for 3-5 minutes. Discard the tea bag.
Combine the brewed tea, gelatin, and honey in a medium saucepan. Bring to a boil over medium heat and then turn down to a simmer.
Stir constantly until the mixture begins to thicken.
Remove from the heat and let cool for 3-5 minutes.
Remove the cold oil from the refrigerator. Suck up some of the tea mixture into the dropper.
Submerge the tip of the dropper into the cold oil and gently squeeze a small ball of tea mixture into the oil. The keto pearl should sink to the bottom of the oil. Repeat until the dropper is empty.
Continue loading the dropper with the tea mixture and creating keto pearls in the oil until you have used all the tea mixture.
Strain the oil/keto pearl mixture through a strainer.
Rinse the keto tapioca pearls under cold water briefly until the excess oil is rinsed off.
Add the keto tapioca pearls to your favorite low-carb milk tea.
Notes
Use any sugar-free syrup you prefer. You could use keto maple honey or keto maple syrup. Make sure the sweetener you use easily dissolves without residue left behind.
Substitute the gelatin for agar agar to make these keto pearls vegetarian. Agar agar is not a perfect sub for gelatin as it produces a chewier, gummy texture. If you substitute, use 1/2 or 1/3 the amount of agar agar as you would gelatin. You may have to experiment a bit to get the exact texture you prefer.
Prep Time:

1 hour

Cook Time:

45 minutes
Do Gelatin-Based Tapioca Pearls Taste the Same as Regular Boba Pearls?
Geltain-based tapioca pearls taste slightly different from regular boba pearls. They are both sweet and chewy, but gelatin boba tastes like sweetened tea. If you don't enjoy black tea, you can easily substitute green tea or low-carb herbal tea.
Regular tapioca pearls can be bland or sweet, depending on what you soak them in after cooking. They also tend to absorb the flavor of the tea you put them in.
Are Traditional Tapioca Pearls Keto-Friendly?
No, traditional tapioca pearls are not keto-friendly. Tapioca pearls are starch-based and usually soaked in sugar. They are high in carbohydrates, sugar, and calories. Tapioca pearls do not fit the keto diet, but they are gluten-free and dairy-free. Tapioca and tapioca starch can be a good alternative for those with IBS or those who need to gain weight.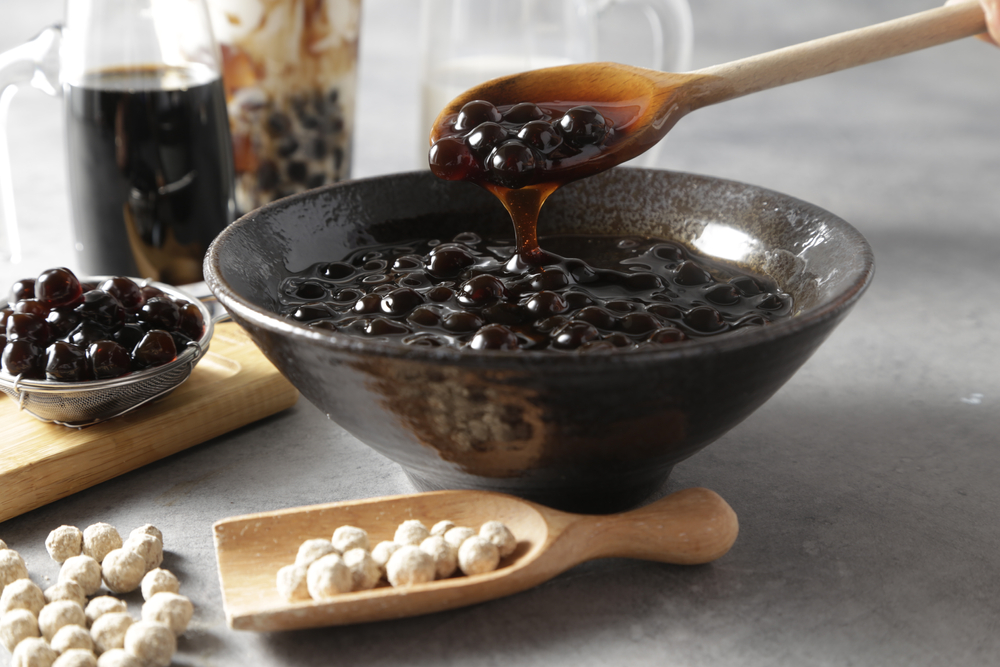 Do Keto Pearls Have Any Health Benefits?
Keto boba balls have some health benefits. Gelatin is derived from collagen and is necessary for joint health. Gelatin is high in protein, amino acids, antioxidants, calcium, magnesium, and selenium.
Gelatin has also been known to:
Keep skin hydrated and healthy
Keep your intestinal wall strong, lessening the chances of leaky gut
Strengthen joints and bones
Traditional Tapioca Pearls vs. Keto Tapioca Pearls
| | |
| --- | --- |
| Traditional tapioca pearls | Keto tapioca pearls |
| 100 calories per 1/4 cup | 20 calories per 1/4 cup |
| 24 grams of net carbs per 1/4 cup | 1 gram of net carbs per 1/4 cup |
| 14 grams of sugar per 1/4 cup | 0 grams of sugar per 1/4 cup |
| Sweetened with brown sugar | Sweetened with sugar-free honey |
6 Low-Carb Bubble Tea Ingredient Swaps
Traditional bubble tea does not fit a low-carb lifestyle. Try these swaps to make your bubble tea low-carb.
Add almond milk instead of dairy milk or heavy cream instead of whole milk.
Exchange black tea for herbal tea (some herbal tea is high in carbs).
Substitute green tea instead of matcha (matcha has 1 carb per cup but green tea has .1 per cup).
Top your bubble tea with chia seeds or keto pearls instead of tapioca pearls or jelly.
Use monk fruit or stevia instead of white or brown sugar.