Joyba bubble teas are made from real brewed tea infused with fruit flavor. Joyba adds the perfect amount of popping boba to each cup, ensuring a burst of fruit flavor with each sip. Before enjoying, shake the cup gently to encourage the boba pearls to distribute throughout the drink.
Does Joyba Bubble Tea Taste Good?
Yes, Joyba bubble tea tastes light and refreshing. It has a subtle tea flavor and tastes mostly like fruit. The popping boba adds a slightly chewy texture and more fruit flavor. Joyba bubble teas have the perfect amount of sweetness, letting the fruit and tea shine through.
Make sure to push the expandable boba straw far enough in the cup to enjoy a few popping bubbles with each sip of your bubble tea.
Joyba Bubble Tea Flavors
Joyba bubble tea is currently offered in five different flavors. Instead of tapioca pearls, all Joyba has popping boba. Joyba bubble teas are all fruit-based rather than milk tea-based. Joyba sells individual flavors or variety packs, including the following flavors:
Blueberry Pomegranate
Cherry Hibiscus
Mango Passionfruit Green Tea
Raspberry Dragonfruit
Strawberry Lemonade Green Tea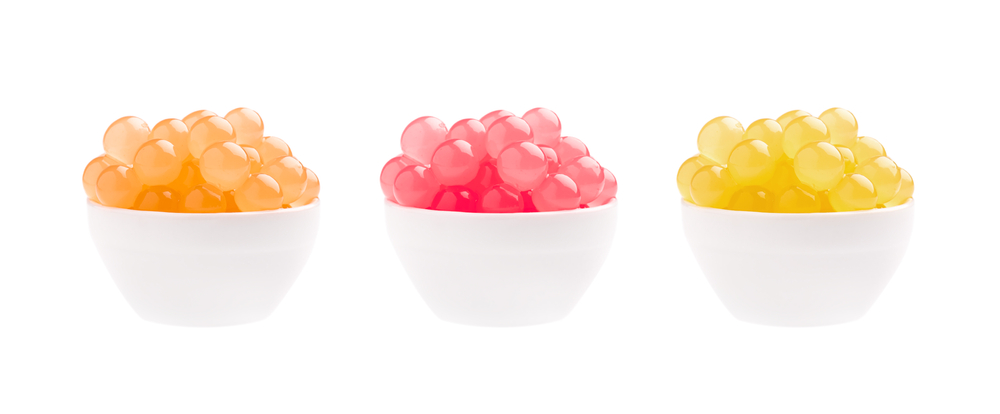 Is There Caffeine in Joyba Bubble Tea?
Yes, there is caffeine in most Joyba bubble tea flavors. Green tea Joyba has 29 mg of caffeine, and black tea Joyba has 24 mg of caffeine. For most people, this is enough caffeine to make them feel alert but not enough to interrupt sleep.
However, if you are caffeine sensitive, try the Cherry Hibiscus flavor. There is no caffeine in the Cherry Hibiscus flavor since it is made with hibiscus fruit tea.
Does Joyba Boba Tea Need to Be Refrigerated?
Joyba boba teas do not need to be refrigerated. For the best experience, however, enjoy your Joyba teas cold. Bubble teas originated in Taiwan and are traditionally served as iced tea with fruit or milk and boba.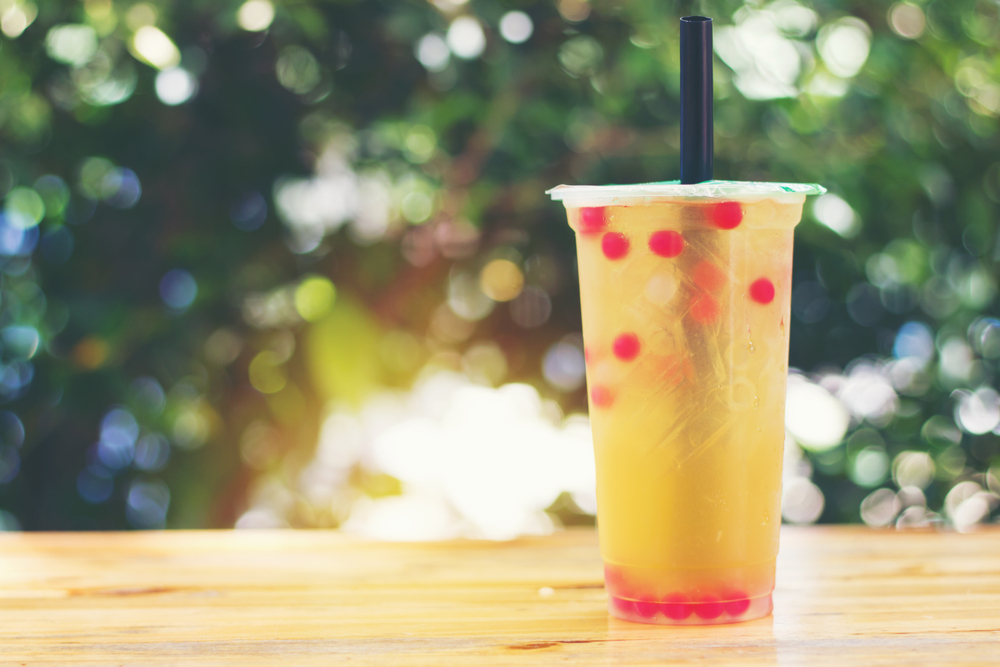 Where to Buy Joyba Bubble Tea
Target and some Costco stores sell Joyba bubble tea. Amazon and Walmart also sell Joyba bubble tea kits. Each area store may have different selections of Joyba bubble tea. Some boba shops may also sell Joyba boba drinks.
Joyba Bubble Tea Nutritional Info
The serving size for each Joyba bubble tea is 12 fl oz. All Joyba bubble teas have no artificial sweeteners or artificial flavors. They are all gluten-free, non-GMO, and non-BPA. Joyba bubble teas include tea concentrate, sweeteners, and natural flavors.
Blueberry Pomegranate Black Tea
| | |
| --- | --- |
| Nutrition | Value |
| Calories | 120 |
| Total fat | 0 g |
| Sodium | 10 mg |
| Total carbohydrate | 27 g |
| Dietary fiber | 0 g |
| Total sugars | 26 g |
| Calcium | 83 mg |
| Potassium | 9 mg |
Cherry Hibiscus
| | |
| --- | --- |
| Nutrition | Value |
| Calories | 120 |
| Total fat | 0 g |
| Sodium | 10 mg |
| Total carbohydrate | 30 g |
| Dietary fiber | 0 g |
| Total sugars | 28 g |
| Calcium | 90 mg |
| Potassium | 14 mg |
Mango Passionfruit Green Tea
| | |
| --- | --- |
| Nutrition | Value |
| Calories | 130 |
| Total fat | 0 g |
| Sodium | 10 mg |
| Total carbohydrate | 28 g |
| Dietary fiber | 0 g |
| Total sugars | 28 g |
| Calcium | 84 mg |
| Potassium | 12 mg |
Raspberry Dragonfruit Black Tea
| | |
| --- | --- |
| Nutrition | Value |
| Calories | 120 |
| Total fat | 0 g |
| Sodium | 15 mg |
| Total carbohydrate | 27 g |
| Dietary fiber | 0 g |
| Total sugars | 25 g |
| Calcium | 86 mg |
| Potassium | 11 mg |
Strawberry Lemonade Green Tea
| | |
| --- | --- |
| Nutrition | Value |
| Calories | 130 |
| Total fat | 0 g |
| Sodium | 10 mg |
| Total carbohydrate | 31 g |
| Dietary fiber | 0 g |
| Total sugars | 30 g |
| Calcium | 85 mg |
| Potassium | 10 mg |