Combining sweet treats from Taiwan and the UK, this banoffee pie bubble tea is a uniquely rich, sweet boba drink that combines banana and toffee syrup with brewed tea and milk. You can easily make your own version of this popular drink at home.
This bubble tea recipe requires just a few ingredients and is quick to put together. You'll need a blender and a cocktail shaker (or a mason jar with a lid). Classic brown sugar tapioca pearls work best in this recipe.
Print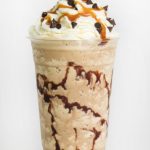 Banoffee Pie Bubble Tea
---
Total Time:

25 minutes

Yield:

2

1

x
Description
Even if you've never tried banoffee pie, there's nothing not to love about this boba tea. It's a delectable combination of flavors and textures.
---
1/2

cup

water

1

green tea bag

3/4

cup

milk (almond milk, oat milk, or dairy milk)

2

small bananas

1 tsp

vanilla extract

1

cup

quick-cooking tapioca pearls

2.5 tbsp

brown sugar

1 tbsp

maple syrup
toffee syrup (garnish)
whipped cream (garnish)
ice cubes
---
Instructions
Bring ½ cup water to a boil. Remove from heat and add the green tea bag.
Let steep for 3-4 minutes. Discard the tea bag. Set aside to cool.
Cook the tapioca pearls according to the package directions. Drain.
Sprinkle the pearls with brown sugar. You may need to add 1-2 tbsp of water to make a light syrup. Stir to combine. Let cool to room temperature.
Combine the brewed tea, milk, vanilla, and bananas in a blender. Blend for 1-2 minutes until the mixture is smooth and frothy.
Add a large handful of ice to your shaker. Pour ½ of the blended mixture into your shaker and shake to combine. Taste for sweetness and add maple syrup if desired.
Drizzle toffee syrup into your serving glass. Rotate the glass, so the syrup coats the sides and the bottom. Pour out any excess syrup.
Add ½ cup of tapioca pearls to the bottom of each large serving glass. Top with the milk tea mixture.
Garnish with more toffee syrup, whipped cream, and a boba straw.
Notes
Oolong, jasmine, or green tea are best in this recipe. However, matcha is a good option if you prefer an earthy flavor. Additionally, you can also use black tea. Black tea adds a slight bitterness.
Try frozen bananas for a milkshake texture.
Use caramel or chocolate syrup for a different bubble tea flavor—or a combination of syrups for an extra decedent treat!
Click here for a homemade tapioca pearls recipe. And here for a brown sugar syrup recipe.
Prep Time:

10 minutes

Cook Time:

15 minutes
What Does Banoffee Pie Bubble Tea Taste Like?
This should come as no surprise- banoffee pie bubble tea tastes like banoffee pie. In bubble tea form, it is very sweet and frothy.
The natural sweetness of the banana combined with the sweetened tapioca pearls and toffee syrup create a rich bubble tea. The green tea adds a subtle flavor but mostly keeps to the background. The most prominent flavors are banana and toffee.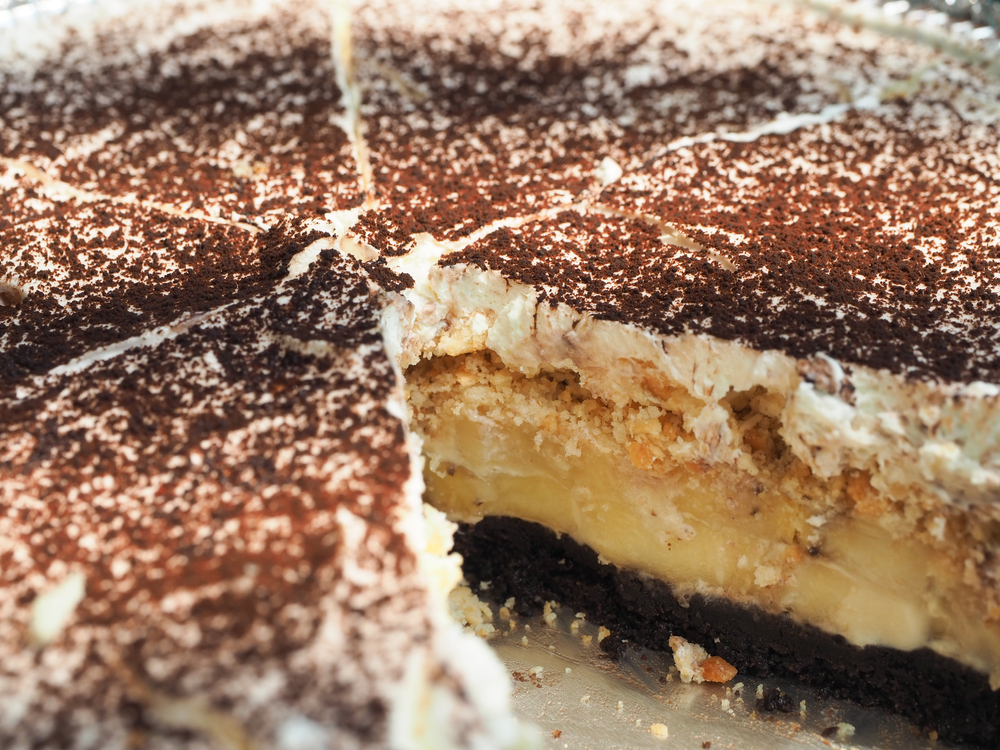 How Much Caffeine Does Banoffee Pie Bubble Tea Have?
Green tea contains 28 mg of caffeine per cup. Each serving of this banoffee pie bubble tea contains about 1/4 cup of green tea, making the caffeine content about 7 mg of caffeine per serving.
Using black tea, like oolong or Assam, increases caffeine to 12 mg per serving. Matcha yields about 18 mg of caffeine per serving.
Does Banoffee Pie Boba Tea Have Any Health Benefits?
Bananas are rich in soluble fiber, which may help to moderate blood sugar and aid digestion. They are low in calories and fat, making them a good source of filling nutrients. Bananas are also high in potassium, which supports heart health.
Though bananas are a healthy fruit, mixing them with sugar and tapioca pearls negates many health benefits. Boba tea is best enjoyed in moderation as part of a healthy lifestyle.
Which Toppings Are Best With Banoffee Pie Boba Tea?
Banoffee pie milk tea goes well with many different toppings. Though the classic choices include drizzled toffee syrup, tapioca balls, and whipped cream, you may also enjoy:
Butterscotch chips
Chocolate fudge brownies—cut into small pieces
Chocolate chips
Coconut flakes
Fresh fruit—mango, blueberries, apple, pomegranate seeds, or strawberries
Ice cream—banana, toffee, or butter pecan
Nutella
Walnuts or pecans
Crushed Oreos
Crushed toffee bits
Waffles are not a typical topping, but you can garnish your tea with a waffle to create a truly unique dessert.
Where Can You Buy Banoffee Pie Bubble Tea?
Bubbleology serves banoffee pie bubble tea. This UK-based tea shop is known for serving fruit tea boba and several unique bubble tea varieties. They sell a drink similar to the one above, without vanilla extract or maple syrup. They also use jasmine tea instead of green tea for their tea base.
Check with your local bubble tea shop to see if they offer a banoffee pie bubble tea!