Earl Grey tea was named after British Prime Minister Charles Grey and was once considered a tea for aristocrats. This iced tea makes an excellent base for boba tea, as it gives off fragrant notes of bergamot and citrus. 
This milk tea recipe is a delicious twist on traditional bubble milk tea. Made with Earl Grey tea, it is creamy, citrusy, and slightly sweet. The addition of brown sugar tapioca balls add a textural component that you'll need a boba straw or spoon to enjoy.
Print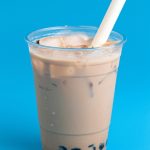 Earl Grey Boba Tea
---
Total Time:

17 minutes

Yield:

2

Servings

1

x
Description
Using these proportions balances the flavors perfectly. However, this recipe is extremely versatile. You can substitute the sweetener, milk, and toppings to your liking.
---
1 1/2

cups

of water

2

Earl Grey tea bags (or

2 tsp

loose-leaf tea leaves)

1/4

cup

brown sugar

1/2

cup

quick-cooking tapioca pearls

1/2

cup

whole milk (or dairy of your choice)
Ice
---
Instructions
Heat the water in a small saucepan until it is boiling. Take it off the heat and add the tea bags.
Steep until the hot water has cooled to room temperature. Discard tea bags or leaves.
Cook the tapioca pearls according to the package directions.
After draining them, transfer the pearls to a small bowl. Add 1/4 cup of brown sugar and stir. You may need to add 1-2 tablespoons of water to create a syrup.
To assemble, divide the boba pearls into two serving glasses and add ice.
Pour half of the tea into each glass, followed by the milk. Mix and enjoy!
Notes
Rather than using brown sugar syrup, you could use honey to sweeten the drink. Or, if you want a zero-calorie sweetener, you could use Stevia or another artificial sweetener to make the simple syrup.
There are also other options for milk. Non-dairy options include almond milk, oat milk, or coconut milk.
Enjoy this as a hot tea— don't let the tea come to room temperature, and don't add ice.
Prep Time:

2 minutes

Cook Time:

15 minutes
What Does Earl Grey Milk Tea Taste Like?
Earl Grey is said to be one of the most sophisticated tea blends in the world. Traditionally, the tea is made from black tea leaves and the rines of Bergamot oranges. The flavor has hints of lemon, orange, grapefruit, and lime.
Adding in the milk and sweetener gives it a rich and creamy flavor with a slight sweetness.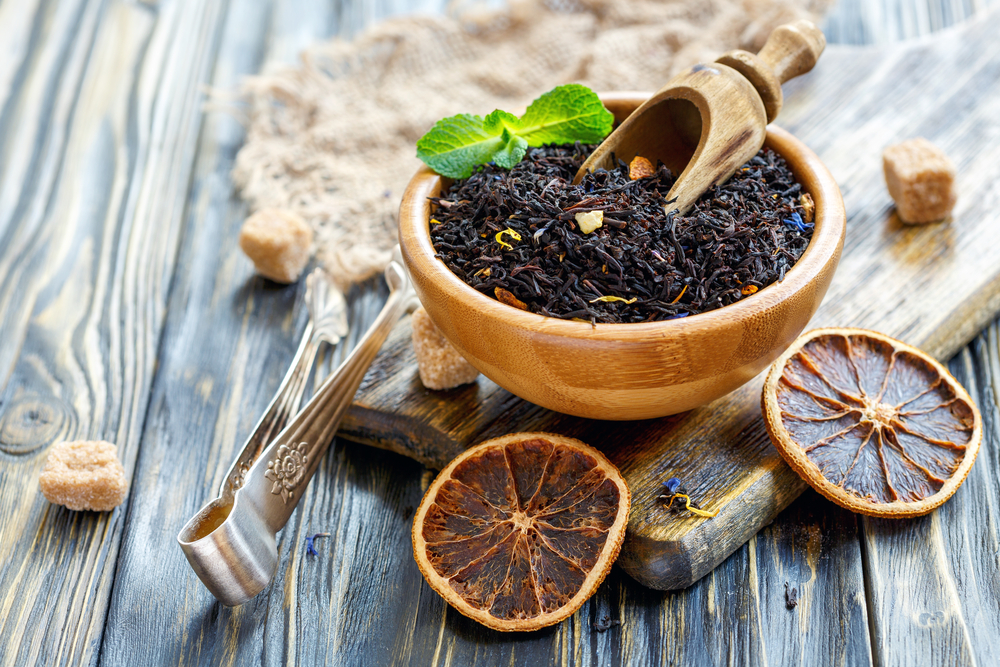 How Much Caffeine Does Earl Grey Bubble Tea Have?
Generally speaking, a cup of this tea can contain between 40 and 120 mg of caffeine. However, different blends will vary in their caffeine content. Other factors also affect the caffeine content, including where it was grown, the size of the leaves, the temperature of the water, and more. The longer your tea steeps, the more caffeine it will contain.
How Many Calories Are in an Earl Grey Boba Tea?
Overall, this recipe contains about 50 g of carbohydrates and 226 calories. A cup of Earl Grey tea contains 0 calories. However, once you add in the creamer, sweetener, and tapioca pearls, there will be calories added.
In Earl Grey milk tea, there are 90.4 kcals. Boba pearls add an extra 136 calories (per 1/4 cup serving). There are 33.75 g of carbohydrates in the tapioca pearls and 16.3 g of carbs in Earl Grey milk tea.
Of course, you can lessen the calories and carbs if you substitute certain ingredients, such as a zero-calorie sweetener, or change the type of milk you use.
5 Health Benefits of Earl Grey Tea
Earl Grey tea has a few health benefits that come with drinking it. There are low concentrations of vitamins such as iron, potassium, magnesium, riboflavin, and folic acid. Some health benefits to consider include the following:
Heart Health: Black tea has been shown to have blood pressure-lowering effects, which can reduce the risk of cardiovascular disease.
Lower Cholesterol: Bergamot extract lowers LDL cholesterol (the "bad" cholesterol) levels and overall cholesterol.
Weight Loss: Research shows that black tea contains polyphenols which may be suitable for weight loss.
Immunity Boost: Black tea is rich in antioxidants, and adding citrus peels brings in Vitamin C, which is excellent for your immune system.
Healthy Teeth: Earl Grey contains an antioxidant called catechin. It also contains fluoride. Both of these compounds are found in toothpaste and can improve your teeth's health.
Other than these health benefits, the milk used in this recipe contains calcium.
Where Is Earl Grey Tea From?
As I mentioned, Earl Grey gets its name from the British Prime Minister, Charles Grey. However, where the tea comes from is uncertain. There are several theories as to where it comes from, including:
Charles Grey saved the life of a Chinese man who was drowning and was gifted the tea (though some say he was gifted just the recipe).
Charles Grey and his family requested that the tea be made to cover up the taste of the tap water, which contained a lot of hard minerals. The tea was acidic, meaning that it could neutralize the water.
While Charles Grey was in office, he busted the East India trading company's monopoly on China, opening up China for free trade with Europe. Some say that a Chinese diplomat gifted him the tea because he was grateful for the change.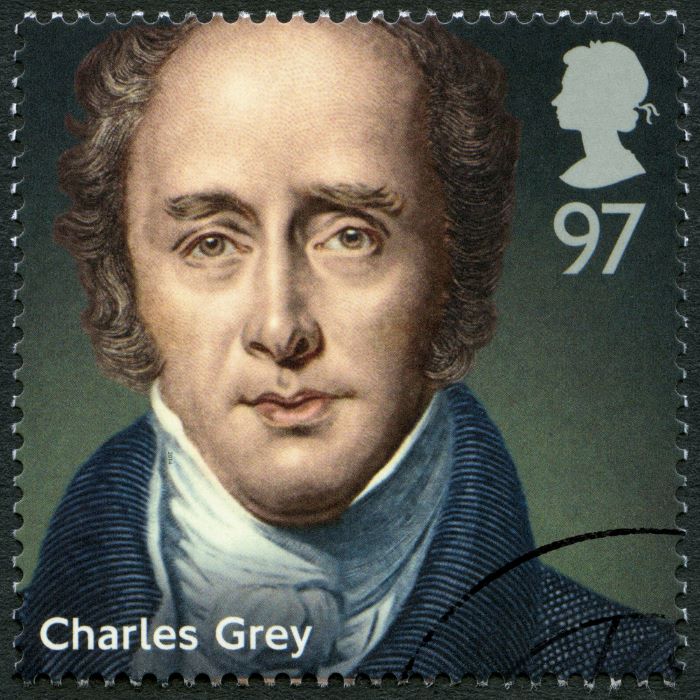 Aside from those theories, two British tea companies claim to have formulated the flavor for the Grey family (Twinnings and Jackson of Piccadilly). Though its exact origin is unknown, one thing is certain: Only Charles Grey and his family know the truth about Earl Grey tea and where it came from.
Which Bubble Tea Toppings Are Best With Earl Grey Tea?
This boba milk tea recipe calls for brown sugar tapioca pearls, but several other toppings would make for a delicious milk tea, including the following:
Coffee jelly
Grass jelly
Fruit jelly
Nata de coco
Fresh fruit