Milk tea is a classic Taiwanese beverage. Not only does adding honey to the recipe make it more delicious, but it also provides several health benefits. Learn how to make this refreshing, creamy tea drink at home!
While most recipes use brown sugar, I prefer honey's warmth and sweetness when mixed with black tea. This recipe is customizable, but the honey is non-negotiable. Once you realize how simple it is to make honey milk tea at home, you'll never go out for it again.
Print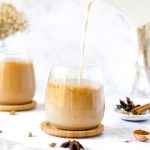 Honey Milk Tea
---
Total Time:

12 minutes

Yield:

2

Servings

1

x
Description
This honey milk tea recipe is quick and easy. You can make your own delicious drink with minimal ingredients in under 15 minutes.
---
1

cup

water

2

black tea bags or

2 tsp

loose-leaf tea leaves

1 tbsp

of honey

1/2

cup

milk of choice

2

large handfuls of ice cubes
---
Instructions
Bring 1 cup of water to a boil in a medium saucepan. Remove from the heat.
Add the tea bags and milk and let steep for 5 minutes. Discard the tea bags.
Add the honey after the milk tea has cooled slightly and stir to combine.
Add 1 large handful of ice to each serving glass.
Pour 1/2 of the honey milk tea mixture into each glass. Enjoy!
Notes
Adjust the amount of honey to taste.
Leave out the ice if you prefer warm honey milk tea.
Use almond, soy, whole milk, creamer, or sweetened condensed milk. You may need to adjust the amount of honey if you use milk with added sweetener.
Prep Time:

2 minutes

Cook Time:

10 minutes
What Does Honey Milk Tea Taste Like?
In general, honey milk tea tastes sweet, creamy, and strong. The exact taste depends on the type of tea you use.
Green tea and matcha tea taste earthy and slightly bitter.
Using fruit tea brings a fruit flavor to your honey milk tea.
Like oolong and Assam tea, black tea tastes slightly bitter and bold.
The honey and milk bring sweetness and creaminess to the final product. There are over 300 different types of honey. Depending on which you invest in, it might provide you with sweet, woodsy, earthy, floral, or fruity tones.
Is Honey Milk Tea Healthy?
Honey milk tea can be a healthy option since honey is a natural form of sugar. Here is a quick nutritional breakdown:
| | |
| --- | --- |
| Nutrition | Amount per 1 tbsp of honey |
| Calories | 64 |
| Carbohydrates | 17 g |
| Cholesterol | 0 g |
| Fat | 0 g |
The glycemic index of honey is 60, while white sugar has a glycemic index of 65. Both are considered to be at a moderate level on the GI. Though honey has more calories per teaspoon, honey is also sweeter than sugar which means that people tend to use less honey than sugar to achieve the same sweetness. Honey should still be used in moderation, especially by people who have diabetes because of the number of carbs in honey.
Another benefit of honey milk tea is the calcium found in the milk. Calcium helps build strong bones. Milk also provides B vitamins, potassium, and Vitamin D. Tea has antioxidants and can reduce inflammation. Honey milk tea can be enjoyed as part of a healthy lifestyle.
7 Health Benefits of Honey
Honey has many health benefits. You can add honey to many foods and drinks, but adding honey to your milk tea is a great way to get these benefits. Honey:
Contains amino acids, iron, zinc, minerals, and vitamins
Is anti-inflammatory
Is an antioxidant
Is antibacterial
Is a cough suppressant
May have antidepressant properties
May help relieve GI conditions
Is Honey a Good Addition to All Tea Flavors?
Honey goes well with all types of tea. It compliments the bitterness of green tea, matcha, and black tea. It also helps bring out the flavor of fruit tea.
Any type of honey works well in this recipe. Find raw honey on Amazon or your local grocery store. Wildflower or clover honey is also common in most stores. Check your area for sources of local honey and help support your community!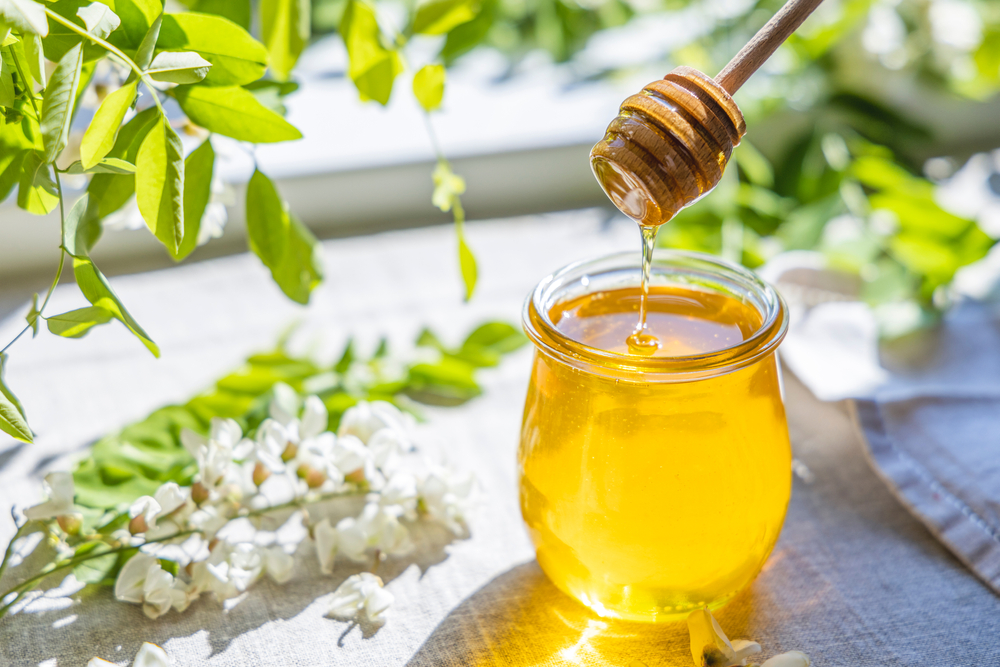 Is It Dangerous to Add Honey to Hot Drinks?
Honey should never be heated quickly or over direct heat. Heating honey this way can destroy enzymes and reduce the nutrients and benefits of honey. However, there is no evidence that heating honey is dangerous or toxic. Heating honey will lessen any health benefits of honey. For best results, keep honey below 98.6 degrees Fahrenheit.
How to Make Honey Bubble Tea
Turn your honey milk tea into bubble tea by adding toppings. Classic bubble tea contains tapioca pearls, but there are numerous boba toppings. Try some of the following:
Fresh fruit
Jellies
Popping boba
Pudding
Red bean topping
Taro balls