Genie bubble tea is a sweet tea drink with hints of blueberry and vanilla. The apple whipped cream topping and edible confetti add a party flair! If desired, you could make dairy-free whipped cream by using coconut cream in place of whipping cream. 
This genie bubble tea is a colorful indulgence you can make at home. Don't be discouraged by the lengthy ingredient list- you probably already have most of these items at home. You'll need a blender and a whipped cream dispenser (or a whisk mixer attachment).
Print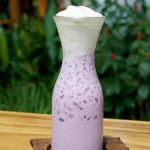 Genie Bubble Tea
---
Total Time:

25 minutes

Yield:

2

Servings

1

x
Description
This unique tea has Asian influences with a burst of fruity flavor. The tapioca pearls and cookies provide a fun textural element, and the green tea provides an earthy base that rounds out the sweetness.
---
1

cup

water

1

green tea bag (or

1 tsp

loose leaf green tea)

4 tbsp

brown sugar (divided in

2 tbsp

and

2 tbsp

)

1 tsp

vanilla extract

2/3

cup

blueberries

1/2

cup

soy milk

1/2

cup

quick-cooking tapioca pearls

3

drops pink food coloring

3

drops blue food coloring
apple whipped cream (see recipe notes below)
iced cookies and edible confetti (for garnish)
---
Instructions
In a medium saucepan, bring 1 cup of water to a boil. Remove the pan from the heat.
Add the tea bag, milk, and 2 tbsp brown sugar. Stir to combine and let steep for 3-5 minutes. Discard the tea bag and set the mixture aside to come to room temperature.
Add the tea mixture, pink and blue food coloring, vanilla, and blueberries to a blender. Blend for 1-2 minutes until smooth and frothy.
Cook the tapioca pearls according to the package instructions. Drain.
Transfer the pearls to a bowl and sprinkle them with 2 tbsp brown sugar. You may need to add 1-2 additional tbsp of water to create a quick brown sugar syrup. Stir to combine.
Place ½ of the tapioca pearls into the bottom of each serving glass, followed by a handful of ice.
Pour ½ of the tea mixture into each serving glass.
Top with apple whipped cream, cookies, edible confetti, and a boba straw. Enjoy!
Notes
To make homemade apple whipped cream:
Combine 1 cup of whipping cream, 4-5 drops of green food coloring, and 2 tablespoons of apple syrup in a whipped cream dispenser. Shake vigorously and place in the fridge until needed. Follow the manufacturer's instructions for using the dispenser.
If you don't have a whipped cream dispenser, whisk these ingredients in a stand mixer or with a handheld mixer for 6-7 minutes until stiff peaks form
Make dairy-free whipped cream by using coconut cream. Chill the can in the fridge the night before making this recipe. Be careful not to shake the can so you can scoop out the cream and leave the water behind.
Use any small, iced cookies or chop up large cookies.
If you can't find edible confetti, use pink and blue sprinkles.
Prep Time:

5 minutes

Cook Time:

20 minutes
What Does Genie Bubble Tea Taste Like?
Genie bubble tea tastes like vanilla and blueberry. The tapioca pearls add sweetness and a chewy texture, while the cookies create a crunch. The whipped cream adds decadent sweetness to the tart apple flavor. Genie bubble tea is a sweet, colorful boba drink.
Is Genie Bubble Tea Healthy?
Healthy isn't the first word that comes to mind, but this boba drink has a few redeeming qualities. Calcium from the whipped cream helps strengthen bones and support muscle and nerve health. Blueberries are good for heart health, bone health, and mental health. They are high in Vitamin C and Vitamin K.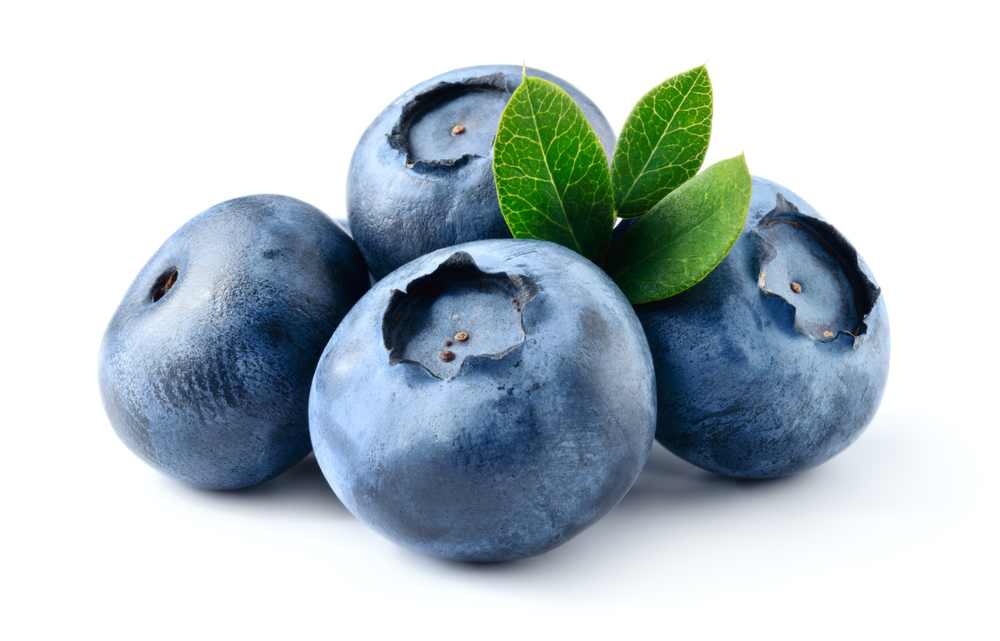 People on blood thinners may need to watch their intake of blueberries because the high levels of Vitamin K can affect blood clotting. Always check with your doctor. Combining these ingredients with added sugar and starch carbs from the boba pearls lessens any health benefits they may have. Bubble tea should always be consumed as part of a healthy lifestyle.
Does Genie Bubble Tea Have Caffeine?
Genie bubble tea usually has caffeine. Using green tea, as our recipe suggests, yields about 20 mg of caffeine per serving in this recipe.
You can use a different variety of tea if you prefer, but each tea contains different amounts of caffeine. Jasmine tea contains slightly more, about 25 mg per serving. Matcha yields about 38 mg per serving. If you prefer caffeine-free genie bubble tea, use decaf or fruit tea.
Where Can You Buy Genie Boba Tea?
Bubbleology, a bubble tea brand started by Assad Khan, sells a version of Genie boba tea. The main difference is that Bubbleology uses jasmine tea and full-fat milk, and our recipe uses green tea and soy milk for a lighter taste. Check your local bubble tea shop to see if they have genie boba.
Which Toppings Are Best in Genie Milk Tea?
Whipped cream, cookies, tapioca pearls, and edible confetti are the usual toppings for genie milk tea. However, bubble teas are very customizable, so don't be afraid to try the following toppings as well:
Golden boba pearls
Fresh fruit—blueberries or chopped apples
Lychee popping boba
Taro boba pearls
Chocolate shavings