The unique experience of Taiwanese bubble tea has made its way into most of the US. The versatility of the boba drink makes it easy to customize. Naturally gluten-free, bubble tea is easy to make dairy-free if you need to avoid dairy products.
This recipe pairs green tea and coconut. Green tea contains beneficial antioxidants, while coconut brings healthy fats to nourish your skin. You can easily change both the tea flavor and the milk to flavors you prefer or have on hand.
Print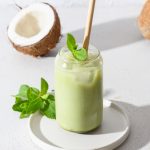 Dairy-free Boba Tea
---
Total Time:

8 hours 20 minutes

Yield:

2

1

x
Description
Whether you're vegan or lactose-intolerant, this dairy-free recipe is perfect for you. While there are many ways to combine tea and dairy-free milk, this is our favorite combination.
---
2

green tea bags (or

2 teaspoons

of loose-leaf green tea)

1

cup

water, plus 1-2 additional tablespoons

1/2

cup

coconut milk

2 tbsp

brown sugar (or other sweetener)

1/2

cup

quick-cooking tapioca pearls

4 tbsp

coconut cream
coconut flakes for topping (optional)
ice
---
Instructions
Cook the tapioca pearls according to the package instructions.
Rise quickly under cool water and return to the saucepan. Add the brown sugar and 1-2 tablespoons of water to submerge the tapioca pearls in the sugar syrup.
Let simmer gently until the sweetener dissolves, and the sugar syrup thickens. Cool to room temperature.
Bring 1 cup of water to a boil in a medium saucepan.
Remove from heat and add the tea and the milk. Let steep for 3-5 minutes.
Remove the tea bags or tea leaves and discard them. Cool to room temperature.
Divide the tapioca pearls between each serving glass.
Place 2 tablespoons of coconut cream on top of the tapioca pearls.
Add 1 large handful of ice to each glass.
Slowly pour 1/2 of the milk tea into each glass. Top with coconut flakes.
Stir to combine layers and serve with a boba straw.
Notes
Green tea and coconut pair especially well—their flavors complement each other. If you're not a green tea fan, try your favorite herbal or fruit tea. Black tea also works well or you can use matcha tea for an even earthier bubble tea. Froth the milk tea with a frother for extra light, smooth boba tea. 
Instead of tapioca pearls, coconut jelly or fruit jelly are great substitutes. 
Any plant-based milk works in this recipe. If you don't enjoy coconut milk, use your favorite dairy-free milk.
Have leftover coconut cream? Carefully roll them into pearls and freeze them individually on a tray. Once frozen, place in a ziplock bag and use the next time a recipe calls for coconut cream.
Prep Time:

8 hours 5 minutes

Cook Time:

15 minutes
What Is the Difference Between Dairy-Free and Vegan Bubble Tea?
A vegan product must be free of any animal products or by-products. Vegans don't consume meat, eggs, honey, or milk from animals. So, to be vegan, bubble tea must be free from all of these products.
Dairy-free bubble tea means it has no animal milk or milk products. Cream cheese, sour cream, and coffee creamer all contain milk products, so to be dairy-free, bubble tea shouldn't contain any of those products.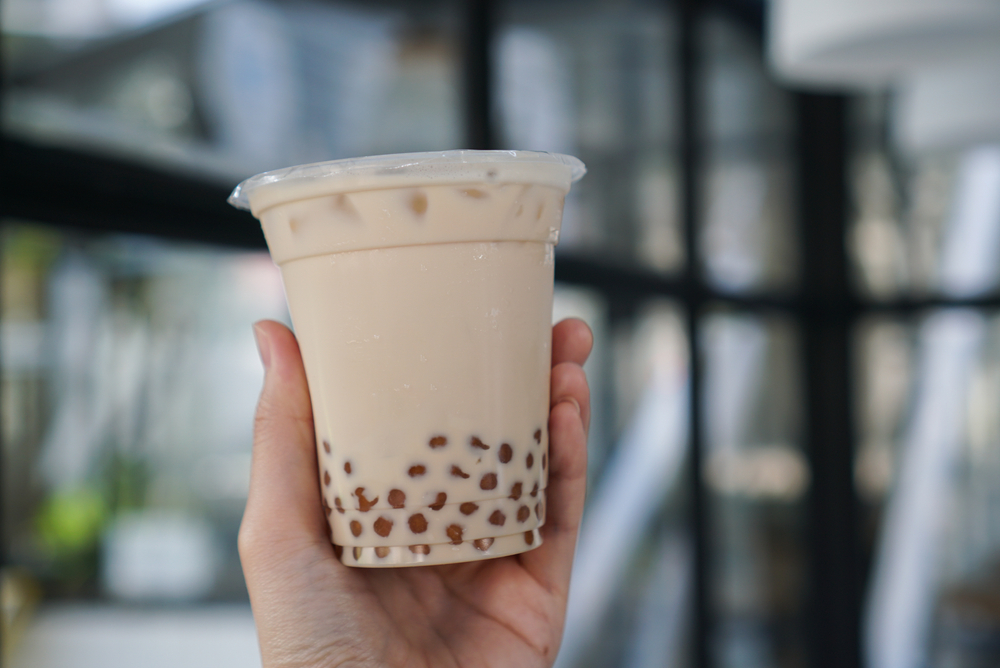 How Much Dairy Is in a Typical Boba Tea?
The typical boba tea has between 1/4 and 1/2 cups of dairy. Traditional boba is made with whole milk, creamer, or even sweetened condensed milk. The teas are made to order, even though the ingredients are prepped ahead of time.
Most bubble tea shops have plenty of dairy-free options, so it should be easy to substitute dairy milk for non-dairy milk when you place your order.
7 Non-dairy Milk Options for Boba Teas
There are numerous dairy-free milk options for boba teas. You can find unsweetened varieties, sweetened varieties, and even ones with added vanilla flavoring. Some choices include:
Almond milk
Cashew milk
Coconut milk (canned or boxed)
Oat milk
Soy milk
Rice milk
Non-dairy creamer (read the ingredients to make sure there is no whey or casein)
You can even find dairy-free sweetened condensed milk. This sweetened condensed coconut milk from Amazon is delicious!
Do Any Bubble Tea Toppings Contain Dairy?
Some bubble tea toppings contain dairy.
Custard or pudding topping is usually made with dairy milk, so if you are sensitive to dairy, stay away from this topping.
Dairy cheese foam usually contains cream cheese, whipped cream, and milk.
Bubble tea topped with ice cream is not dairy-free.
If you need to avoid dairy, you still have plenty of options. Grass jelly, fruit jelly, popping boba, and tapioca pearls are all usually dairy-free.
Do Most Bubble Tea Shops Use Non-dairy Creamers?
Many boba shops use non-dairy creamers because they have a longer shelf life and are cheaper. Don't be afraid to ask for an allergen menu if you have a specific allergy. If they don't have one, ask to see the non-dairy creamer box or bottle and check the ingredients yourself.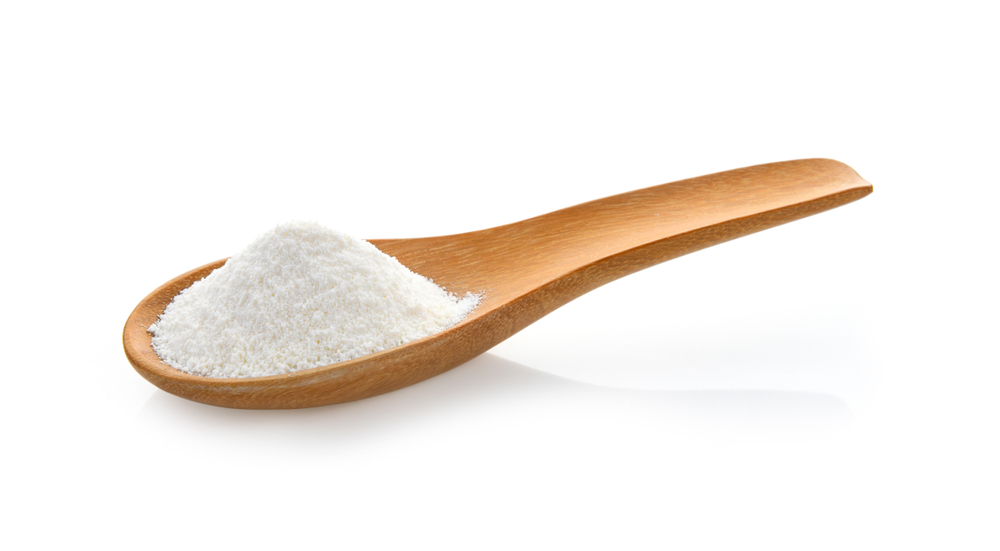 Where to Find Dairy-Free Boba
You can find dairy-free boba just about anywhere. Your local bubble tea shop likely has several dairy-free boba varieties. It's also possible that your local grocery store carries dairy-free boba. And, of course, you can always make homemade dairy-free boba drinks— follow the recipe above!