Did you know that many bubble tea shops use non-dairy creamer in their recipes? This means that many boba drinks are inherently vegan. Most homemade recipes typically use milk or cream, but you can make this Taiwanese drink vegan very easily. 
This recipe uses non-dairy creamer, but there are multiple vegan milk options. If you use non-dairy creamer, always check the ingredients list to ensure it's vegan. A few ingredients to look out for include whey, casein, and lactose.
Print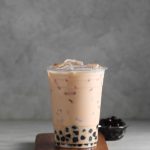 Vegan Boba Tea
---
Total Time:

25 minutes

Yield:

2

16oz drinks

1

x
Description
You won't miss the milk in this vegan boba recipe. It is equally as creamy and delicious. This is a plain, traditional version, but you can tweak this recipe and add different flavors, powders, or fruits.
---
3

black tea bags (or tea of your choice)

2

cups

water

1/2

cup

quick-cooking tapioca pearls

1 1/2 tbsp

sweetener mixed with 2 tbsp water (maple syrup is a great vegan option)

3 tbsp

non-dairy creamer
ice
---
Instructions
Bring the water to a boil. Then remove from heat and add your tea bags. Steep the bags for approximately 5 minutes. Set the tea aside to cool.
Cook the boba pearls according to the package instructions.
Once the pearls are cooked, add 2 tbsp of water and your sweetener of choice. Stir over low heat until the sweetener dissolves in the water. Let the pearls cool to room temperature.
Mix the non-dairy creamer with the tea.
Split the boba pearls into two glasses, add ice, and then pour the tea into each glass.
Notes
Black tea is the traditional base for boba milk tea, but oolong, matcha, and green tea are also popular options.
If you prefer to make homemade tapioca pearls, click here to check out Boba Buddha's recipe.
Remember, you can always tweak the amount of each ingredient to your liking. If you want a less creamy drink, lessen the creamer. If you want it to be sweeter, add more sweetener. It may take some trial and error, but after a while, you will find a balance that is to your liking.
Prep Time:

5 minutes

Cook Time:

20 minutes
Are Tapioca Pearls Vegan?
Traditional boba pearls are plant-based. Tapioca is extracted from the cassava root, ground into a powder, and made into pearls. Unless honey is added as a sweetener, tapioca pearls are 100% vegan-friendly. As an added bonus, when made from tapioca starch, they are also gluten-free.
Is Popping Boba Vegan?
Popping boba has become increasingly popular. Popping boba contains fruit juice and seaweed extract, making it completely vegan. It's a fun treat to add to milk tea because of the little "pop" it gives when you bite into it.
The exterior is made from seaweed extract and is more gelatinous and less chewy than traditional boba pearls. The inside is filled with fruit juice, available in a delicious variety of flavors.
Are Boba Jellies Vegan?
If you're not in the mood for heavy, chewy tapioca pearls, jelly is a great way to add texture and flavor to your boba tea. Jellies are made from a variety of ingredients, depending on the flavor, but one thing remains the same: boba jellies are usually vegan.
Most versions are plant-based with all vegan ingredients. Some store-bought jellies might have gelatin in them, which is not vegan. Reading the ingredients or asking the barista is your safest bet.
What Dairy-Free Milk Options Are Typically Available?
In almost any bubble tea shop you visit, there will be non-dairy milk options available. Some vegan milk options include:
Soy milk
Almond milk
Oat milk
Coconut milk
Rice milk
You can choose from any of these options to customize your vegan boba tea and enjoy every last drop without worrying about the consequences of consuming animal products.
Are All Fruit Bubble Teas Vegan?
Bubble tea can be made in different ways. You can choose milk tea or fruit tea (although if you want, you can combine the two). Fruity bubble teas are almost always vegan.
Made from fruit juices and fruit-based syrups, these teas don't contain dairy or any other animal products. Again, you should always ask to make sure you know which ingredients your tea includes.

Is Vegan Boba Tea Healthier?
Whether or not you choose vegan boba tea or regular milk tea, the fact remains that you are consuming quite a bit of sugar. Though you may feel better with a dairy-free creamer choice, the sugar in the drink doesn't make it the healthiest choice.
Non-dairy creamer contains trans fats and doesn't have many health benefits, other than the fact that it's lower in calories. If you are looking to reap some health benefits from your vegan boba, opting for plant-based milk is your best bet.
How you drink your boba tea is completely up to you. As long as you enjoy it, that's all that matters. Use trial and error to find your perfect bubble tea match.