The butterfly pea plant, Clitoria ternatea, is native to Thailand. The flowers of this plant create a deep blue tea. Add sweetened condensed milk—vegan if needed—to make a beautiful milk tea.  
You can make this milk tea at home with just a few ingredients. It's naturally gluten-free. It is also vegan if you make it with coconut-sweetened condensed milk.
Print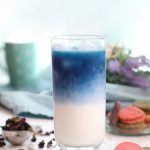 Butterfly Pea Flower Milk Tea
---
Total Time:

17 minutes

Yield:

2

Servings

1

x
Description
This iced tea is perfect for any time of day. It's a sweet treat that is customizable and easy to make. What makes it even more interesting is that this tea changes color if you add acidity.
---
1/2

cup

dried butterfly pea flowers

2/3

cup

water

2

large handfuls of ice

1

can of coconut-sweetened condensed milk OR 1 small can of sweetened condensed milk and 1/2 cup of coconut milk mixed together
---
Instructions
Combine 2/3 cup boiling water with the dried butterfly pea flowers.
Let steep for 10-15 minutes until the water turns a vibrant blue—strain, reserving the brewed tea. Let cool.
Drizzle 1/2 of the can of coconut-sweetened condensed milk OR the condensed milk/coconut milk mixture into each glass. Fill the glass about 1/3 of the way.
Add a handful of ice cubes to each glass.
Slowly pour the cooled tea over the top, and enjoy!
Notes
Consider trying this recipe hot. After steeping the tea and discarding the leaves, bring the tea to a boil once again and stir in the milk. Pour the mixture into a mug and enjoy.
To make a butterfly pea bubble tea, you just need to add toppings. The most traditional topping is tapioca pearls.
To do so, cook 1/2 cup of quick-cooking tapioca pearls according to the package instructions. Drain. Transfer the pearls to a bowl and add two tablespoons of sweetener. Add one (optional) teaspoon coconut extract for a stronger coconut flavor. Let them come to room temperature. Spoon half the tapioca pearls into each glass before adding the condensed milk.
Prep Time:

2 minutes

Cook Time:

15 minutes
What Does Butterfly Pea Milk Tea Taste Like?
Butterfly pea tea has a slightly earthy flavor. However, the taste is much less intense than matcha or green tea. If I had to compare it to a popular tea flavor, it is similar to chamomile. Butterfly pea milk tea mostly takes on the taste of the other ingredients in this recipe, making it coconutty and sweet. Butterfly tea is commonly used in Thai dishes for its vibrant blue color.
How Much Caffeine Is in a Butterfly Pea Flower Tea?
Butterfly pea flower tea is an herbal tea made from dried butterfly pea flowers of the butterfly pea plant. It is caffeine-free. You can use fresh flowers if available; if not, use dried flowers. You can typically buy dried flowers or powder at your local Asian grocery store. You can also buy them from Amazon.
Since butterfly pea powder tea is an herbal tea, consult with your doctor to ensure it is safe for you to drink—especially if you are pregnant or nursing.
What Are the Health Benefits of Butterfly Pea Tea?
This unique flower contains many health benefits, including the following:
Butterfly pea tea contains antioxidants, called flavonoids, that help hair and skin health. Flavinoids in the butterfly pea tea help reduce inflammation and help protect cells.
Butterfly pea tea contains peptides that help support muscles.
Butterfly pea tea is also believed to be a powerful detoxer, assisting the liver in cleansing the body.
As with most foods, consume butterfly pea tea in moderation. Too much tea may cause upset stomachs or allergic reactions.
Can You Use Butterfly Pea Flower Powder Instead of Leaves?
Yes, you can use butterfly pea flower powder instead of tea leaves. I recommend choosing a powder that does not have added sweetener. To use, combine 1/2 tsp powder with 1/4 cup hot water. Hot water and a frother are essential so the powder fully dissolves. Once dissolved, add cold water to make 2/3 of a cup. Make the rest of the recipe as directed above.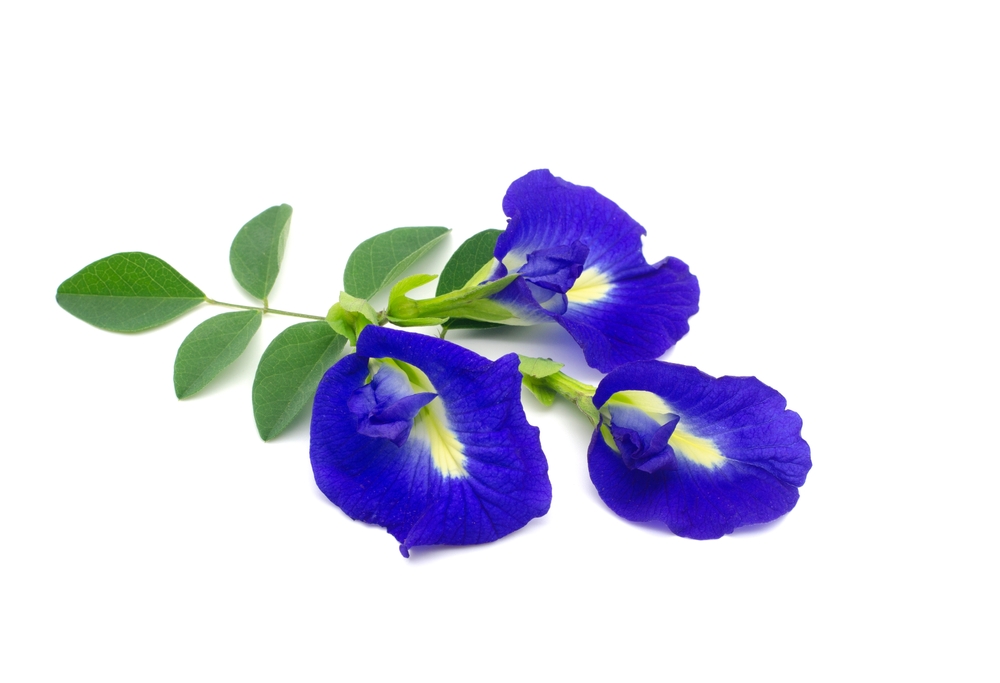 What Color Is Butterfly Pea Flower Tea?
Butterfly pea flower tea is a vibrant blue color. If you add an acid, like lemon juice or hibiscus, the tea changes to purple.
Butterfly pea tea changes color because of anthocyanins in the tea. These water-soluble pigments act as base indicators (substances that change color with pH) and cause a color change as the pH level changes. Anthocyanins are present in fruits and vegetables that are red, purple, and blue.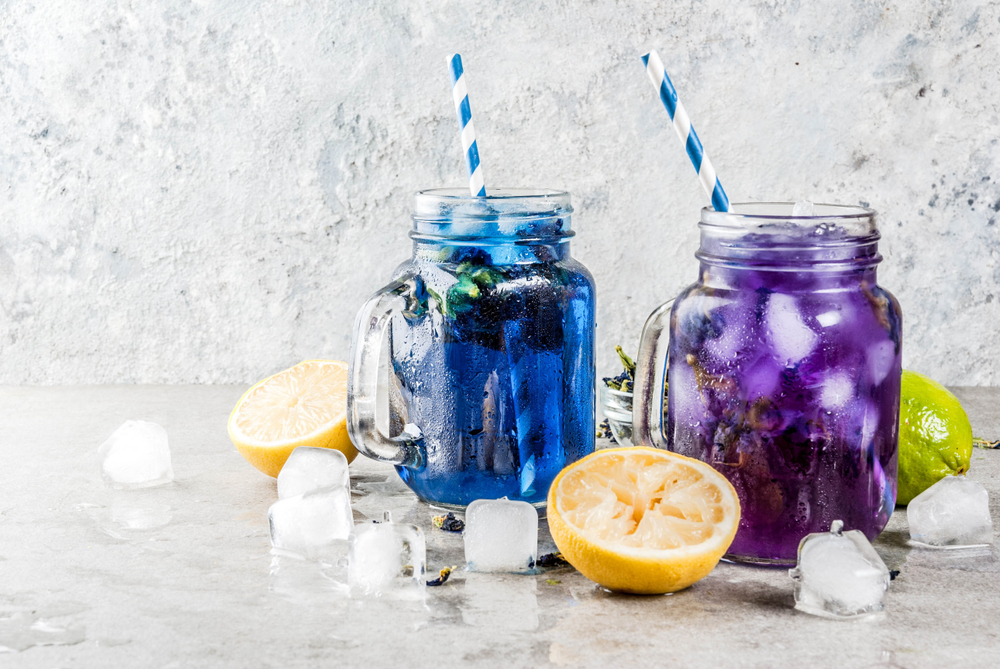 Butterfly Pea Flower Fruit Tea vs. Butterfly Pea Flower Milk Tea
While these two teas have one identical ingredient, they are very different in terms of flavor.
| | |
| --- | --- |
| Butterfly Pea Flower Fruit Tea | Butterfly Pea Flower Milk Tea |
| Vegan | Not inherently vegan but can be made so |
| Has a light and tropical taste | Has a creamy taste |
| Does not have added milk | Has sweetened milk added |
Click here to check out Boba Buddha's butterfly pea flower lemonade fruit tea made with jasmine tea.
Which Boba Toppings Are Best in Butterfly Pea Milk Tea?
Butterfly pea milk tea works well with light and fruity toppings. Try these toppings for your DIY butterfly pea milk tea:
Aloe popping boba
Fresh fruit—strawberries or blueberries
Fruity popping boba
Ice cream
Jellies
Brown sugar tapioca pearls