This floral tea is famous throughout Southeast Asia and is traditionally served hot or cold, sweetened with honey, and garnished with a slice of lime. Learn how to make this deliciously refreshing drink in under 30 minutes!
Popular in Thailand as Nahm Dok Anchan or Nam Anchan Manow, butterfly pea flower tea is an herbal drink with a vibrant blue color. Butterfly pea tea is a mildly sweet, slightly vegetal tea that's both soothing and easy on the palate. This tea recipe will feature the iced version of this beverage that is light and refreshing.
Print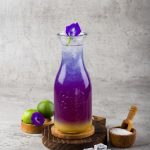 Butterfly Pea Flower Fruit Tea Recipe
---
Total Time:

25 minutes

Yield:

1

Serving

1

x
Description
This may come as a surprise, but this tea drink is naturally purple— there is no food coloring in this recipe. This unique tea changes colors depending on the ingredients you mix it with. Its appearance and flavor make it an unforgettable beverage.
---
1

cup

brewed jasmine tea, using 1 tea bag or 1 tsp loose-leaf tea leaves

1 tbsp

butterfly pea flower extract

1/4

cup

brown sugar tapioca balls

2 tbsp

honey or maple syrup

3/4

cup

lemonade made with real lemon juice
Lemon slices and lemongrass for garnish
Ice cubes
---
Instructions
Combine the jasmine tea, butterfly pea flower extract, and ice in a shaking cup. Vigorously shake the mixture for approximately ten seconds.
Mix the lemonade and sweetener together in a serving glass.
Add the tapioca pearls and ice to the lemonade.
Slowly pour the butterfly tea mix over the back of a spoon, one centimeter above the lemonade. Raise the spoon higher as the liquid level rises. This will create a colorful visual effect.
Revel in the beauty of your creation and enjoy it with a boba straw!
Notes
To make homemade butterfly tea extract, steep a dozen fresh or dried flowers in boiling water for 15 minutes. Afterward, discard the flowers and keep the liquid—this will be the liquid you'll use for your fruit tea.
You can use dried butterfly pea flower tea instead of jasmine tea and the extract. This will give the drink a more subtle flavor and make it caffeine-free.
Make this iced tea vegan by using maple syrup or coconut sugar as a sweetener.
Passion fruit popping boba is a great alternative to tapioca pearls if you prefer a lighter topping.
Prep Time:

15 minutes

Cook Time:

10 minutes
What Does Butterfly Pea Flower Fruit Tea Taste Like?
The taste of butterfly pea flower fruit tea can be summed up in one word—refreshing.
The floral and slightly vegetal flavor is balanced with some honey, making it an easy-to-drink beverage perfect for cooling off on the hottest days.
Moreover, the lemonade and lemon slices add a citrusy flavor that elevates the richness of the drink. Couple that with the tapioca pearl toppings, and you get a complex bubble tea that tastes as good as it looks.
5 Health Benefits of Butterfly Pea Tea
Butterfly pea tea contains many unique health benefits.
Butterfly tea helps support skin hydration.
This tea promotes luscious hair growth.
This tea helps promote weight loss.
Butterfly tea helps normalize blood sugar levels.
Butterfly tea also contains cancer-fighting antioxidants.
How Much Caffeine Is in Butterfly Tea?
Butterfly tea, when brewed with a jasmine tea base, contains 15 mL of caffeine. Other tea types, like black or green tea, will slightly increase the caffeine content.
However, this beverage will be completely caffeine-free if you use butterfly pea tea.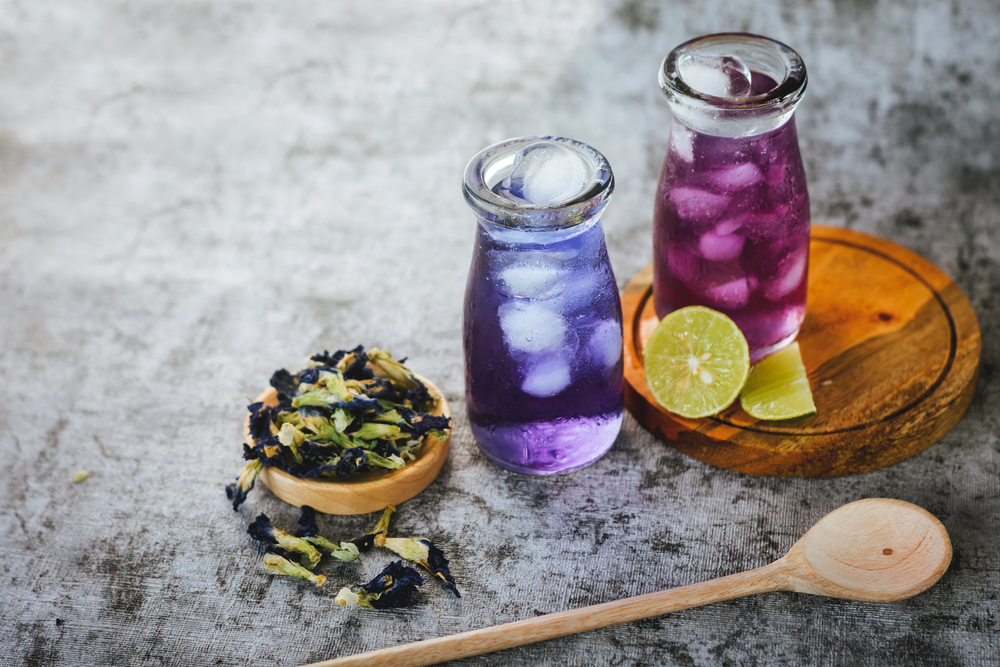 How Many Calories Are in Butterfly Fruit Tea?
When left unsweetened, one cup of butterfly fruit tea has a calorie count of only five calories.
The number of sweeteners and toppings added to this drink can increase its calorie count. For instance, two tablespoons of honey add 128 calories to the beverage. Tapioca pearls add another 136 calories to the drink.
While the drink will be slightly bland without these ingredients, you can enjoy butterfly fruit tea without sweeteners and toppings if you want to keep it low-calorie.
Can You Drink Butterfly Tea Every Day?
Butterfly pea flowers are healthy, and you can enjoy the tea and/or extract daily. The flower contains cyclotides, which are compounds that can fight against free radicals that may cause tumor and cancer growth.
However, if you find that this drink gives you allergies or unwanted side effects like nausea and indigestion, steer clear of it. While herbal teas are generally good for you, not everyone has the body chemistry that can consume them.
Origin of Blue Butterfly Pea Flower Tea
The blue butterfly pea flower tea comes from the Clitoria ternatea plant indigenous to Thailand, Taiwan, and parts of Asia. The plant used to make this tea is renowned for its brilliant blue hue resulting from the anthocyanin in its petals.

Traditionally, this tea is cherished for its therapeutic properties and is often mixed with honey and lemon. Aside from this ingredient being used in teas, it's also widely used in manufacturing as a natural dye for cosmetics and textiles.
Why Does Butterfly Tea Change Colors?
The colors of butterfly tea change based on the acidity and ph levels present in the drink.
Mixing butterfly pea tea with acidic ingredients, like lemon or lime juice, gives it a vibrant purple or deep blue hue. On the other hand, adding basic ingredients like honey will let parts of the tea take on a more purplish color.
Depending on the preparation process, this color-changing property adds a magnificent visual element to your cup of tea unlike any other!