Blue lychee latte is a treat that's irresistibly sweet and perfect for any time of the day. It pairs the sweet and subtly floral lychee taste with the creaminess of a classic boba latte, resulting in a concoction that tastes as interesting as it looks.
Feast your eyes on this one-of-a-kind homemade blue lychee boba latte. An inventive twist on a classic boba latte, this recipe pairs lychee juice with bubble tea's creamy and chewy textures. A drizzle of blue food syrup also adds vibrant visuals that make the drink a joy to look at.
Print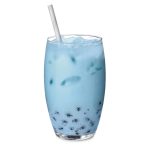 Blue Lychee Boba latte
---
Total Time:

25 minutes

Yield:

1

1

x
Description
Lychee is a delicious addition to this boba drink. It is sweet and citrusy and balances the bitterness of the espresso perfectly. This concoction is a definite way to impress your guests.
---
1/2

cup

whole milk
A couple drops of blue food coloring

2 tbsp

lychee juice

2 tbsp

sugar syrup

1/4

cup

cooked tapioca pearls

1

shot espresso

2

–

3

peeled and deseeded lychee fruits
ice cubes
---
Instructions
Pour the milk, food coloring, and fruit juice into a shaking cup and shake until smooth.
Put the cooked tapioca pearls, lychee fruits, and ice cubes at the bottom of a serving cup.
Pour the blue mixture into the serving cup.
Add the sugar syrup to the espresso and stir until dissolved.
Hovering only a centimeter above the blue lychee mixture, gently drop in espresso shots by the teaspoon until completion. This maintains the visual separation between the blue lychee and the coffee.
Put in a drinking straw, mix, and enjoy!
Notes
If you want to make your blue lychee boba latte a little creamier, add a scoop of ice cream instead of milk. This will create a thick consistency and add an extra layer of sweetness that makes for a good dessert beverage.
You can also use popping boba infused with lychee juice instead of traditional boba pearls as the main topping. This can further enhance the lychee flavor and make your blue lychee boba latte take on a fruitier taste profile.
Prep Time:

15 minutes

Cook Time:

10 minutes
What Does a Blue Lychee Latte Taste Like?
The fruity sweetness of lychee dominates the blue lychee latte, but the drink also has a familiar creamy bitterness reminiscent of your standard latte.
The whole milk adds a silky richness to the drink, while the espresso shot provides a slight, caffeinated bitterness. The lychee fruit provides floral, sweet, and slightly acidic notes that taste like a cross between a grape and an apple. The cane syrup (or sugar solution of choice) also helps mellow out the espresso's harshness and enhances the drink's sweetness.
Finally, the tapioca pearls provide a neutral flavor that is fun to chew.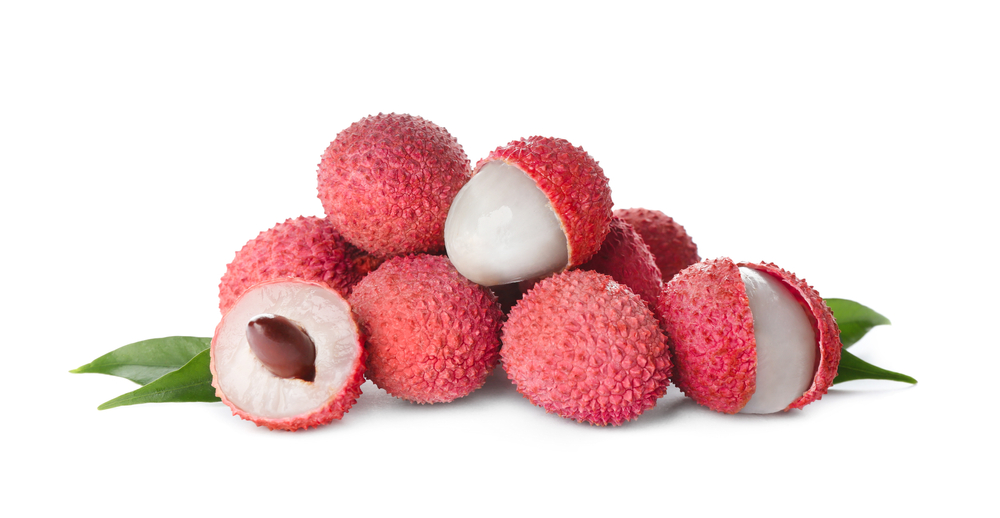 How Much Caffeine Is in a Blue Lychee Latte?
A blue lychee latte uses one shot of espresso as its primary caffeine source, which contains approximately 64 grams of caffeine, depending on the roast and origin of the beans used.
Can You Use Tea Instead of Coffee in This Recipe?
Using a tea recipe instead of a coffee recipe will make your drink less of a latte and more of a milk tea. However, lychee milk tea is equally as pleasant and maintains the same fruity and creamy flavors as the latte.
A green tea, matcha, or black tea base generally works well with lychee. To make a tea-based blue lychee latte, replace the espresso with about half a cup of your favorite brewed tea blend. You'll need to mix the tea into the shaking cup instead of adding it in teaspoons.
How to Make a Vegan Lychee Boba Latte
Making a vegan lychee boba latte requires two minor changes.
First, remove full-fat dairy milk from the ingredients list and replace it with a plant-based alternative such as oat milk, coconut milk, or almond milk.
Then, switch out the cane syrup, which isn't typically vegan, for a vegan-friendly alternative. Ethically-sourced honey and maple syrup are decent options.
The rest of the recipe can remain unchanged.
Is the Food Coloring Necessary in a Blue Lychee Boba Latte?
Drinking an ice-cold glass of blue liquid isn't a daily occurrence for most people, and your lychee boba latte doesn't need to change that. Food coloring is not an essential part of this recipe.
As you may already know, colored food dyes are not a natural or healthy choice. Some studies have even linked some food coloring to cancer.
So if you're like 90% of people who don't keep blue food coloring on hand, you don't have to go out of your way to get one. This boba drink is just as refreshing when it's not blue.
Which Toppings Are Best in a Lychee Bubble Tea?
Lychee bubble tea is a smooth drink and pairs well with various bubble tea toppings.
Here are some of our favorite things to add to this boba iced tea:
Popping boba
Chia seeds
Milk foam
Pudding
Sliced lychee
Lychee jelly
Aloe vera
Berry bits
As you can see, you can experiment with whatever sweet treats you have at home. You might even stumble upon a winning boba tea combination that'll be a hit among your friends and family.