Despite its sour taste, this tropical fruit makes for a very refreshing drink. This South American fruit has a hard, round exterior with yellow pulp and seeds inside. Combining it with traditional boba tea ingredients creates a memorable mixture that fruit lovers are sure to enjoy. 
This recipe combines many different flavor profiles, including sweet, tart, and creamy. Our recipe includes milk but it is completely optional. If you prefer fruit tea instead of milk tea, add slightly more fruit puree and water.
Print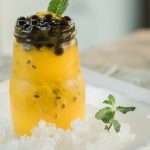 Passion Fruit Boba
---
Total Time:

50 minutes

Yield:

2

1

x
Description
This refreshing, iced bubble tea has a unique flavor. If you don't mind the texture, you can leave the seeds in the pulp for a crunch. Either way, this boba drink will quickly become one of your favorites.
---
1/2

cup

boba pearls

2 tbsp

brown sugar

2 tbsp

white granulated sugar

2 tbsp

honey

2

cups

water (1/2 cup separated)

3

bags green tea or black tea

1/2

cup

passion fruit puree (see note below)

1/2

cup

dairy
ice cubes
---
Instructions
Prepare the tapioca pearls according to the package directions. Drain the boba and rinse them with cold water. Set aside.
Add ½ cup of water to a smaller pot. Add the brown sugar, white sugar, and honey to the water and heat on medium for 5-7 minutes. Whisk continuously until all the sugar has dissolved.
Add the boba pearls and stir so that the syrup coats the pearls. Let sit for 30 minutes.
Steep the tea bags in 1 ½ cups of hot water for 3-5 minutes (the longer you let it steep, the stronger it will be). Let the tea cool completely.
Add about ¼ cup of boba pearls to each glass. Then pour in ¼ cup dairy, half of the brewed tea, ¼ cup passion fruit puree, and 3 to 6 tablespoons of the excess homemade sugar syrup from the pearls.
Add the ice and boba straw, and enjoy!
Notes
For convenience, you might want to use frozen passion fruit puree. Let it thaw before making your tea.
If you want to make the puree from fresh passion fruit: cut the fruit in half, scoop out the insides (avoiding the white lining), pulse the mixture in the blender for a few seconds, and pour the mixture through a mesh strainer.
If you can not find passion fruit puree or real fruit, you can use passion fruit juice as a last resort.
Prep Time:

10 minutes

Cook Time:

40 minutes
What Does Passion Fruit Boba Taste Like?
Passion fruit has a very distinct flavor. It is sweet, yet very tart. The type of tea you use will play a large role in what your drink tastes like, but the passion fruit flavor is strong and will certainly shine through.
The tart taste of the passion fruit is offset by the sweetness of the tapioca pearls and sugar syrup. The combination of the sweetness, tanginess, and creamy milk flavors makes for a delicious boba drink.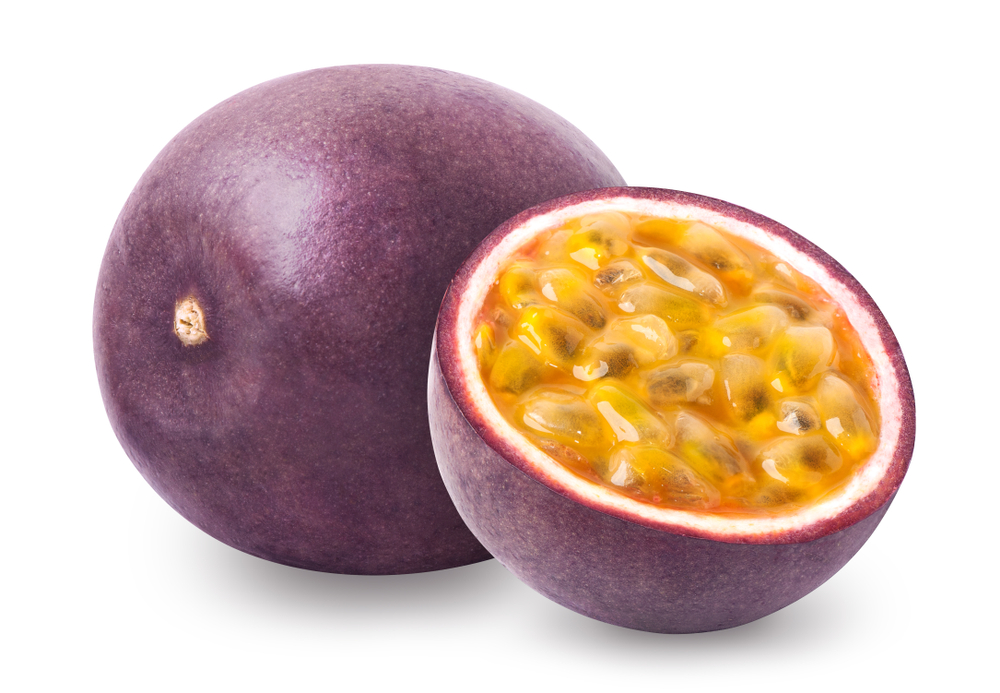 Is Passion Fruit Bubble Tea Healthy?
There are several health benefits associated with drinking passion fruit bubble tea. Some key health benefits include:
It is rich in vitamin C and antioxidants.
It contains a lot of fiber.
It may help you sleep better (the fruit contains alkaloids that can decrease uneasiness and sleeplessness).
It is rich in other nutrients and vitamins such as vitamin A, potassium, magnesium, and iron.
Drinking passion fruit bubble tea may have several health benefits, but drinking it too often is not healthy because of its sugar content. Depending on the sweetener you use, daily consumption may not be a good idea.
Will Milk Curdle in Passion Fruit Boba?
Though you do not need milk to enjoy a delicious passion fruit boba tea, it can certainly add to the experience. Because of the acidity of the passion fruit, the milk may curdle if you mix it with the passion fruit. However, if you combine the milk and tea first, you should not have this problem.
You may choose to make your passion fruit tea vegan. To do this, you can leave the dairy out completely, or substitute your dairy milk or creamer with plant-based milk such as coconut milk or almond milk (we prefer coconut milk because of its sweet flavor and creaminess).
Is It Possible to Make Passion Fruit Boba Pearls?
If you want to make passion fruit boba pearls, you can soak the tapioca pearls in a passion fruit syrup made from passion fruit puree. This would make for a delicious addition to your tea.
Also, another fun additive for your tea is passion fruit popping boba. You can find these on Amazon and the burst of flavor adds a fun surprise to your tea! Of course, there is also passion fruit jelly boba which has a bit of a different texture, but still gives that extra flavor and a chewy treat to enjoy.
If you're looking for more fruity bubble tea recipes, check out: