This instant pot boba tea is an easy recipe to make at home. Grab your instant pot and tapioca pearls, plus a few other ingredients, and you're ready to make homemade bubble tea. 
Use your instant pot to make both the tapioca pearls and the tea. Use any milk or tea flavor you prefer. This recipe is easy and versatile. Make the tea a day ahead for iced bubble tea.
Print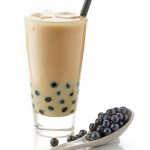 Instant Pot Boba Tea
---
Total Time:

30 minutes

Yield:

4

Servings

1

x
Description
The instant pot does all of the work for you. All you need to do is add the ingredients, stir, and set a timer. We recommend using this recipe to make big batches of tea and tapioca pearls.
---
6

black tea bags

8

cups

of water, divided in half

1/2

cup

+

1/4

cup brown sugar

1

cup

of tapioca pearls

3/4

cup

of milk
---
Instructions
Add 4 cups of water to the instant pot and set the mode to 'saute'. Cover with a non-pressure lid and bring the water to a boil.
Once boiling, add the tea bags and 1/4 cup brown sugar. Turn off the instant pot.
Add the milk and stir to combine.
Let steep for 5 minutes. Discard tea bags.
Put the tea in a container and refrigerate overnight.*
To prepare the tapioca pearls, combine 4 cups of water and 1/2 cup of brown sugar in an instant pot. Set the mode to 'saute' on high heat. Cover the instant pot with a non-pressure lid and bring the water to a boil.
Add the tapioca pearls and stir to avoid clumping.
Affix the lid and move the steam release handle to the 'sealing' position. Cook at high pressure (manual or pressure cook) for 2 minutes.
Once cooked, do a natural release for 10 minutes. Then manually release the rest of the steam.
Let the pearls cool for 5 minutes while soaking in the remaining liquid.
Drain the pearls and set them aside.
To assemble the tea, scoop 1/4 cup of cooked tapioca pearls into the bottom of each serving glass.
Add 1 handful of ice cubes to each glass, followed by 1/4 cup of brewed milk tea to each glass.
Serve with a boba straw.
Notes
*The milk tea can be easily made ahead of time and kept in the fridge for 1-2 days. If you don't have time to chill the tea overnight, add 3-4 handfuls of ice to cool down the tea rapidly. Consider adding an additional teabag or 2 (up to 8 teabags total), so the milk tea doesn't become diluted.
The tapioca pearls should be made just before serving.
This recipe is very flexible—use whichever tea flavors and milk you prefer. Try green tea with coconut milk or Thai tea with whole milk.
Prep Time:

10 minutes

Cook Time:

20 minutes
Do You Need a Special Instant Pot to Make Boba Tea?
No, any instant pot model works in this recipe. You can also cook boba pearls on the stovetop, which takes up to 40 minutes.
If you wanted, you could make the tea in a saucepan on the stove and the boba pearls in the instant pot. Follow the same instructions above, but pour the 4 cups of water into a large saucepan and bring to a boil. Remove from the heat and add sugar and tea bags. Add the milk and stir to combine.
What Are the Benefits of Making Your Own Instant Pot Boba Tea?
Store-bought boba tea is full of sugar and carbohydrates. Making homemade boba tea allows you to control the sugar or use a sugar alternative for a lower-carb boba tea. You can also make homemade tapioca pearls according to your preferences. Combine your favorite tea flavors and soak your pearls in brown sugar syrup or a fruit puree.
Boba tea has many flavor combinations—you can experiment and find the best flavors. You can even make keto boba pearls using gelatin, low-carb sugar, and oil!
Are Tapioca Pearls Healthy?
Unfortunately, tapioca pearls are not healthy. They are made of starchy carbohydrates and are high on the glycemic index, meaning they can raise blood sugar quickly. Tapioca pearls are soaked in sweeteners and are high in sugar and carbs.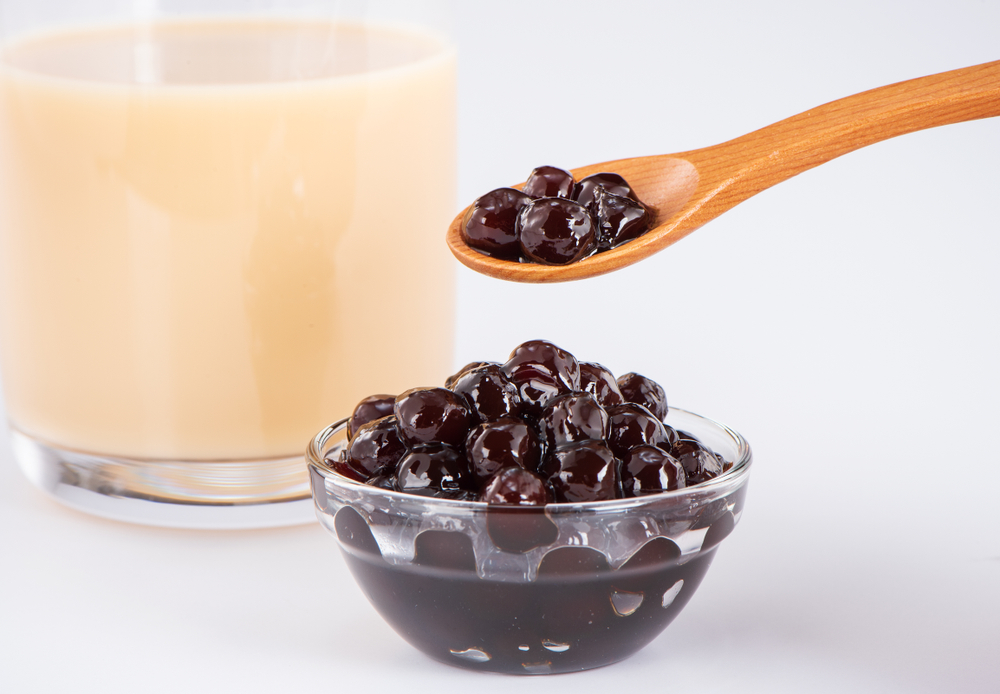 Frequently consuming foods high in sugar and carbohydrates can lead to weigh-gain and an increased risk for diabetes. Tapioca pearls are, however, naturally gluten-free and dairy-free. They can be easier to digest and may be suitable for those who need to gain weight. Tapioca comes from the cassava plant, is a good source of calcium and iron, and has no cholesterol.
How to Store Instant Pot Tapioca Pearls
Store instant pot tapioca pearls like you store tapioca pearls cooked on the stove. Keep them in an airtight container in the refrigerator for up to 3 days. Or, you can store them in a zip-lock bag in the freezer for up to three months.
They reheat well in a small saucepan on the stove. Gently heat the pearls in a simple syrup until they are warm. They are then ready to use in your recipe.
Is Bubble Tea Usually Served Hot or Iced?
Bubble tea is usually served cold. Part of the charm of bubble tea is its unique appearance in the serving glass. The dark tapioca pearls contrast with the light-colored milk tea and ice cubes.
However, you can still enjoy hot bubble tea. Leave out the ice if you make it at home, or order it hot at your local boba tea shop. Some toppings like egg pudding, cheese foam, or jellies work better with iced tea because they will melt into the hot tea. Try red bean topping or traditional chewy tapioca pearls with hot boba milk tea.