Half of the fun of boba sipping is interacting with the different toppings with each slurp. If you've had your fair share of tapioca balls in your tea and want to try something new, consider topping off your tea with creamy, crunchy, and caramelized creme brulee. 
This delightful milk tea recipe is a favorite among boba tea enthusiasts with an untamed sweet tooth. The combination of milk tea, boba balls, and creme brulee results in a delightful beverage you can enjoy any time of day.
Print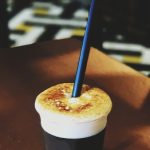 Creme Brulee Boba Tea
---
Total Time:

20 minutes

Yield:

1

1

x
Description
Combine your favorite dessert and boba drink with this easy recipe. In terms of toppings, you can choose from traditional tapioca pearls or spoonfuls of creme brulee.
---
1/4

cup

quick-cooking tapioca pearls

1

scoop creme brulee milk tea powder

2

scoops sugar & creamer mix

3/4

cup

water
ice
---
Instructions
Cook the tapioca pearls according to the package directions. Rinse and set them aside to cool.
Place water, sugar & creamer mix, and creme brulee powder in a shaker with a few ice cubes.
Shake the contents for a few seconds to blend them.
Pour the cooked boba pearls and ice into a serving glass and then fill the glass with milk tea.
Enjoy with a thick boba straw!
Notes
The creme brulee and creamer powders likely already have plenty of sweeteners added. Taste the milk tea as you go before adding any brown sugar syrup.
To add an extra layer of creaminess, consider topping your boba tea with a classic creme brulee. The rich custard combination with the smoky caramelized sugar of the milk tea base provides an explosion of flavor with each sip. This will also give you the visual and textural satisfaction of seeing the crispy burnt sugar on top of your drink. However, if you're watching your sugar intake, you may want to skip this step as the drink is already quite sweet.
Prep Time:

5 minutes

Cook Time:

15 minutes
What Does Creme Brulee Boba Taste Like?
Overall, creme brulee boba tea is sweet, creamy, and indulgent. This beverage combines the aromatic flavors of milk tea with the pleasant sweetness of creme brulee.
Given that many of the ingredients of this beverage contain sweet and sugary components, creme brulee boba tea is one of the sweeter milk tea varieties.
This drink also provides a great textural contrast since the tapioca balls add a chewy element while the creme brulee infuses crunchy and creamy elements into the beverage.
Creme Brulee Boba vs Creme Brulee Milk Tea
While creme brulee boba and creme brulee milk tea may sound the same, there is a notable distinction between the two beverages.
Creme brulee boba is bubble tea with a creme brulee topping. This means that the milk tea base can be flavored with tea varieties—from earl grey and matcha to oolong and jasmine—and then further topped with a layer of creamy and crunchy creme brulee. The creme brulee topping is the most important ingredient.
On the other hand, creme brulee milk tea is a liquid. Milk tea powders infuse the creme brulee flavors with tea and other various ingredients. Instead of getting small bursts of flavor from the creme brulee dessert, you can enjoy an evenly-distributed liquid version of the dessert.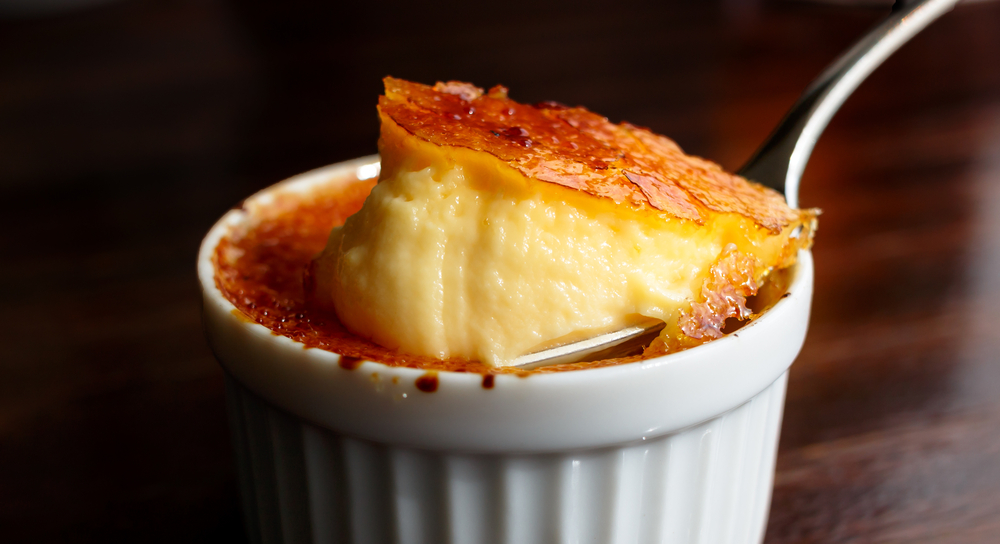 Is Creme Brulee Bubble Tea Overly Sweet?
Creme brulee bubble tea is made from ingredients that are moderately high in sugar. From the rich custard to the caramelized brown sugar, this beverage is definitely on the sweeter side. And we haven't even touched on the inherent sweetness of milk tea and brown sugar tapioca balls yet!
If you want to tone down the sweetness of your drink, you can reduce the amount of sugar in the recipe or not add a layer of creme brulee on top. You can also remove the tapioca balls. But if you want to avoid drinking an overly sweet drink, consider trying other flavors like taro milk tea or jasmine milk tea.
How Many Calories Are in Creme Brulee Boba Tea?
This might not be easy to hear, but a standard 16-ounce serving of creme brulee boba tea can have upwards of 1,218 calories. The drink's sugar content is measured at 126 grams, or 252% of the daily recommended sugar intake.
If you're watching your weight and sugar intake, you're better off avoiding this boba milk tea flavor. However, if you want to enjoy a cup of creme brulee boba occasionally, consider sharing it with a friend or family member.
Can You Make Creme Brulee Milk Tea Without Flavored Powder?
Yes, you can make creme brulee bubble tea without powder.
To make it, brew black tea or hojicha green tea, wait for it to cool, and then add brown sugar, vanilla flavoring, caramel flavoring, and milk or cream. Mix the ingredients and pour the combination into a serving cup. Finally, top the tea with a few spoonfuls of homemade creme brulee or tapioca pearls.
This milk tea mixture won't be quite as spot-on as the powder mix, but it does mimic the flavors of creme brulee.
To prepare homemade creme brulee, you'll need egg yolks, milk, heavy cream, granulated sugar, and vanilla extract. For a step-by-step recipe, click here.
Creme Brulee Boba Pearls
To simplify your creme brulee boba recipe, try these creme brulee-flavored tapioca pearls.
Boba Buddha Approved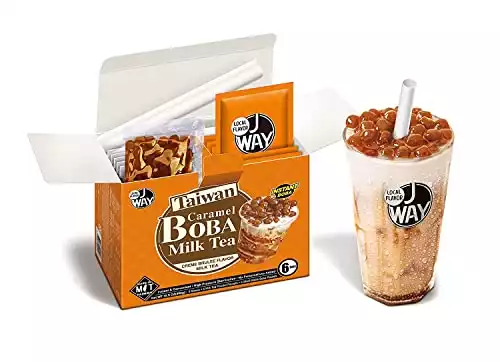 When you buy through our links, you support Boba Buddha. Thank you!